In this article, you will read How to Enable Cortana to make a better suggestion for you in Windows 10 PC using Get to Know button on the Privacy when you order Cortana through writing or speaking.
Cortana is a voice assistant and works on the basis of the words or sentences you speak to it through a microphone on your PC. Else you can write in a search box to order Cortana to fulfill your need. Cortana works like an orderly on your Windows 10 device. It suggests you complete tasks according to location and previous behavior to make your experience better. But Sometimes you might have felt that Cortana is not suggesting properly.
Cortana has an option as Get to Know me which can help you in making the suggestions better. After you Turn on this option your PC and Cortana will get to know your voice and handwriting, location, behavior, contacts, speech, patterns, and the typing history from PC info which helps to Enable Cortana to Make Better Suggestion for you. When you turn off Get to Know me it also turns off speech and Cortana.
In this article, we are writing on the same topic. If you need to Enable Cortana to Make Better Suggestion.
How to Enable Cortana to make better suggestion for you in Windows 10
Open Settings. You can open it through start menu or taskbar if you have pinned it on the same. So Click on the start button on the taskbar to prompt the Start Menu. Find Settings on it and click it.
On Settings window click Privacy.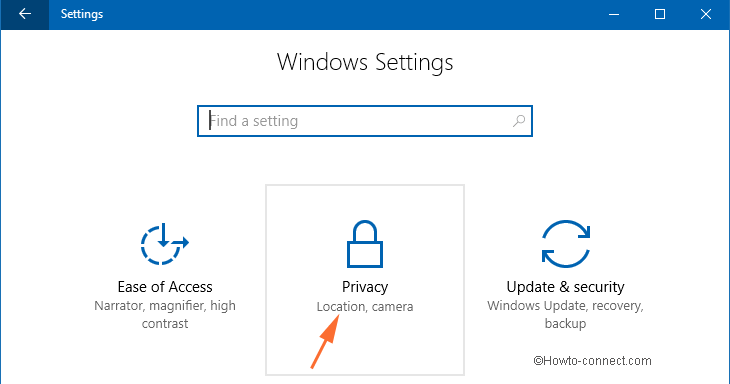 On the Privacy window, click the option Speech, Inking & Typing in the bottom area in the left sidebar.
You can view the Get to Know me Click this button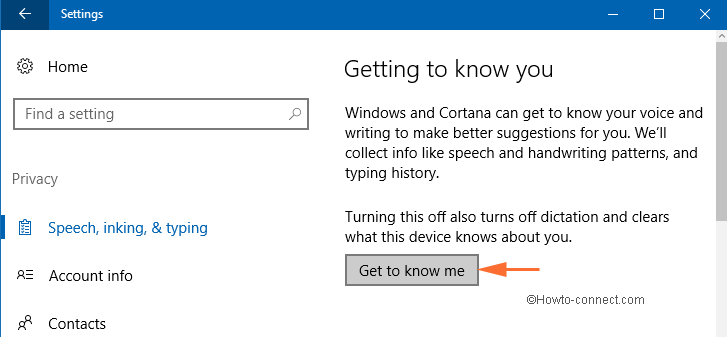 And again click the Turn on button at the pop-up emerged after clicking.
In this way, you have enabled the Cortana to make better suggestions for you.
Here you can also turn off and turn on Cortana.
You find Cortana on Windows 10 Technical Preview latest build 9926 first time. You can solve many problems and make your life easy with it. But for all these, you need to customize its settings in an appropriate manner. After you turn on getting to Know button you get better suggestions which make you easier to use it. So enjoy Cortana with better customization.