Whenever you bring any changes to your system like installation of any new software or shell extension etc, you are most of the time asked to restart your computer. Always restarting your computer puts a hindrance on your work and so to avoid that you use the Task Manager to End Task of the Explorer. This was the practice of most of the users but with the introduction of new versions of operating system, things have changed a lot. In Windows 10, using the Start Menu and Taskbar you can easily get access to Exit Explorer instead of forcefully carrying out the work in Task Manager. The Exit Explorer is invisible in Windows 10 but in this post, we will help you Exit and Restore Explorer in Windows 10.
Recommended
Delete Recent, Frequent from File Explorer on Windows 10
How to Find Hidden Secret Exit and Restore Explorer in Windows 10 Start Menu and Taskbar
Go to your Windows 10 Taskbar.
Now press and hold the combination of two keys – CTRL and SHIFT and right click on the vacant space of the Taskbar.
Now you will see the option at the bottom – Exit Explorer.
Exit Explorer is right there as the last option.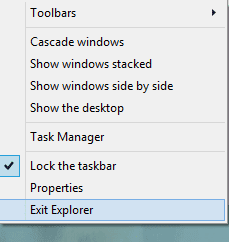 When you click on Exit Explorer, it will finish the task of Windows Explorer. This action will now not allow you to access the Start Menu or Start Screen or Taskbar.
To bring back Explorer, jointly press CTRL + SHIFT + ESC keys and let Task Manager window appear on your screen.
If you see a mini mode of the Task Manger then click for More details
Now click on File followed by Run new task option.

Under Create new task dialog box type Explorer in the text field and click Ok.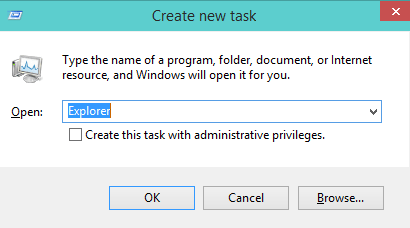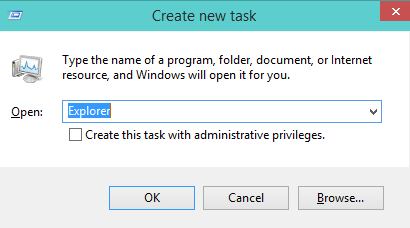 Windows Explorer is back again!