Microsoft has released Windows 10 Insider Build 18247 for the users who opted Skip ahead ring level. The update includes multiple important bug fixes and improvements for Narrator, icons on Taskbar, WebView controls, and Your Phone app. Keep in mind that this build won't be available for 64-bit PC having Windows 10 Home and Pro editions in Czech language (cs-cz).
You will receive Windows 10 Insider Build 18247 automatically through Windows update. If you have not got till now, navigate to Settings => Update & Security and click on Check for updates to download and install the update instantly.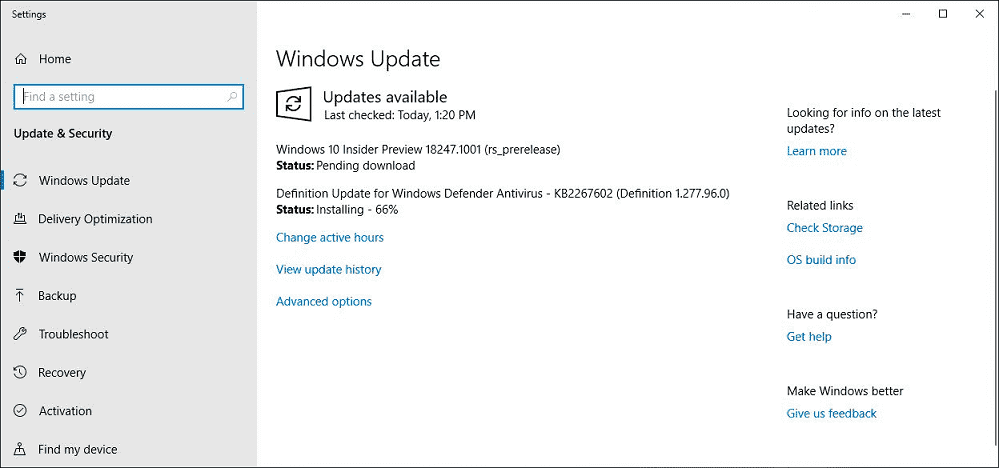 Windows 10 Insider Build 18247 for Skip ahead Bug Fixes and Changes Details
Here are Windows 10 Insider Build 18247 Bug Fixes and Changes Details –
Windows 10 Insider Build 18247 Common changes, improvements, and fixes for PC
Windows 10 insider team fixed the Narrator text to speech problem that didn't make sense when reading QuickStart pop up in the Japanese language.
Microsoft solved the app icons that sometimes became invisible in the taskbar.
Windows 10 Build 18247 includes a solution for IME not working in Edge web browser for the first time when it was launched.
They resolved WebView controls potentially not responding to the keyboard.
Microsoft has added a Preview tag to Your Phone app and requests your feedback to fine tune this feature.
Windows 10 Insider Build 18247 Known Issues
Addition to the Bug Fixes and Changes the build has 3 known issues in Task Manager and File Explorer.
You will view a thick white border on the context menu when using dark mode.
Task Manager displaying incorrect CPU usage.
Arrows ahead of Background processes in Task Manager blinks continuously and weirdly.
Windows 10 Insider Build 18247 Developers Known Issues
The Developer mode will not work If you install builds from the Fast ring and then switch to the Slow ring. You will need to persist in the Fast ring to install/add/enable optional content.
Source – Windows Experience blog