Microsoft has delivered Windows Insider Preview build 17692.1004 (Redstone 5) for Slow ring level systems. The package includes a few additional fixes and improvements. You experienced that Microsoft was not pushing builds for slow ring for a long so the current one is the starting for the users who opted for the content. See – Windows 10 Insider Preview Build 17692 Features and Fixes Details.
You can receive Windows 10 Insider Preview Build 17692.1004 with new fixes and features via update system in and out of active hours.  We are here with the details of the all the changes Microsoft has made available in this patch.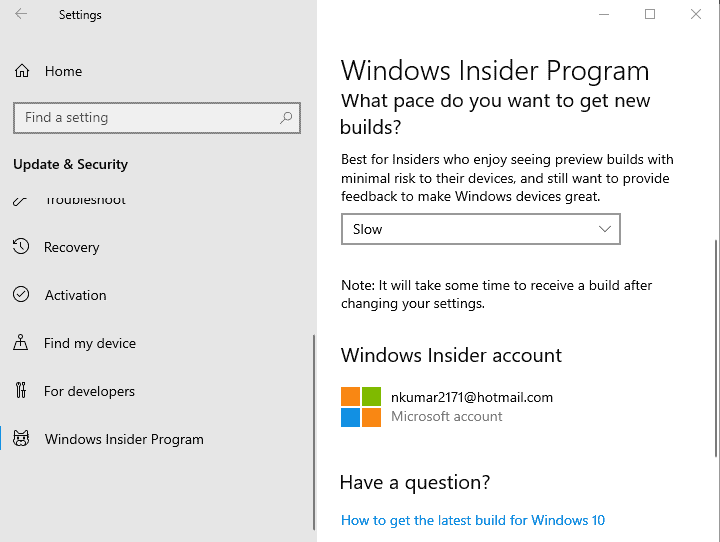 Without delaying kindly move ahead –
Windows 10 Insider Preview Build 17692.1004 (RedStone 5) Details
Fixes in the Windows 10 Insider Preview Build
Microsoft solved login screen would crash in a loop when the active sign-in procedure is set to Picture Password problem.
Windows 10 insider team fixed the DRM video playback in Microsoft Edge web browser issue. When you tried to run the video from websites such as Netflix it used to display the broken message.
They resolved Keyboard Settings found under Ease of Access were missing text problem. In addition, the values were visible in two combo boxes.
Microsoft made reliability and performance better for launching Start.
The main charm of Windows 10 Insider Preview Build 17692.1004 are Swiftkey for touch keyboard, WebDriver of Microsoft Edge, Mixed Reality, Game mode, and Narrator improvements. Ease of access gains the setting to Make everything bigger and Make Text Bigger. Narrator is equipped with "Standard Keyboard Layout", "Automatic Dialog Reading", and "List of Objects" after this build. Moreover,  Stop on Controls in Scan Mode, Selection in Scan Mode, and Narrator Find are the part of this tool.
After Build 17692.1004, Game bar will now include Audio controls and Performance visualizations. Furthermore, Windows Mixed Reality has received very important Improvements. Context Menus
Flyouts, Auto Suggest Box dropdowns, ComboBox dropdowns, Date and Time Picker flyouts, and Media Transport Control flyouts/overflows will start displaying Acrylic material design.
Storage Sense adds up a new skill Files On-Demand online. Game Mode will now comprise Dedicate resources.
Addition to the features, Windows 10 Insider Preview Build 17692.1004 Redstone 5 For Slow Ring brings a huge number of fixes. Some of them are as follows:
Microsoft solved audio glitching on systems with multiple firewall rules problem.
Windows 10 insider team fixed Eye Control would fail fast and not open issue.
They settled Counter Strike issue in certain games, for example, Global Offensive, to crash on launch.
Microsoft solved the crashes of Settings when attempting to open Data Usage.
Surprising codecpacks.vp9 entry in Start is resolved now.
Microsoft fixed the explorer.exe crashing issue with AppXDeploymentClient.dll.
The Insider team solved experiencing a bug check (green screen) problem with the stop code SYSTEM_SERVICE_EXCEPTION in afd.sys.
To boost up discoverability, the  Build 17692.1004 included Delivery Optimization Settings in the category Settings > Update & Security.
Microsoft Edge team fixed the browser influenced sites like Facebook, where first contact name entered was automatically resolved while typing.
They also rectified selecting copy wouldn't work on right click context menu when both images and text were selected.
They solved Windows Security app crashing issue when adding a process to the exclusion list.
Known issues in Windows 10 Insider Preview Build 17692.1004
Microsoft is still working on File explorer dark mode, therefore, certain unexpected light colors in the application's surfaces may be visible.
Windows 10 Insider Preview Build 17692.1004 Redstone 5 For Slow Ring taskbar flyouts might not show acrylic background.
A possible bug in this build may create issues in driver testing when running "HLK Component" or Device driver tests.
Microsoft is merging some Settings so you may find certain settings suddenly missing their labels.
Narrator will display a dialog to change the keyboard layout when you open. You can use Alt + Tab to close this dialog and continue the tool reading.
You may encounter several stops for a single control when running scan mode on the Ease of access tool Narrator.
Microsoft endorses that you may have to speak multiple times on automatic dialog reading title.
When you will toggle Scan Mode switch, increase or decrease volume, change voice speed or verbosity and context verbosity commands you may not hear the announcement.
If you have already executed Narrator's Find tool and you bring up the dialog the text will not be cleared from the field.
See the list here – Narrator Keyboard Shortcuts / Hotkeys in Windows 10.
If you were unable to receive the builds "17682", "17686", and "17692" on your Surface device then you will happy to know that the bugs are now rectified.
Game bar known issues
In the current build, the Game bar may not work on x86 machines.
Yoy may be unable to view the frame rate counter chart because the build does not appropriately display it.
The CPU chart exhibit a wrong percentage of usage in the uppermost left corner moreover the updating cannot be possible by clicking.
You will find gamerpic missing after signing in.
That's all in the build.