Microsoft has thrown out a new set of Windows 10 Microcode Update April 2019 to give security against the Spectre Variant threats. These are KB4465065, KB4346084, KB4346085, KB4346086, and KB4346087 that took a place on the Microsoft Update catalog site to protect the devices. The updates are released for Windows 10 versions 1809, 1803, 1709, 1703 and 1607 sequentially.
Windows 10 receives these patches from time to time that addresses some vulnerabilities affecting and threatening the processor. For instance – Meltdown and Spectre are two major penetrabilities that made multiple devices bootless. In recent time, Microsoft revealed that an intruder was penetrated in Windows 10 devices with vulnerable code. This is the reason to come into the existence of these patches.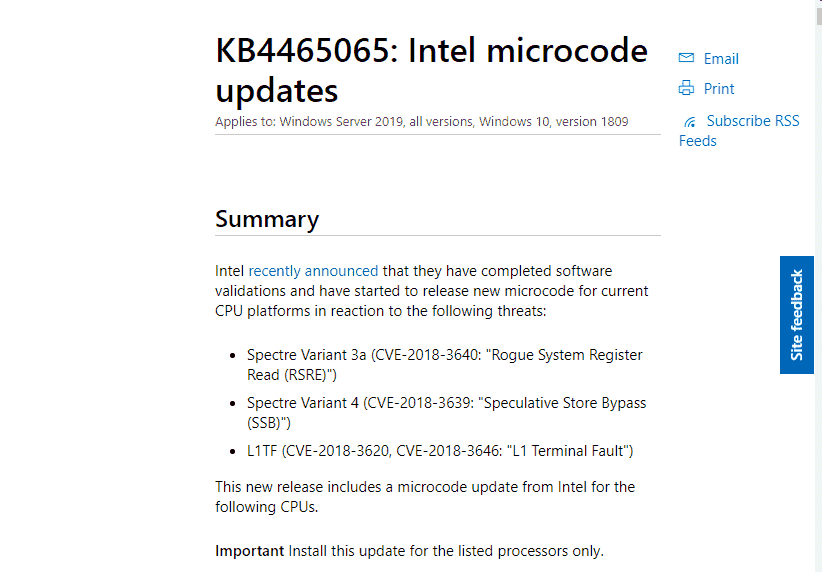 Windows 10 Microcode Update April 2019 details
Here is the list of Windows 10 Microcode Update April 2019 –
The complete list of updates corresponding OS is shown here. You're able to download this updated package by going through the given link straightway from the Microsoft Update Catalog website. Knowledge Base is the standalone package made accessible for Windows 10 versions to overcome the threat and other malware. You may refer this for an overview which you would need to download and install the updates.