Microsoft continues updating the latest version Windows 10 to make it good looking as the day passing. The tech giant does not want to take any risk for this windows even try to attract more and more users. Keeping this view, a new pane for date and time has been created on Windows 10 under build 9901.
In the recent version, we have not this type of pane to see current date and time on the desktop. It is one of the fantastic hidden features of the latest Windows 10 build 9901. It is designed in a new Modern or Metro style which makes it attractive. The current calendar appears when you click on the clock: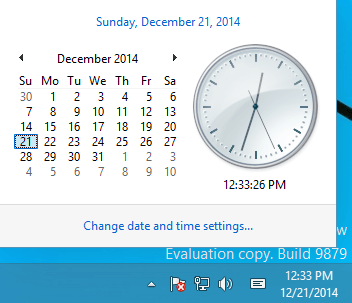 Limitations: It works very slow on your desktop because it is designed for touch screens friendly devices. You can view only current date and time, it means you are not able to see past or future calendar for date or time. It is expected that we would see the whole function of the classic date and time in the next windows version.
If you want to use this feature on your Windows desktop then you may follow us through our post using Registry Editor. Let you know the following tips which make your Date and Time interface on Windows 10 absolutely new.
How to set new pane for Date and Time on Windows 10 Build 9901
Tips
1. You need to hit Windows and R at the same moment which leads to access Run dialog box. Write regedit in search box and tap Enter or OK to prompt Registry Editor.
2. Navigate the underneath Registry keys on your windows 10:
HKEY_LOCAL_MACHINE\SOFTWARE\Microsoft\Windows\CurrentVersion\ImmersiveShell
3. When you reach the ImmersiveShell create a new DWORD value.
4. To do this right click anywhere in the right side of the window and select DWORD (32 bit) Value.
5. Name it
UseWin32TrayClockExperience
Note: If you have already this key present on your windows then only modify its value by 0.
Now, when you click the time from the right corner bottom at the desktop then new pane of date and time will appear on the screen.
That's it.