Our just previous article on Skype was regarding its linking with your Microsoft Account. We have explained you the process in which you can merge your Skype ID along with your Microsoft Account. Here, in this post of Skype we will guide you the process applying which you will be able to Unlink Skype ID from Microsoft Account. Well, the decision of unlinking the Skype ID with the Microsoft Account is all your choice. If you Unlink Skype ID from Microsoft Account then if you wish you can also link your Skype ID with another Microsoft Account or even you can directly get into Skype without utilizing your Microsoft Account on Windows 10.
Lets' begin the process now!
How to Unlink Skype ID from Microsoft Account on Windows 10
Get into the Skype app. You can see your Skype Home Screen now. So click your profile picture on the top right corner and click Account.
The above action will take you to the Skype web page where you will see your Account Details listed.
In the Account Details, two sections are presented with different settings. So under Settings and Preferences section you will click Account Settings link.
Now when your Skype Account is properly linked with your Microsoft Account then you will notice an Unlink option mentioned in the Account Settings. Click on the Unlink option.


You will see a warning message on your screen which will let you realize the number of limited times you have to unlink the Skype Account with your Microsoft Account.  To complete the unlinking process click on Continue button.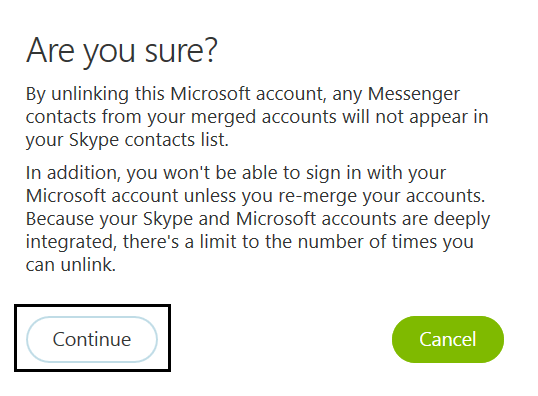 After successful completion of unlinking process, you will notice a confirmation message.

Suppose your number of unlinking process is over then you will receive the below message informing you the problem and for which you have to take Skype Customer Support help.
How to Unlink your Skype Account from Your Microsoft Account Using the Skype Website in Windows 10
In case you don't wish to use your Skype app to unlink your Skype Id with your Microsoft Account then you can go to the Skype web page also for the unlinking process. Go to the skype.com and get into your Skype Account.
Upon the arrival of the Account Page, you will see Account Details and Settings and preferences section of it. And click Account settings option of Settings and preferences section.
Next, click Unlink.
Like mentioned above you will receive the warning message. Click Continue for the Unlink to happen.
Lastly, you will be informed about the successful unlink.
CONCLUSION
Use the above steps carefully and unlink your Skype Id from your Microsoft Account. I am sure this post will be very helpful. Be in touch with us and read our latest topic on Windows 10. This post is about Unlink, but I hope the link between us and our readers should become healthier and happier. See you soon with a new topic!