There is one feature in Windows 10 (though it was present in the previous version also) called Sync Center and Offline Files. Many users are still unaware of this feature. But nothing to worry about, we will share this piece of information with you. In this tutorial, we will drop down the details of Sync Center and Offline Files.
You may like to Read:
What is Sync Center in Windows 10?
Sync Center is the feature of Windows 10 which allows you to sync the information between your PC and offline files which are saved in the folders of the network servers. You can obtain them even when your server or your PC is not linked with the network and thus they are termed as Offline Files. Here, it does not permit you to sync the information between your PC and other supportable gadgets.
How to Access Sync Center in Windows 10
Launch the Control Panel of Windows 10 on your screen. Make the items into small icons because the Sync Center is not obtainable via Categories view. Look for the Sync Center icon. Open it.
This is how Sync Center looks when opened for the first time.
How to Enable Offline Files in Windows 10 Sync Center
Configure Sync Settings over Metered Connection on Windows 10
The first thing that you have to carry out before syncing the folders over the network is to Enable the Offline Files. And to make it happen, click on the Manage offline files link on the left side column.
You will see an Offline Files window on your screen. In the General tab, see if it is enabled or not. In any case, it is not, click Enable Offline Files and click Ok. You will be asked to restart the computer.
After restarting the computer, navigate to the Offline Files as described above. Now you will have other tabs available on the Offline Files window.
How to Configure Offline Files in Windows 10 Sync Center
You can easily configure the Offline Files on your Windows 10 computer. The Disk Usage, Encryption, and Network tabs will help you in configuring the Offline Files.
Disk Usage
The Disk Usage tab will display you the amount of disk space that is presently being used and available for keeping the offline files on your PC.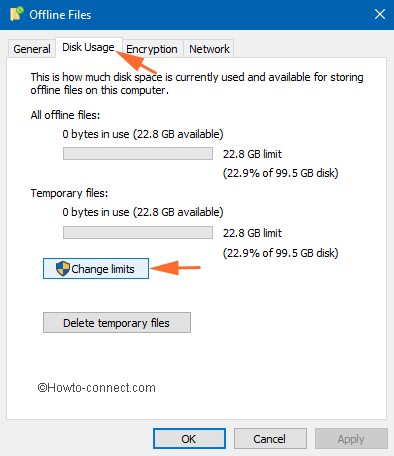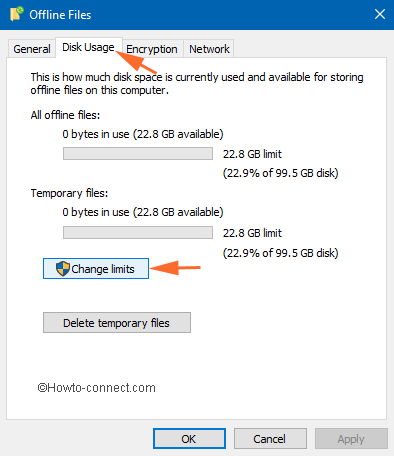 To change the data limit, click on Change limits buttons.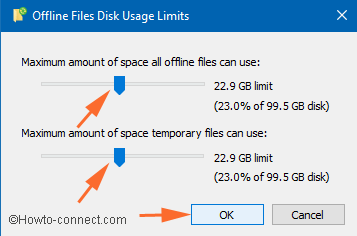 An Offline Files Disk Usage Limits window will pop up in front of you. You will see two options: one for offline files and the other for temporary files. Use the slider and set your required limit. After changing the limits, click Ok.
Encryption
To provide more security to your offline files, you can encrypt them. Click on Encrypt option to encrypt your files.
You can also read our article on encryption by following this link:
Windows 10: How to Encrypt Drive Partition using Bitlocker
Network
The description of this tab is clearly explained in the tab. You can choose and set your preferred time for checking the slow connectivity. If a slow connection occurs, Windows will start working offline by itself and on the same hand saves the copies that you are using in network files.
Conclusion
This tutorial will help you when you wish to work with the files and the network. If there are any queries disturbing you, free to share with us.