Windows 11 version 22H2 is the first Major release having a lot of improvements in productivity, enhancement in security, and a more intuitive UI. Main features of this shipment are Smart app control, Tabbed File Explorer, new Photo management in the the Photos app, and Taskbar Overflow. . This version has the name Windows 11 2022 Update which is the result of continuous testing and innovations.
The rollout of Windows 11 2022 update is public in exceeds 190 countries all over the globe. Principal aim of this version is to make the PC easier and safer to use for everyone and many changes are added working in this direction. See – Windows 10 21H2 Version – Full list of Features of Sun valley update.
Major update Windows 11 Version 22H2 features, changes, and improvements
Here is the changelog –
Smart app control
After clean installation of Windows 11 22H2, it will provide Smart App. Smart App Control has the ability to block suspicious or unsigned apps, scripts, and malicious macros from running on the device. Subsequently, employees can use the tools they want and need, while you will have no worry knowing your organization is protected. This feature can forecast the safety of an application in real-time before it runs on Windows 11. However, it is built on the same Artificial Intelligence used in Windows Defender Application Control (WDAC) this tool works effectively. Truly, this is an amazing solution for organizations that are not yet using modern device management aka MDM tool like Microsoft Intune.
Enhancements to File Explorer
This File browsing comes up with tabs to File Explorer to help you organize your Files. The sessions in the app are similar to the activities you do in Microsoft Edge. Furthermore, File Explorer homepage provides quick access to recent and favorite files. As a result, you can pin necessary files for quick and easy access.
Photos app
Windows 11 22H2 carries Photos app with several new enhancements including a new photos-managing experience. This contains an elegant gallery, simplifying browsing, finding, management, and consumption of the collection of photos. ?The app also allows you to easily back up photos to OneDrive.
Suggested Actions on Copy
In Windows 11 version 22H2 you will get several suggested actions such as making a call with Teams or Skype or adding an event in the Calendar app when on Copy phone numbers or future dates.
Taskbar Overflow
You will find an entry point to an overflow menu of Taskbar that allows you to have a look at all the overflowed apps in one space. You can read – How to activate Tablet optimized Taskbar in Windows 11.
Share to more devices
Nearby Share provides to discover and share to more devices including desktops.
Hello everyone! In this article, we are going to explore and discuss all the new features and improvements that Microsoft is shipping and has been working on for the next big update of Windows 11.  Although, the next feature update of Windows 11 is not due at least until 2023. Windows 11 will only receive one feature update each year instead of two like it was previously seen on windows 10 and the first one is planned to arrive in the fall of 2022. In this new update, it can be expected that Microsoft is rolling out several features and experiences for all users including support for android apps on windows 11, taskbar improvements, a new page in the settings app to show more details about your Microsoft account, and two new apps including the red design notepad media player apps.
Windows 11 version 22H2, also called Sun Valley 2, is set to finalize in a few months for late summer rollout. This will allow the company to have more time to work on more features minimizing upgrade frustration among users. Although it is not clear what will be included in the next refresh, the company is expected to focus on improving existing features and adding new experiences. This article is meant to be an early look at the things that the company has been working on for version 22H2, but this is not meant to be a full review of the new version of Windows 11. Also, some of the improvements may arrive in the stable channel separately from the next feature update. Let's dive into the new changes, features, and improvements which will be accompanied by the new Windows 11 version 22H2.
Create a folder of Start menu pinned apps by  dragging and dropping
This version will bring a feature to create a folder of pinned apps using just drag and drop on the Start menu. You can organize the apps within the folder, for example, rearrange, remove, and add.
See Do not disturb on notification center
When Do not disturb is enabled you can see the status in Notification center. Furthermore, you are able to navigate to  Notification settings directly from there. Normally, you reach the options through Settings > System > Notifications and set up rules to automatically turn on do not disturb in Windows 11. For example, you could set do not disturb to automatically turn on outside of your work hours. Additionally, you can set priority notifications to control whether calls, reminders and specific apps break through when do not disturb is on.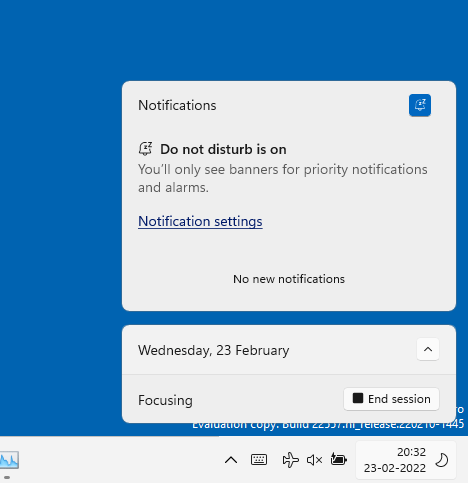 Focus
You are able to start focus straight from Notification Center by following steps –
Click on the Date and time from the Taskbar.
Choose the amount of time for your focus session.
Press Start Focus.
During this session, taskbar badging will stop, flashing of apps in the taskbar will turn off, a focus timer will show up, and do not disturb will turn on. In order to reduce distraction, When Focus is active it runs sessions in the Clock app, therefore, you can view a task list from Microsoft To-Do and run calming music. Once the session ends up, you will get a notification about focus time has been over. You can customize your focus experience through Settings => System => Focus.
Live Captions
You might know that Live captions help everyone including deaf or hard of hearing, better understand audio by viewing captions of spoken content. Captions are created on-device from any content with audio. and they can be shown at the uppermost or lowermost part of the screen, or in a floating window. You can personalize the caption window appearance by applying or customizing a caption style. Also, Microphone audio can be added to help during in-person conversations.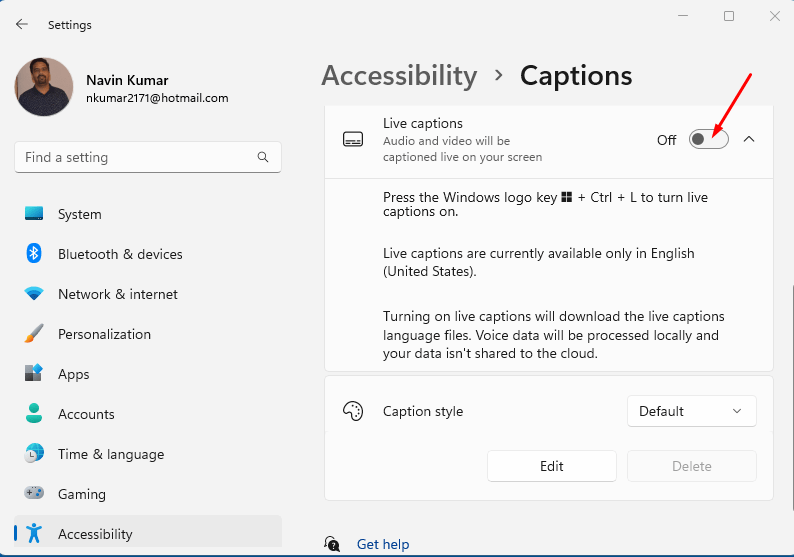 To get started,
Press Win+Ctrl+L.
Or go to Settings  > Accessibility > Captions > Live Captions.
Toggle on the setting.
Improving Quick Access in File Explorer
The version is bringing updates to the Quick Access view of File Explorer. First, Now onwards Pin to Quick Access supports files which are the extension of pinning folders. You can see Pinned files in a new section located above Recent files in Quick Access.
Windows 11 Build 22526.1000 with improvements in File Explorer Search
Change in Power Menu
New sign-in options entry that opens the sign-in options page on the settings app and if we go to the all apps section, we are going to notice that the Windows ease of access folder has been renamed to accessibility. In case you are actually showing items on the recommendations section, you can now also right-click the header of the section and we will find a refresh button to refresh the content that appears on the specific area.
Boot Experience
The startup will display a progressive ring animation rather than the animated circle of dots. Microsoft also plans to adopt this new animation across the entire operating system But for now, we are only going to see it when starting up the computer. Finally, the Windows setup sound would no longer be played after the computer reboots automatically to apply updates. Furthermore, Windows 11 version 22H2 will introduce that .Net framework 4.8.2 that provides ARM64 support for the runtime.
Start Menu is giving extra rooms for pinned apps
Windows 11 version 21H2 will allow customizing the Start menu to a greater extent for example you can be able to pin more apps. Furthermore, you can completely wipe off and customize the recommended section in the start menu, although it is still not possible to disable the feature completely. You will definitely get some settings to turn on the same as well. Also, we can now see three new options on the start settings, which includes-
More pins: Extra room for pins
Default: Doesn't change anything
More recommendations: Will show more recommendation items than pins.
Windows 11 22483.1000 with right clickable More and Recommended on Start menu
Advanced Settings Page
All the remaining settings on the Apps and features page except the install apps page includes –
Settings to enable or disable archive apps to control apps execution aliases
Share across devices on the default apps page – Microsoft is bringing back the ability to switch default browsers.
A new set default at the top right of the page of the web browser that you want to set the new default and when we click that it will make the new default for the system, however, it is not perfect since Microsoft edge will continue to be the default browser for other protocols including- PDF, FTP, and others.
Also, when searching on the default apps page, windows 11 will now show the drop of the options that contain the query without having to press enter to see the results.
On accounts, your Microsoft account is a new page that includes the information from your Microsoft account including details about your Microsoft 365 subscription and quick access to order history payment details and Microsoft rewards.
On Time and language, the language and region page has been updated but it doesn't include new settings instead what Microsoft has done was to update the interface, so it looks more like it belongs to Windows 11 with a new style design but it appears that still needs work as the interface appears on the left side instead of center that should be displayed right around.
Windows 11 Build 22489.1000 with Plan to Revamp Accounts Settings page
Windows Update Feature
Under 'Update history', there will be an option to uninstall updates. This feature was previously only available on control panel but now, one should easily be able to uninstall updates right from the settings up and the interface to uninstall updates from a control panel is no longer available. If there are any entries on Control panel, they will point to this new interface, and here will be listed all the updates that one can remove from the computer, and by clicking uninstall it will remove it from the computer.
Context Menu
Whenever you right-click on any file and click on show more you will get the context menu. So, they are going to improve it in windows 11. In windows 10, you are getting this context menu directly whenever you right-click so this is also going to improve. The legacy context menu uses more padding for selecting an item and the selected color has been changed from the blue to a new like or that mode depending on the system color that you have on the computer. One can also see this new change, by opening Task Manager going through the file menus.
Windows 11 Build 22468.1000 Rolled out with VPN Stats in Settings
Settings
As usual with every new version of Windows, we are also going to get a new updated version of the settings up that includes new features and improvements on the sound page. We will now see a warning when the microphone access has been restricted on the privacy settings. On the focus assessed page, there is a new option that allows a person to decide whether the feature will be enabled automatically during the first hour after the Windows feature update.
Widget Icon on the taskbar
This is expected to be one of the most interesting and important updates.
The Widget Icon will be located at the bottom left corner of the taskbar showing the current weather information and when you hover over it, it will open the dashboard to interact with its interface.
Now if one is using the alignment to the left, they can now see that the icon will remain on the touch bar, but it will not show text, it will just be an icon.
Suppose you want to disable this feature, you can turn off the widget's icon from the taskbar settings. Even if you align the icon to the center, it will no longer be visible.
Currently, they are giving some native widgets to add like you can see to do tips or traffic, gaming, outlook, calendar, and all these things, but in Sun Valley 2, we are going to get some third-party widgets and some other third-party companies working on their widgets.
In the future, you are going to add third-party widgets on your desktop like you were earlier doing with Vista.
Changes in File Explorer
In the Windows 11 version 22H2, you are able to copy the path forward for a specific file or folder just by using the Shift+Ctrl+C keyboard shortcut.
As part of the improvements, when you right-click 'This PC' item on the left side, you will notice a Map network drive option. When you right-click the network drive, one will find the corresponding disconnect option and while in the 'This PC' page, And when you open the seat more menu, they will now find the option to add a media server connection.
Network and Internet
The Advanced network settings page has been updated to include another page called advanced sharing settings and, on this page, we will find a lot of the sharing settings previously only available on the Control panel including for network discovery file and printer sharing public folder sharing.
In addition, some of the entry points for network and devices settings and the Control panel will now open in the settings app. Furthermore, on Ethernet and Wi-Fi, windows 11 version 22H2 adds support for the discovery of designator resolvers or DDR, allowing the system to discover encrypted DNS configurations from a DNS resolver known only by its IP address.
In the case of using a VPN connection, on the VPN page, when the connection is opened, one will be able to see more details about that specific connection.
Privacy and Security
On 'Find my device', there is not much new here, but we will be able to find more links which are the ones to help us learn more about privacy and resources.
Accessibility
Another big feature that Microsoft is working on for windows 11 version 22H2 is voice access, which is just a new feature that allows anyone to control their laptop or desktop computer using their voice.
When using voice access, you can use your voice to open and switch apps, browse the web, dictate emails, and more.
According to Microsoft, voice access leverages modern and on-device speech recognition. To recognize a speech accurately and is supported without an internet connection.
The feature is only supported the English (US) language, which means that the windows display language should be set to English (US) otherwise voice access may not work as suspected.
To start voice access as an app and you must go through an initial setup, but once set up, you can just open it and start using your computer simply by using your voice. And there are some settings that we can configure on the accessibility page, more specifically on the speech section.
For example, here we can enable and disable the feature and can check this option to start voice access as we sign in on our computer.
From the interface, you can open the settings to set the default microphone or manage the mic settings. Moreover, you can enable to disable the automatic option; view the privacy statement, and turn off voice access.
Once the menu is clicked, you can open the interactive guide that will help to get set up using this feature. In the end, there is a list of all the commands that one can use with voice access on windows 11.
Apps and Feature Page
In windows 11 version 22H2, you now have the Apps and features page divaricate into two new pages – installed apps and Advanced app settings. On the installed apps page, you only find a list of All your apps that you have installed on the computer. When you view on the top right corner you will see three options to change –
Grid View- the option to uninstall it right
Tile View- The sort by menu has been updated to show different ways to sort alphabetically and by size.
Default.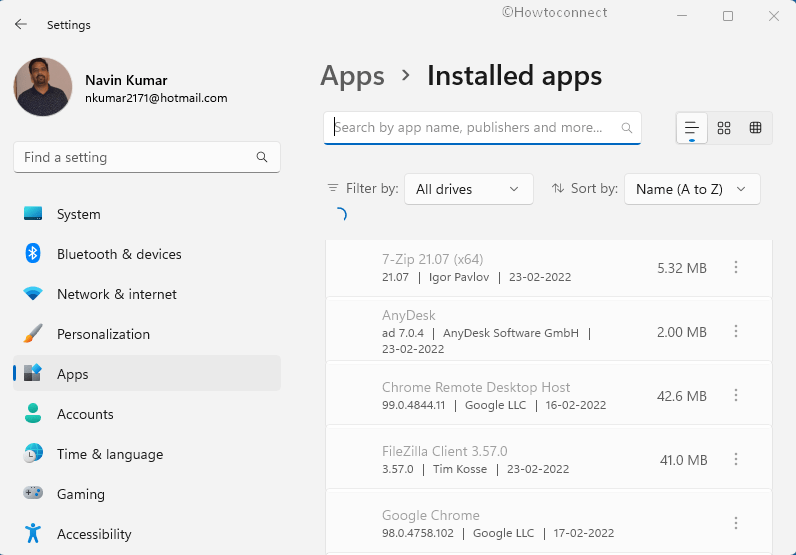 Taskbar Page
Previously you cannot move to left or right, but now with the update, drag, and drop feature is readily available. On the taskbar page, you will now find a new option to clear the recent searches.
Windows Spotlight
Windows 11 version 22H2 will also bring a Spotlight collection that automatically applies a new background daily with variety of pictures around the world similar to the images on the lock screen. To enable this feature –
Press – Windows + I.
Select – Personalization.
Click – Background.
Select – Windows Spotlight option.
It may take some time but that will show different backgrounds on the desktop throughout the day.
Once the feature is enabled, you notice that on the desktop there is a new button allowing to right-click to get more information about the image or switch to another picture. You have an option to like or dislike the picture so that future images may be more tailored to your likings.
Ability to share a Window from taskbar settings
On the taskbar settings, you will notice an option to enable and disable the ability to share a window from the taskbar on apps.
So, when this feature is enabled, and if you are on a supported app like Microsoft themes, just hover over an application. You will see this new 'Share this window' option and once it is clicked, you can share that window with the meeting.
In case, you want to head off sharing, just hovers over the app and select the stop sharing button. Either, you can hover over another app and select to share that window.
Digital Clock
In the top part of Windows 11 version 22H2, it will also bring back the ability to show the clock on all monitors removing the need to use a third-party app to get the same experience that existed in the previous version. You won't find an option to control this feature, as this will now be the new default behavior.
Mouse Wheel
You have the ability to use the mouse wheel when hovering over the speaker/headphone icon to lower and increase the system volume.
Quick Settings Improvement
You will see new icon adjacent to the volume slider to improve its discoverability.
Notifications Center Improvement
You will notice that the toast notifications have an acrylic background and moreover the animation used in Windows Hello notification has been updated.
Microsoft has also updated the notification system so for example, apps that send notifications calls, reminders, or alarms, the three high priority notifications will now appear stacked simultaneously. This means we may end up seeing up to four notifications at one time- three high priority and one normal priority.
Microphone
Microsoft will also introduce the ability to mute and unmute the microphone from the taskbar when using Microsoft themes, the button will appear automatically in the system trade.
Furthermore, you can toggle the microphone on and off by using the windows Windows + Alt.
Windows 11 Build 22494.1000 rolled out with Mic icon on Taskbar when calling
Volume Control Indicator
Windows 11 version 22H2 will also bring an updated design for the volume control indicator when using the keyword key.
Fly Out Design for Other Hardware Indicators
Microsoft is also updating the brightness, camera, and airplane mode to align with the sign language of windows 11.
Furthermore, these elements also support the light and dark color modes. In this new feature update, On Win+X menu, you can notice that the Apps & features entry is renamed to install apps.
Snap Assist
When using snap assist to create snap groups, they will appear on the task view interface, nap group also when opening the test view experience, the system with multiple monitors, one will notice that the background should now be acrylic on all displays.
So, when one is using the keyboard shortcut (ALT + TAB), now the experience will be shown windowed instead of full screen.
Switch between Languages and Keyboard Layouts
You will come to see an interface providing to switch between keyboard layouts and languages over an acrylic background. It will improve the overall performance and reliability.
Bluetooth Improvement
Windows 11 version 22H2 will memorize if you turn on WiFi or Bluetooth while in airplane mode. Furthermore, the next time you use airplane mode the radius will reflect their preference on printers and scanners. Now the page for a specific printer has been updated to show more information about the device.
Expanding Touch Keyboard
On windows 11 version 22H2, Microsoft is also expanding the touch keyboard theming experience to other important features including –
Emojis.
Voice Typing.
Imes.
Windows 11 Build 22504.1000 with 13 more themes for Touch keyboard
Android Apps
The most interesting feature is going to come for everyone after this update which is android apps.
So, currently, they have a release for beta channel, you can test it out, but that is causing some high resources like you should have at least 8GB RAM.
However, in this upcoming update, they are going to improve it, and everyone is going to get these Android apps on Windows 11.
UI related
There are some improvements related to UI like whenever you press Windows + R key, they are still getting the run pop-up in a white light theme. This is some older version UI, so they are going to improve it, you can get it in dark mode as well, just like the Task Manager.
Notepad and Paint App
Another new improved app is going to be the notepad app – You can dark or light theme, which will look pretty cool.
Another updated application will be the Paint app which is again linked to the new UI.
Music App
The next feature or you can say new apps you can expect from Microsoft, is Group music. The complete UI of this app is going to change.
You can basically replace the VLC media player using this app
Lagging Improvement/Performance
The most important and interesting thing on which Microsoft is working on is how to make Windows 11 faster, by minimizing the lagging issues. They are completely going to optimize it.
How to Speed Up Windows 11 (16 Easy and Best ways)
How to Fix Windows 11 performance problems (Solved!)
Conclusion
That was a review of all the upcoming attributes, features, and changes of windows 11 version 22H2. We expect more bills coming with even more features and more changes. However, it is unclear how this feature will be available to users but, for example, the support for Android apps, notepad, and new media player app will be available as optional downloads from the Microsoft Store and Settings. Taskbar changes are likely to arrive with a service pack that won't require full reinstallation of windows. So everything will just be installed as a cumulative update like those that you get every month.
That's all!!