Windows 8.1 new update is coming on 8 April 2014. Windows 8.1 users who run Laptop or PC with mouse and keyboard will have great news on that day as Microsoft is updating the Windows 8.1 features in their favor. Windows 8 Touchscreen friendliness procreate many detractors, but this new update will be enough to make them silent.  Fresh update is directed towards the users who run Windows 8 with Mouse and Keyboard and metro UI affect them, a power shift for laptops and reassertion of desktop.
New in Windows 8.1 Update
Boot to either Desktop or Metro UI
Windows 8.1 PC boots to Metro Screen But after getting this update Windows 8.1 will start desktop or Metro UI as you want. Changing in Settings will lead to open either desktop or Metro Screen. After setting is changed to desktop windows 8.1 will boot to desktop automatically.
Pin Modern App in Taskbar
Taskbar is a long ribbon at the lower side of you desktop uses to have pinned programs shortcut, Start Button and Toolbars. New windows 8.1 update will pin the store on taskbar by default and pining app on desktop taskbar well be your choice. Even Taskbar will be available with Modern UI and will let you to pin programs, add new toolbar, etc means customization of Taskbar will be possible on Metro Screen.
Change the default to Desktop Apps
Windows 8.1 would frustrated us when double clicking on any video launched unwillingly video player app Windows media player from app store by default. But forthcoming new update will change the default and your video will run on desktop. Photos will also be opened in Windows Photo Viewer in desktop environment. Actually this update will change default from Metro UI to desktop. This will also be very convenient for the user who want to run PC with mouse and keyboard rather than touch and tap on touchscreen.
Arrange APP using Right click on App on Metro UI
Right clicking on app will open a menu having few options leading to arrange apps on metro screen. From here you can resize your apps, pin apps to taskbar, uninstall, clear and turn live off. These options will be helpful to make metro screen charming
Shut Down and Search bar Icon on Metro Screen
4. Shutting down on Windows 8.1 is a longer process and spend 3 to 4 steps move like mouse to right corner, click on settings then power and finally on Shut down. Windows 8 novice update will settle this issue as you will find Shut down icon on the top right corner of Metro Screen. Launching  Charm Search in the right side will be things of past as it will be also on metro screen conjugating with Shut down icon.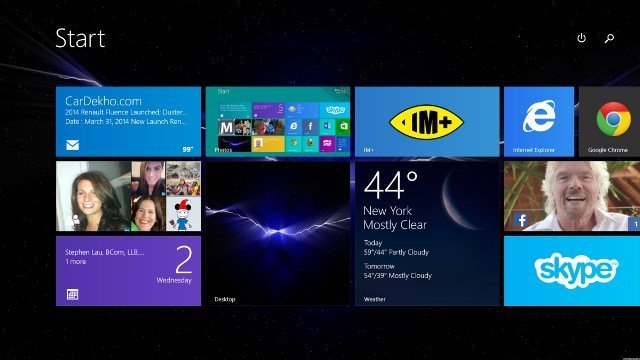 You will see the title bar associated with taskbar as when you will open an app, title bar drops down from the uppermost part of the screen,  after a while it will vanish. Moving the mouse pointer to the top of the metro screen guide the title bar back anytime.
Searching on Windows 8.1 will fetch the apps as result as well.
You may read