Microsoft has been launching new versions of  Windows operating system for years now. Every version has its own merits and demerits. The latest version of Microsoft's operating system is Windows 8.1. Still, there are many users who are using Windows 8 and the previous versions of the operating systems. Everything on this earth carries its own pros and cons with it. The points that appear as advantages to some may become disadvantages to others.  Windows 8.1 has been back with everyone's favorite Start Screen with an improvement in performance. It also provided the users' wide range of customization to the PCs. But to be friendly with Windows 8.1 is not that easy. It takes a lot of time to work properly on it. And also it is quite difficult to get track of the background updates of Windows Store apps.
There is news in the techno market that in the coming year Microsoft is going to launch another brand new version of Windows operating system which might be called as Windows 10. Now many would be in wonder whether this coming version from Microsoft will stand up to their meets or not. Well that we leave up to the users to decide it. By now you must have understood that we are here on this topic to reveal you some important information about the new version of Microsoft's operating system – Windows 9. Based on the techno based gossip we came to know about the launching period of the new operating system. We have also noted the survey of what everyone is expecting the price of Windows 9 to be and the features that the users are expecting to have in it. The information will definitely be updated as soon as we get to know more about it.
Windows 10 Release Date
Myce.com had acquired an exposed file which holds the details of launching time of Windows 10. As per their file report it is estimated that the Preview version of the new operating system is planned to be launched by 2nd to 3rd Quarter of next year, i.e., 2015. The working of beta plans might have been changed with the entry of the new CEO, and poor working conditions of Windows 8 might also have been a reason for the change in beta plans.
ZDNet had recently declared that insider sources had confirmed that Windows 10 is just a few months away. This ensures that by April or June 2015 it will be released.
But as per the Verge report, they say that Windows 10 is programmed to be launched on September 30th where the preview of Windows 10 will be shown.
Let's see what will be the Windows 10 Features
Windows 10 Main Features
Start Menu of Windows 10
Microsoft is trying to work out the main drawback of Windows 8 this time. Yes, you guessed correctly, the Start Menu of Windows 10. Start Menu is been in the recent talk of its working in Windows 9. Microsoft released the idea of Windows 9 Start Menu through some of the Start Menu screenshots. As experienced in Windows 8.1, the Start Menu explores Modern UI but in Windows 9 the users will observe the Windows Store Apps with Live Tiles along with Modern UI in the Start Menu. This way Microsoft has arranged to win many users' hearts who were disappointed by the previous Start Menus of the operating systems.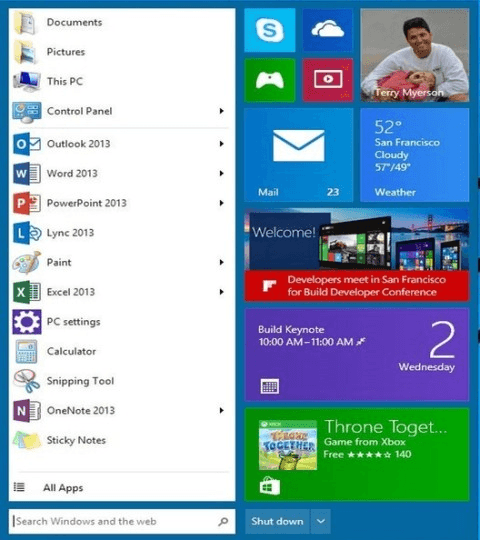 No Charms Bar in Windows 10!
Many news websites have released the news that there is no Charms Bar in Windows 10. It seems as if Microsoft has regained its senses and discarded the Charms Bar from the upcoming operating system. WinBeta had reported that Charms Bar has been shown the exit door in the new version of Windows, at least for desktop users. Verge is also on the same report of elimination of Charms Bar in Windows 10.
And after this news, ZDNet also claimed news from inside sources that the Charms Bar in Windows 10 is completely departed. All the Charms Bar menu items will be moved to title bars at the top of Modern UI apps in Windows 10, as per ZDNet.
Virtual Desktop of Windows 10
Famous tech report has said that Microsoft will add virtual desktops for Windows 10. The main function of virtual desktop is that Windows 9 users will be able to make separate active desktops and can easily switch between them using a button on the taskbar. This feature will help the users to keep the desktop on Windows, not switch to other platforms.
Is Cortana in Windows 10?
Neowin, the famous technology blog revealed that Cortana had been seen running in with Microsoft's new operating system. Cortana is the virtual assistant of Microsoft. It will be her introduction to Windows laptops, desktops and tablets with the launch of Windows 10. Now the reports say that If Cortana is in Windows 9, then on the desktop it will occur as an app. When you will launch the app, a small window will be opened up where you can type or speak your question. While talking about Cortana, the CEO of Microsoft had recently sent an email to the employees stating that Windows Phone is just the beginning for Cortana's life and also mentioned that Windows will experience her more in the near future.
Price of Windows 10
How to guess the price of Windows 10 now? Well, there are rumors in the techno world that the price of Windows 9 will be seriously lower than the previous releases of operating systems. One famous source from the techno world believes that the base operating system will be free and as a part of subscription few features will cost extra.
Another report says that Windows 10 will be free of cost but on the condition that it will be without the desktop. Well, Microsoft policy has been in the same way over time by which products of similar size or price are completely exempted by the licensing fee. Now how much Microsoft would charge for the desktop will be a debate in itself.