Procedures to Fix Windows Store Login Box Grayed out in Windows 10 with steps. – Multiple Windows 10 users are unable to sign-in and download applications from the app store. When they make an attempt to sign-in, a gray box appears on the PC. The box doesn't display any sign-in options and abruptly disappears after 10-15 seconds. In addition, other built-in apps such as Cortana, Mail, and so on also encounters the sign-in problems. Read a similar guide on How to Fix App Store Hangs While Loading in Windows 10, 8.1.
In this guide, we present you few different procedures to Fix Windows Store Login Box Grayed out on Windows 10.
Windows Store and other apps including Cortana demand Microsoft account credentials to perform their respective tasks. When you try to sign in, a gray color box appears but provides no option to proceed further, and then all of a sudden it disappears from the screen. This issue prevents the users from making any purchase on Store. Pursue this article on How to Streamline Purchase Experience on Windows 10 Store.
Methods to Fix Windows Store Login Box Grayed out on Windows 10
Let us proceed to all these ways one by one.
Method 1 – Troubleshoot Windows Store Apps
First, try to troubleshoot Windows Store Apps, allow the OS to figure out the causes, and makes everything work perfectly.
Step 1 – First of all, open Start Menu and type troubleshoot. Result will display troubleshoot system settings underneath the Best match, select it.
For reference – read more ways to do the same – How To Open Troubleshooting In Windows 10.
Step 2 – This will make Troubleshoot settings page appear on the screen. So, on the right pane, locate and click Windows Store Apps.
Step 3 – Run the troubleshooter button will be visible, click on it.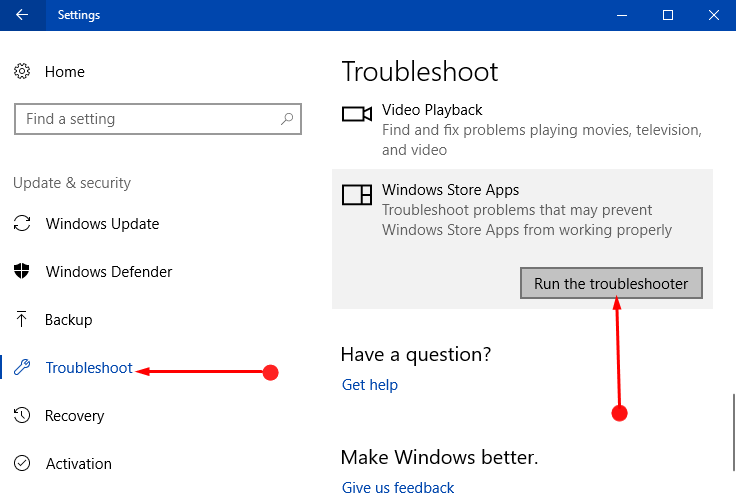 Step 4 – The troubleshooter will open up, follow the guidelines on the wizard and complete the troubleshooting process.
Method 2 – Check Microsoft Account Sign-in Assistant Service
Windows 10 comprises the login process to a service named Microsoft Account Sign-in Assistant. In case, this service is disabled and not working (running), you might encounter this specific issue.
Step 1 – On the Taskbar search, type the command services and when the same arrives on the top, right-click on it. This will display few options on Cortana, select Run as administrator.
Step 2 – In the Services window, you will see various services, locate and execute a right-click on Microsoft Account Sign-in Assistant. Few options related to the service will come up, click Properties.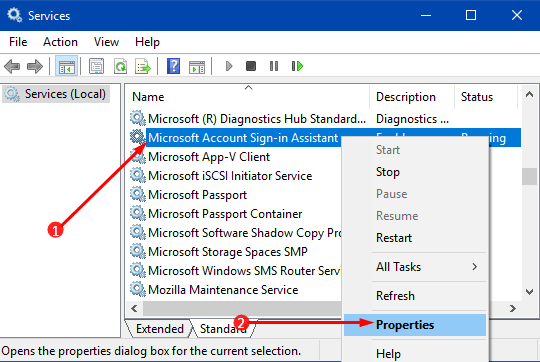 Step 3 – Stay on the General tab and ensure that its Startup type is assigned to Manual. Moving ahead, click the Start button to make the service run and finally, click Apply and OK to implement the changes.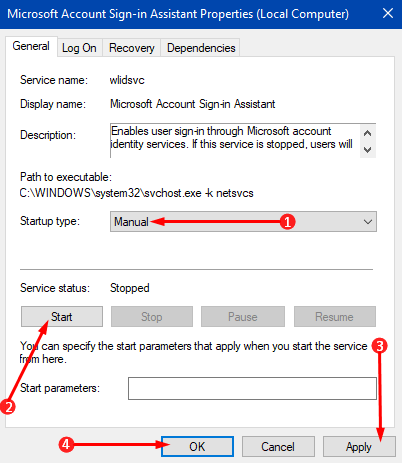 Get more ways to Manage Services in Windows 10.
Method 3 – Check Windows Credentials
Some users of Windows 10 have suggested that few corrupted Windows login Credentials were the root cause of the sign-in problem. If the above methods fail to fix the mess-up, give a shot to this one.
Step 1 – Click Windows logo icon on the far left end of taskbar and type manage windows. Cortana will come up with Manage Windows Credentials as the Best match, select it.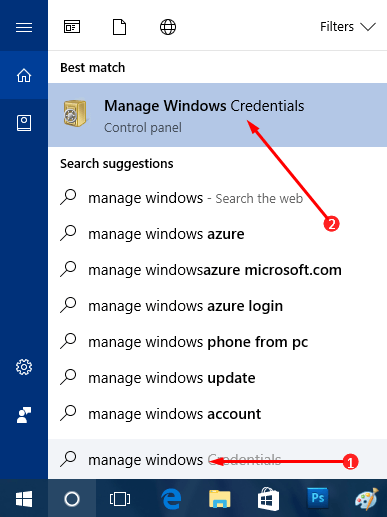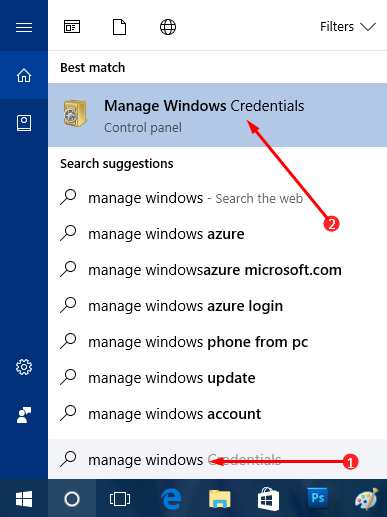 Step 2 – This will immediately fetch Credential Manager window on the PC screen. Go to the Generic Credentials section and find the entries related to Microsoft. Click the arrow on the right-side of the respective entry and moving on, click the Remove option.
Method 4 – DISM and System File Checker
If Windows Store Login Box Grayed out on Windows 10 still persists, try out these commands.
Step 1 – Right-click on Windows logo icon. From the list of various entries, find and select Command Prompt (Admin).
Pursue more ways from our guide on How to Launch Elevated Command Prompt on Windows 10.
Step 2 – UAC will show up with all the details and proceed further by clicking Yes.
Step 3 – In the elevated Command Prompt, copy-paste the below-mentioned command lines one at a time and make sure to press Enter after inserting every command.
DISM.exe /Online /Cleanup-image /Scanhealth
DISM.exe /Online /Cleanup-image /Restorehealth
sfc /scannow
Step 4 – After working with all the commands, lastly, reboot the PC and see if you still see the gray box.
Other Tips
1. In case you are using any VPN software, uninstalling it and settle the gray box sign-in issue.
2. Check your browser's settings and if a proxy server is customized, quickly remove its settings and restart the browser.
3. Login to Store in Windows 10 with Separate Account and test if the Store login box opens up.
Conclusion
Completing the above guidelines will Fix Windows Store Login Box Greyed out on Windows 10 pretty easily. Well, there are other little precautions that you can take to avoid such situations, as removal of a proxy server from the settings of the browser. So, try out the above methods and see which one fixes your problem.
Repair any Windows problems such as Blue/Black Screen, DLL, Exe, application, Regisrty error and quickly recover system from issues using
Reimage
.