Everyone is aware of MS office package because it is top-rated and multipurpose application of windows version. Now Ms Office 2013 has been launched all over the world. Word 2013 is an integrated application of MS office 2013. In professional or business purposes, several users like to transform the page background of word document to an attention grabbing color so that they can exhibit interesting presentations among the public or take colorful print out.
Word 2013 has presented many new features and I have covered like present word 2013 document online, share word 2013 document to Facebook,  edit PDF files in word 2013, add watermark, and many more.
How to Change the Color of Word 2013 document page ?
First Step
At first, click on Design menu from the launched word document.
Now click on Page Color and then opt a color that request to you.

Thus, background of opened word document page has been changed into requested color. Next, you will have to modify other settings with the intention to print in colorful background of word documents.
Second Step
Choose the File menu in opened word document.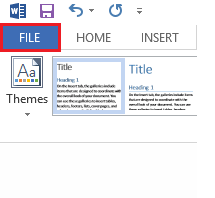 A drop-down menu panel appears in left side and click on Options.
A new window namely "Word Options" brings up. Here, click on Display menu from left menu panel.
At last, look for Printing Options section and check the box nearby this option – Print background colors and images.
As a result, you are ready to take print out with selected color background under word 2013.