Here, we are going to give you a list of 5 best Mathematical Windows 8 apps with a little description which might suit you according to your own desire. These Windows 8 apps provide not only the problem related to calculations but also to figures, shapes, logic as well as certain complex problems. They help you in learning new tricks and tips to solve problems in a completely new way. You can avail of these facilities absolutely free as these are available at Windows 8 store. These Windows 8 apps work smoothly and provide a quick response without making any error. So these features are suitable for all people whether it be child, adult or old.  These apps provide you different features such as some may solve mental math some other help you to easily calculate the problem. Now read how windows 8 solves these problems and you avail of this facility.
Recommended: Best Study Planner Windows 8 Apps for Kids
Math solver
Math Solver Windows 8 app provides you many unique features of mathematics that might help you in day-to-day life situations. It provides you dozen of different calculations which are very helpful as we generally go through them daily whether you are a student, accountant, or others. Sometimes you feel that math become complex most probably when you solve the fraction, quadratic equation, geometry, etc. However, using this Windows 8 app provide you interface to choose any of the options and solve these complex questions. You can choose any of the options which solve your problem. All you have to do is to type your query and click to generate the answer. The most innovative feature of this app supports snapped view which provides you multitasking.
Math Solver Windows 8 App Key Features
Provides many Numerical calculations like Quadratic Formula, Vertex Solver, Factoring, Synthetic Division, etc.
Allows many theorems like Rational Root Theorem, Slope of line, Equation of line, distance formula, etc.
Provides simpler calculations like Prime Factor, Unit conversion, etc.
Mental math quiz
This Windows 8 app is totally based on forming a set of questions and then ask you for the answer just like in any quiz game which supports its name. This is a totally free app. It checks your mental capacity by giving you 10 difficult questions. You have to answer all these questions asap as there is a timer. There are four options available on the screen and timer will start the top right corner on the screen. You have to choose the correct answer among the four options within the time period otherwise the question will disappear and new question will appear with a new time period.  Your answers mark to display on the top right corner below the timer and also high score displays on the screen goal to beat the high score and make a high score. This facility provides you try to answer the question very quickly within the time period. It checks your response time and evaluates how good you are at numerical problems.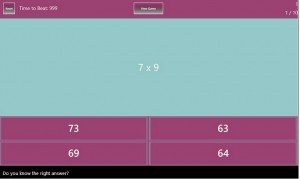 Get this App Here
Math formula for shapes
Math Formula for Shapes windows 8 app is completely different in comparison to other math apps present above. It provides you various formulas with a proper design that you can use while solving any mathematical problem. When you install the device and go on the screen you will see the shape on your device and also you can easily understand the formula using these designs. All you have to do is to click on the shape. If you once click on the particular shape you will see different designs along with formula such as radius, area, circumference, height, etc. All these formula helps you in solving the mathematical problems which might seem to be a little complex or more in a very easy way.
Get this App Here
Math 4 fun
Math 4 fun Windows 8 App is a very innovative idea for child which provides you a cool interface so that you can question your kid in a completely good way. When you install this app and use the screen you will see various quiz contexts.  Such as addition, subtraction, multiplication, division, mixed, and money categories available on the main screen of the app. You can choose any of these and play the quiz by answering the question correctly. You will get five-point for each question and just try to give a correct answer to each question. If you answer any wrong you will see the short message on your screen. The main goal of this game is to score higher marks and beat the other one. But you have to curious to see any wrong answer. This Windows 8 App helps you to improve your accuracy in calculation.
Math 4 fun Windows 8 App Key Features
Gives you an insight into different mathematical problems.
Simpler Calculation: Addition, Subtraction, Multiplication, Division, and Currency.
Get this App Here
Math races
Math races Windows 8 App is very interesting. Using its feature you can test your children mathematical skill and let them enjoy using this app. It also helps you to increase their mental mathematics calculation through enjoying. When you launch this app and use the screen you will see the old teacher ask you some mathematical calculation if you answer it your horse goes ahead forward. If you continue to enter your answer correctly your horse speeds up. The main goal of this game to beat the other horse and finish line. So this feature provides you with easily learn math by enjoying.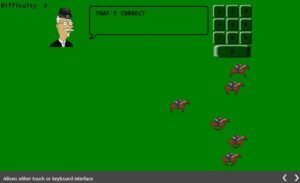 Math races Windows 8 App Key Features
Designed especially for small kids.
Provides kids an image of an exciting horse race to engage you to solve easy problems.
Have both interface i.e. touch or keyboard.
Maintains the level, so they can pick up where they left off.
A very easy math app for children to pick up quickly.
Conclusion
All the maths apps mentioned above are tried and they seem to be reasonably good in comparison to other existing math apps on Windows 8. Read them out and use whichever app suits you the most. If you have any queries regarding one of them do ask in the comment box.