Initially, perhaps you might have confronted with certain unsmiling errors when your machine boots after grabbing Win 10. But, I like to clarify that this issue is not for snatching your smile, but a very casual error alike its name.
In fact, nothing has happened to your system. The error message that has popped up giving a warning sign appearing on the screen while starting your machine and says that your CPU is getting melted down refers to the error related to some of the important files that are missing from the machine. When you notice such messages, you should make an assumption that nothing wrong has happened within whether the laptop or desktop.
The main reason here is that the leftovers of a built-in autoloader program do not get deleted correctly.
The term autoloader refers to the program that gets loaded itself whenever you boot your machine. This means, as soon as you switch on your machine, the autoloader takes a measure to be initiated and furthermore run within throughout the booting process of Windows 10. This program is none other than an antivirus that you have possessed on the machine for safeguarding.
In order to put an end to the irksome message, Your CPU has melted! displayed during the booting session of your Windows 10, you require disabling the file to stop loading the non-existent files.
How to Fix Your CPU has melted! on Windows 10
The process of fixing the error 'Your CPU has melted' displayed on your device involves some steps to be pursued.
Bring a right-click into effect on an unoccupied territory whether it is anyplace on the taskbar. Click on the Task Manager option lying at the 3rd position from the lowermost.
In case, you do not witness tabs along the top, then hit on link More details residing at the lower left-hand angle of the task manager.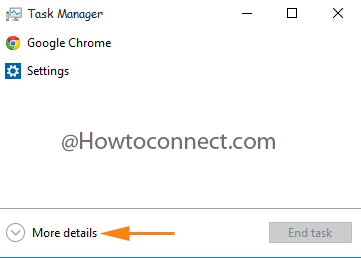 After the full fledged Task Manager comes to the sight, navigate to the Startup tab and hit it.
Examine the entire programs exhibited on the list one by one closely enabled during the startup on the task manager and disable the suspected one.
To verify the suspect was the proper program causing the issue restart the machine.
Continue to experiment this method of disabling, booting and re-enabling one autoloader file after the other until you find the accurate file that generates the error message, which you do not want.
Conclusion
Once more I like to say getting Your CPU has melted! error note when you boot should not be considered to be a serious issue.
Repair any Windows problems such as Blue/Black Screen, DLL, Exe, application, Regisrty error and quickly recover system from issues using
Reimage
.