0x80029c4a Windows Defender Error in Windows 10 is a nagging issue coming in front when users attempt to see scan history. Despite there is no problem during scanning but when you click on History tab a dialog box prompts with a message 'Error loading type library DLL'. You might be literally frustrated to see the pop up instead of the result on Windows 10 but don't worry you will find here easy working solutions.
After getting Windows 10 Fall Creator Update (V1709), many users have put their remonstrance against some features. They have come up with their complaints about the malfunction of windows defender. Some of them ended up with the 0x80029c4a Windows Defender Error message after installation and making unable to view the Quarantined, Allowed and All Detected items under Scan History.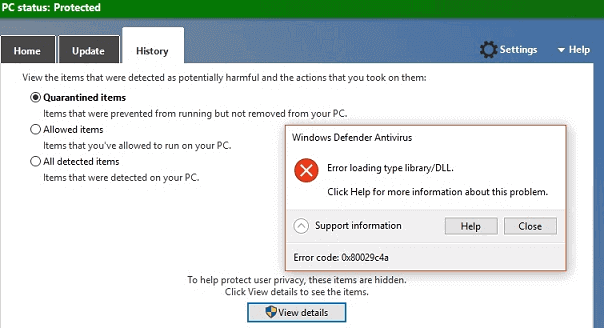 How to Fix 0x80029c4a Windows Defender Error in Windows 10
After completion of the Scanning by Windows Defender when users try to navigate to History tab to view Details they encounter with the 0x80029c4a error message. The issue appears when they use classic Windows defender Gui in short MSASCui.exe.
0x80029c4a Windows Defender Error Solutions
Windows Defender 0x80029c4a Error does not exist in the list of bugs in Windows 10 V709 edition. This is actually an outcome of an establishment of new features. However, if you using the old Windows Defender Interface which is commonly known as msascui.exe, you can easily resolve the issue using simple tweaks. You need to follow the below steps and apply them accordingly. The steps are:
Step-1: Open Run dialog box from your desktop. You can Press the "Windows key+R" shortcut using your keyboard.
Step-2: Paste the path in the dialog box: C:\\Program Files\\Windows Defender and hit Enter. This will open the folder location of the traditional Windows Defender.
Step-3: Put a right click on the MSASCui.exe from the folder and select the option Run as Administrator on the context menu.
Step-4: If you click on the option View details now, you will be able to see the list containing quarantined and allowed items.
This is how you can resolve the Windows Defender 0x80029c4a Error. While you can get your job done using the classic Windows Defender interface, Microsoft recommends another way. As they have introduced their Windows Defender Security Center, this the best option to use according to them. They are also trying hard to fix this mess up and it is just a matter of time when they will come up with a permanent solution.
Use Windows Defender Security Center Alternatively
You need to delete the Windows Defender shortcut that you created earlier on the desktop then start launching the new utility.
Step-1: Press Windows key + S hotkey and type Windows Defender Security Center in the text box. Do a right click on the identical option 'Windows Defender Security center' under Best match and select Pin to Start.
Step-4: In order to check the quarantined items, from the new interface, select the option Virus & Threat Protection.
Step-5: Perform a click on Scan History and go to the option Full History. This is how you can avoid the 0x80029c4a Windows Defender Error.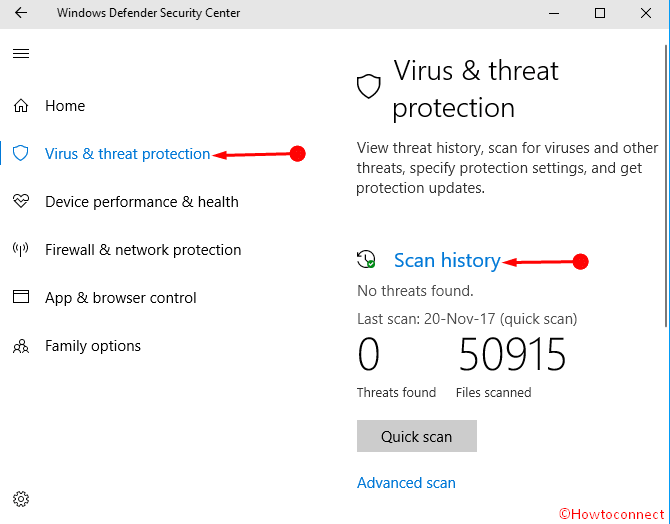 Conclusion
0x80029c4a Windows Defender Error in Windows 10 is one of the exemplary problems with all the issues. We have discussed the resolution process and until a permanent fix is not on surface this will work nicely.  We expect that the instruction will be helpful for you to resolve the issue like others.
Repair any Windows problems such as Blue/Black Screen, DLL, Exe, application, Regisrty error and quickly recover system from issues using
Reimage
.