You can now Disable and Enable Collect Activities In Windows 10 using the Settings apps. Microsoft new build 17040 for Windows insider has added a new feature to Privacy section for this. An update of Windows "Redstone 4" version 1803 also contains a special feature in order to handle users' activity history. Commonly the history log is accumulated and used by Cortana when you turn on the feature "let you pick up where you left off.
Activity history log is applicable for all the files, Applications, web pages and other movements as well you make Windows 10 operated computer. This feature is quite helpful to guide the users back to the business as well as to resume the previous work done. Follow the instructions.
How to Disable / Enable Collect Activities In Windows 10
Step-1: Launch Setting app by pressing Windows logo key+I simultaneously. Select the Privacy option that displays a lock icon on the application.
Step-2: On the left pane of this window, you will see an option Activity history. Select this option and move to the adjacent right side of this option.
Step-3: On the Privacy window, click on Activity History and go the right pane. Disable the option using toggle under Let Windows collect my activities. In order to enable this feature again, follow the same process and toggle the option back to the turn-on side.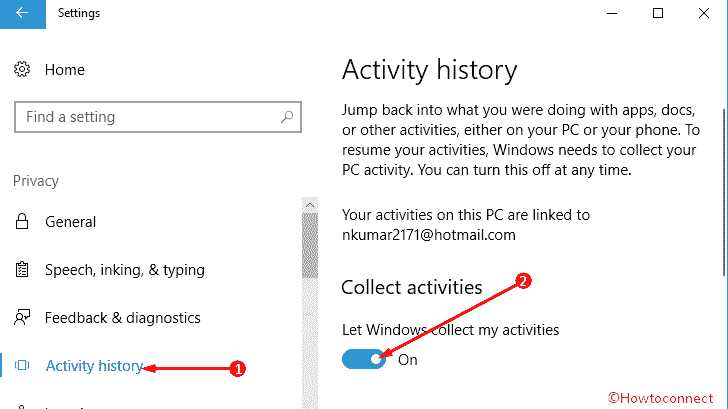 How much easy it's!
Conclusion
Like the Telemetry, many of the users didn't take the data collection system of Windows 10 spontaneously. Of course, there are obvious reasons behind this. Usually, Microsoft collects too many info which includes sensitive and private as well while running one of the builds of Insider preview. If you disable Collect Activities in Windows 10 you can control this activity to an extent.
Get help of following video tutorial –