Facebook access has become an essential part of our daily routine. But it is not easy to identify for the Facebook user how to take benefit from this social network. Facebook is always upgrading and offering different features with the purpose to remain it as most used social network at international level. In recent times, many new features have been presented by Facebook and some of them have been admired among Facebook users.
If you are a regular Facebook user then you would be familiar with the some essential Facebook tasks like deleting or adding a friend, managing your apps, wall, and updating status. Aside from this necessary functionality, the development teams of Facebook have also added advance improvements in order to get better Facebook experience. Thanks to the Facebook team for introducing some new and interesting Facebook tips and tricks which you did not still know.
Disable Facebook Advertisements
When you access to Facebook profile, gets numerous advertisements, banners, and notifications. It creates irritation and confusion for you. A new tool called Facebook: Cleaner is used disable all the useless ads easily while this tool installed in your browser.
Schedule Facebook Messages
If you like to schedule Facebook message in order to send messages at a definite date or time in the near future then it is probable with online service. An online service Sendible presents this type of feature which assists you send Facebook messages to your friends or relatives at an exact time in the near future.
To use this service,
You will have to only create a new account on the site (and connect to your Facebook account).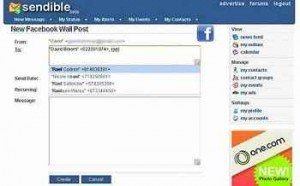 Next, compose a new message and set your preferred parameters.
The biggest nuisance of Sendible service is not a free service. For the first time, you can access trail version of sensible service (only 30 days) with limited features. The minimum cost of the cheapest account is $39.99 per month and offers management for up to 40 services. Instead, you can use Buffer which is a free service and also the best choice.
Place Facebook Chat to Firefox's Sidebar
Facebook Chat stands for a new way which is used to communicate online to worldwide located Facebook users simply. The biggest annoyance of Facebook chat is that it is positioned at the underneath of the Facebook page. As a result, while you like to read and send new messages, you will have to go back to the tab forever where the Facebook main page is loaded. In this situation if you Facebook on FireFox browser, you can place the Facebook Chat into your Firefox's sidebar so that you could access every time without any disturbance.
Go to the top side, of the FireFox browser menu bar and click on Bookmarks menu.
Here, right click on drop-down menu panel and select New Bookmark option.
Next enter the following details in New Bookmark tab and check the box. At last click on Add button.
Name –  Chat (Facebook)
Location –
Check –    Load this bookmark in the sidebar
Now click on the Chat (Facebook) icon from Bookmark's drop-down menu bar and start sending messages to friends.
Download Facebook Photo Album
Facebook2ZIP is an online application that lets you download photo albums from your personal Facebook account or your friend's profile. It is a much-admired method to backup your personal photos. This online application can download all your photos from a particular album using single clicks.
To use this app, go to their official website and sign in with your Facebook account.
Choose your required album and all photos which you want to download in a ZIP archive.
Replace Facebook Theme Color
Several Facebook updates were made from the beginning, but it had never changed the Facebook theme and design. Sometimes, most used default blue theme for Facebook can be seemed as traditional due to access this social network daily. It will be fine if you transform the color theme and add a personal touch to increase your Facebook experience. To fix this problem, a chrome extension termed Change My Facebook Color is handy. It lets you set their personal color for themes on your Facebook profile.
How to do this?
Download this chrome extension from Chrome Web Store and add it to your Chrome browser.
Next, go to Google Chrome's settings and open Appearance option.
Here, check the box of Always Show Bookmark Toolbar.
Now select the recently added extension icon from the chrome extension bar at the top right corner.
Select the color for background and foreground and drag the arrow icon to the bookmark toolbar.
At least go to Facebook and press the button from the toolbar and enjoy with the new Facebook theme.