Activate Mobile Banking in ICICI Bank – MOBILE BANKING is a service through which anyone can perform banking activities like transactions (credit, debit), getting account detail any many things with the help of MOBILE from anywhere, anytime. So it is very useful and beneficial for everyone. After activation of Mobile Banking, You need not go to the bank and stay in a queue for a long time.
How to Activate Mobile Banking in ICICI Bank
For activating the Mobile Banking in ICICI first of all, you should be a valid and regular customer of ICICI bank. During the registration, you need a photo proof such as – Driving licence, Voter id, Pan Card, Service Man Card and etc. You have to go to your nearest ICICI branch for registering. After registering, you are able to use the mobile banking service of ICICI.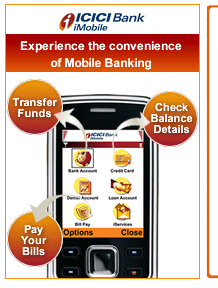 For NRI customers, who live abroad, will have to download the registration form. To download the form click here.
Fill the form and send along with valid id proof to the given address
ICICI Bank Ltd.
ICICI Bank Towers,
Internet Banking Operations, CLOG
Survey no: 115/27,
Plot no:12, Nanakramguda,
Serilingampally,
Hyderabad – 500032
Steps to Activate Mobile Banking in ICICI Bank
**As soon as you get registered in ICICI bank you are advised to get your MPIN for frequent use of mobile banking. For MPIN SMS MPIN to 9222208888.
* After registering you can use the mobile banking by several process. First through using of SMS.The first move is easy you have to send a specific typed message to a particular number given by Bank. For example – If you want to know your account balance then you have to type IBAL to 9222208888. And in reply you will get your account balance.
* You can dial *525# from you cell phone. You will get a menu of ICICI bank. With the help of this menu, you can reach in your account and do more.
* You may also use all the new facility CALL TO PAY. In this call the bank with your registered mobile and tell you 4 digit MPIN. You can recharge your DTH, Mobile phone and do more. But there is a limit of money transaction up to 5,000/-.
* For this type of mobile banking you need a GPRS enabled handset with Internet connection. Visit to m.icicibank.com and access to your mobile bank. You are required a user id and password to access this.
* One more way to use mobile banking. Download the new mobile banking app iMobile developed by ICICI for convenience of the customer. For downloading this app here, some steps are given.
#For those who have GSM handset:
* SMS imobile to 5676766 to get through GPRS
* Go to Mobile ICICI with the help your cell phone and download it.
* You may download it on the computer and put in your mobile.
#For those who have CDMA handset, They have to download it using operator circle.
Thus after getting iMobile, use it and get advantages of ICICI services in your hand.