When you open Task Manager and saw AERTSr.exe you may sometime confused, what is this? Is it a virus or not? Here we discuss some of the characteristics of AERTSr64 in Windows 10. Don't worry it is not a virus as it is a built-in program of the operating system. It's a 64-bit program file hence can't be compatible with 32-bit Computers.
AERTSr64 in Windows 10 Details
What is AESRTSr64 in Windows 10?
AERTsr64.exe is an executable file present on your Windows 10. Basically, it is a component of Realtek High Definition Audio Driver which is developed by Andrea Electronics. Its latest version is 1.0.64.8, specially designed for Windows.
AESTSr64.exe stands for Andrea Electronics System Tray Audio Service where 64 tell about the system configuration i.e. 64 BIT Computer. It is worth noting that this executable file i.e. AERTsr64.exe is not among the core files of Windows Operating System. It is just an extra file which can be enabled or disabled for one's own use.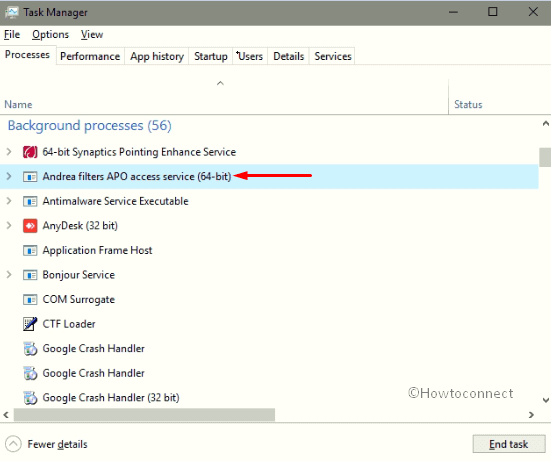 What is the work of AERTSr64?
Have you ever wondered how to reduce the background sound glitches which you often encounter while listening to any Music or watching Movies? If you do, here we have brought a solution to this problem. The software basically filters the background noise.
Depending upon your usage, you can enable or disable this program at startup. In general, when you use earphones in your system, some unwanted noise disturbs which often leads to discomfort. As per my usage, I think this is an essential software which is very helpful in reducing background noise while listening to music.
As stated above this is an executable file which also is the same for any viruses on the computer. If you run Antivirus this may show you as a virus. However, it is not. If you have already installed this software and this is leading to any bug on your PC, you can easily remove from the system.
According to the rating of this software, this is 76% accurate and 24% dangerous as you are going to play with system files.
Problems with AERTSr64 in Windows 10
Many users report that sometimes, the presence of AERTSr64 in Windows 10 makes the PC slow with frequent error messages. So, if it creates issues on your system, you must definitely eliminate it from your workstation as early as possible.
This program is generally installed by you on your Windows which is usually located in the C drive. But without your awareness, the Cyber criminals make use of this file name moreover circulate their own infectious files into the systems.
Furthermore, the intrusion of this malicious program even changes web browser settings. It tends to modify the browser's homepage, send error messages without informing you about it.
See: How to Stop Websites Video Ads Noise Automatically on Chrome and Firefox.
How to Deal with AERTSr64.exe issues
Nevertheless, it is possible to remove this file from the infected computer. However, for multiple reasons, you should not proceed to delete aertsr64.exe file from the system.
So, the best way is to run a Full scan with the built-in "Windows Defender Security Center". In addition, you can also use a reliable third-party antivirus solution to deal with this problematic file.
Running this automatic process will also trace out harmfully hidden components from the system.
Overview of AERTSr64 in Windows 10
| | |
| --- | --- |
| Original Filename | AERTSr64.EXE |
| Type of file | Application (.exe) |
| Display Name | Andrea RT Filters Service |
| Latest Version | 1.0.64.10 |
| Command-line |  %system%\AERTSr64.exe |
| File Location |  %programfiles%\Realtek\Audio\HDA\AERTSr64.EXE |
| Service Name |  AERTFilters |
| Product Name | APO Access Service (64-bit) |
| Startup Type | Installed as Windows service |
Repair any Windows problems such as Blue/Black Screen, DLL, Exe, application, Regisrty error and quickly recover system from issues using
Reimage
.