Lomo+ is a beautiful photo editor app for Google chrome. You can edit any picture or images on this browser using this app. This app lets you edit whichever picture you want to edit on the website with the aid of different filters like bleach bypass, glowing sun, etc. filters. This app is like an Instagram for Google chrome. All you have to do in this app is to right-click on any photo you like on any website on this browser and start editing it in Lomo+ app. Modified app could be directly saved into your PC.
This app performs limited functions. The interface of Lomo+ app is neat and clean. There is no option to share the edited pic on this app. You have only one choice here i.e. saving the edited files directly on your computer. A link is provided at the last of this article to have access to this app.
How to edit and save any photo using Lomo+ app
This app provides you dozens of distinct filters to apply on any of the picture you find online. Follow the below written steps to apply filters on any image to which you wishes to:
At first, Right-click on any image on the web and select "Modify in Lomo+" from the context menu.
This will open the selected image in another tab.
On the left hand side of this, you could find the Top Filters available there. Some of the filters are Glowing Sun, Bleach Bypass, Hazy Days, Mellow Pinhole, Plastic Russian etc. A screenshot of these filters is shown below.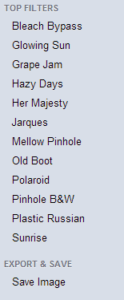 Select one among all the above mentioned filters. Whenever you click on any of the above mentioned filters, it would show the applied filter image as a preview. Once, you like the preview come to the bottom of Top Filters. Here, you would find the option of Save Image. Clicking on this option will ask you the place where you would like to save the picture. Choose the place and press Save. Basic photo editing options are too missing in this app like the Zooming option, Trimming, cropping, etc. This is a simple filter applying app nothing more.
This app saves the complication of downloading any image from any website and then using any photo editor app to do basic modifications. If this app provides the choice of sharing images, it would really be a wonderful app.
Key Features of Lomo+ App
A nice app available for free of cost.
A lightweight app.
Operates directly from the context menu of the system.
Images are never uploaded to an external server.
Cool App but with slow interface.
Apply Filters to any images present on any webpage.
Conclusion
If you are willing to add different effects on a picture that you find online, you can do it before even downloading that picture. Filters could be applied on it and then be saved on your PC directly. Overall, this is a cool app with basic filters. You can also have Lomo+ app by searching it among the extensions of Chrome.
Link: Chrome: Lomo+