Google Keep Extension is an unauthorized extension for latest Google Keep service. This extension provides a new feature in the Chrome called panel, tab or pop up which you will have to activate at first. Through this extension, you can add new notes, view all earlier notes and delete any existing notes.
Enable to Google Keep Extension in chrome
After installing the Google Keep Extension in your chrome, right-click on extension's button and select Option.
Next, you will get a new chrome tab. Select your desired option like Panel, Pop-up or tab from "open in" dropdown menu panel.
Click to Chrome://Flags page link.

Then find the flag "Enable Panels Mac, Windows, Linux, Chrome OS" and click on enable button.

Click on Relaunch Now button at the bottom to take effect on the new changes from next time.
How to Use Google Keep Extension in Chrome?
Sign in to your Google account to access your keep notes.
Again click on the extension icon on chrome browser. You will get a panel feature of Google keep service at the bottom-right of your screen (if you have selected the panel option under "open in" section).
In the Google keep panel, you can add new notes, color codes on the notes, search them and switch in different views (grid, List).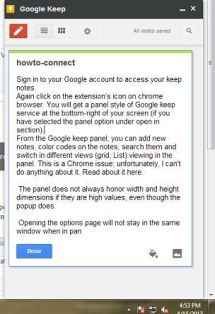 If you feel uncomfortable with the panel, you can make a change into pop up or tab immediately. To do it, browse the extension options and select the pop up or tab option from the 'Open in' dropdown menu. Google Keep Extension also facilitates you to start Google Keep service from the right-click context menu. The feature is intended for quick access. For example, you can add selected text to keep as a note from any web page.
Install Google Keep Extension