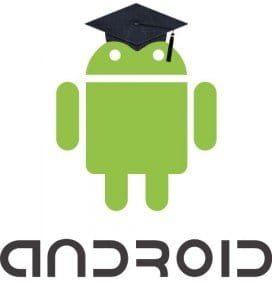 Today students are getting a lot of knowledge and fun with their Android devices (Mobile, Tablet, Smartphone). In fact, at present Android is used not only with entertainment and use intention, but it has also extra productivity in regard to knowledge and study.
Android app store (Google play) has presented numerous helpful apps which are especially for student. Therefore, I am going to explain about best android apps for the students purposes underneath.
1. Evernote
Evernote app is used to translate Android devices into a virtual notepad appearance so that students could save their valuable notes or information.  In Evernote apps, student finger works like pencil button and Notepad appearance is in full-screen mode on Android devices.
Evernote app also contains another feature which are as follows
For storing voice record which permits a student to record valuable dialogue and speech.
It is used to take new pictures with Android camera for inserting in either notepad or sync with another similar device.
Once a notepad typing will be completed in Android screen, students can use attach option to forward it to another friend.
2. My Student Budget Planner
At this time, there is a big challenge for a student in order to get higher education without proper cash. So, Students have to consume their expenses in limit. This app is used to prepare limit budget for their study and extra expenses.
Download My Student Budget planner
3. Grammar Guide
Today, proper knowledge of English language is essential (Education, Professional) for students. If students are facing problems in English due to lack of good communication proficiency then they can't get best chances in the job market. There is a big challenge for students who want to improve English itself.
With Grammar Guide apps student can improve English grammar. This app highlights mistakes in grammar on-screen and gives the solution to make perfect Grammar proficiency.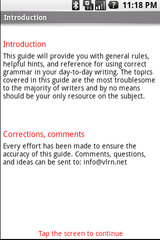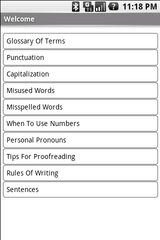 4. Merriam-Webster Dictionary
In study environment, Merriam-Webster Dictionary app is perfect solution to inquiry about complicated word. Students can find detail information about required word from this app. This app also supports voice search feature.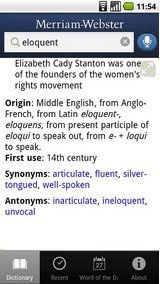 download Grammar Guide
     5. Document Scanner 
This app can play a vital role for scanning a lot of documents in quick succession. Students who usually have the requirement of more study materials like notes, projects or few particular book pages can scan through this Android app instantly. Once the scanning is finished, they can save it into PDF format in Android devices. Now these files can also use to print or send the email to other friends. So this app is known as Killer student app.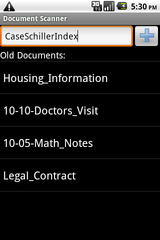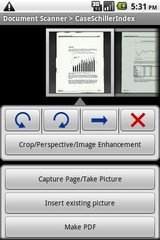 Download Document Scanner
  6. Quick Office
If students have Android supported Tablet or Smartphone then they can generate and change a document, presentation and spreadsheet file through Quick office app. The price of quick office suite app for the tablet version is $20 and $15 for smartphone.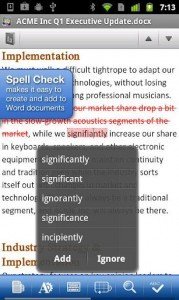 Download Quick Office
7. Wikidroid apps
Wikipedia is one of best complete knowledge website at present. It is used to know detail information about opted subject  like study, Technology, Medical, Entertainment and many more. But the student could not browse Wikipedia website comfortably in their Android device. So new Android apps (Wikidroid apps)  is helpful for browsing Wikipedia website. Through this app, student can browse Wikipedia by single touch and perform such operation –
Save favorite pages on a particular topic in an Android device.
They can share or bookmark helpful contents and particular pages on Internet.
Download Wikidroid apps
8. Math Formulary
If students are facing trouble in mathematics Math Formulary apps is the best option in Android device. This app contains a large number of math formulas in Algebra, Trigonometry, Analysis, Logic and many more along with an easy solution.
9. Google Drive
The role of Google Drive app in Android environment is valuable for students. Through Google Drive app, students can upload their important files on their Google Drive account directly.