To pay CESC bills Kolkata online is very convenient for consumers, because in the offline method they have to wait in long queues at office counters. It is a very hectic task. In the modern era of information technology, Internet has  made this work very easy.
Now one can pay his Kolkata electricity bills online through CESC website with the help of internet banking, credit or debit card. Calcutta Electricity Supply Corporation (CESC) has also offered online bill payment facility for their customers. To  pay CESC Electricity bill online Consumers (LT) should follow these steps:
Pay CESC bill Online at Kolkata
1. First of all, you should go to the  online payment page available at Official Website of CESC through this link
After pressing the above link, a page will be opened like this.


2. If you need to pay monthly bill Go to the button below monthly bill. You have to choose here the payment method whether you want to pay the bill using Credit Card or Net banking.
CESC Electricity Bill Payment through Credit or Debit or ITZ Cash Cards
Click on Credit, Debit, ITZ Cash Cards button.
You will be taken away to the page like underneath
At first, check the box against I agree to the Terms & Conditions.
Write your 11 digit consumer number.
Select the month you have to pay for.
Check the round box for the card you are using whether it is Visa or MasterCard or ITZ Cash Card.
Fill up the CAPTCHA
Finally, click on Submit button
Next page will open for confirmation. If your information are right, check the box next to I confirm that above details are accurate.
Click on Confirm.
Now you can see your CESC electricity bill for the particular month.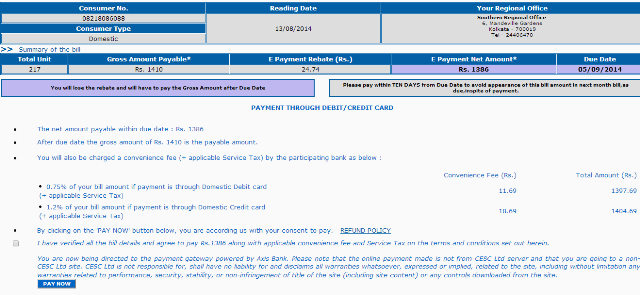 Check the box against terms and conditions and click on PAY NOW.
You will find a pop up written Are you Sure you want to proceed.
Click on OK.
On the next page, you need to choose the card. Click on Master Card image if you have master card and click on the VISA card image if you have Visa card.

This will direct you to card detail page. Write Card Number, Expiry Date and Security Code. Finally Click on PAY NOW and follow the instruction you get. Your will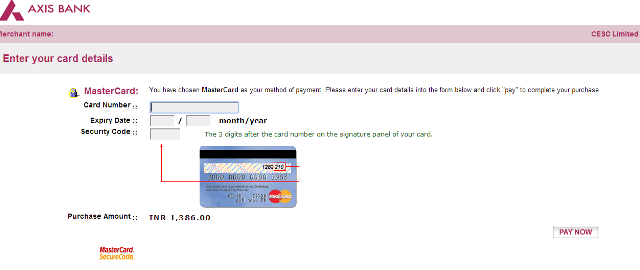 CESC Electricity Bill Payment using NetBanking
Mark Tick in the box ahead of Terms & Conditions.
Write your consumer number in appropriate box.
Opt for the month in drop down for which you will  make payment.
Write the matter of  CAPTCHA in the box.
At last hit Submit button
Next page asks to confirm your detail. Watch the page carefully and take a printout if you need. If given details are correct, check the box next to I confirm that above details are accurate.
Click on Confirm button.
CESC electricity bill for the month you have selected comes before your eyes.
Check the box before the verification statement and ultimately click on PAY NOW Button.
Choose the bank from which you want to pay the bill from drop down menu and click on the Button Make Payment.
This will take you to the payment gateway from where pay your CESC Bill.
Here, all options are given. You can pay either of Monthly Bills, New Connection or Extension of Load Charge, Online Name Transfer, Online Account Application, Puja Bill. For these purposes, you can pay through Credit Card, Debit Card or Net Banking.
In this manner, you can pay your CESC Bill online very easily.