Bharat Sanchar Nigam Limited (BSNL) has come with a new facility for customers, and it is to make payment of bills through online method. Customers of BSNL Landline, Broadband, Mobile, Wi-max may pay their bill through both online and offline ways now. In the offline method, they had to go at the counter of BSNL Office for payment of bill. In this way, they waited in a long queue, it was very tough and time killer.
Payment through the online process is easier than that of the traditional offline way. It is very comfortable and convenient for BSNL Customers. Few months ago, this facility was available only in selected towns in India, but now It can be done from everywhere through BSNL Portal.
You can make online payment of your bills through Internet banking, credit or debit cards of various Nationalized and Private Banks. In Online payment system, customers can get discount of one percent of their bill amount.
There are two ways to make online bill payment
1. without registration, 2. with registration.
1. First Method (without Registration)
Online payment can be also made without login id through this link –
Type Landline Number with STD Code in the first box for which you are going to pay (Note: Don't Add zero with STD Code).
Write the Email ID which is connected to your Account.
Write your Contact or mobile number related to your BSNL Account.
Write the Code (captcha) and click Submit button.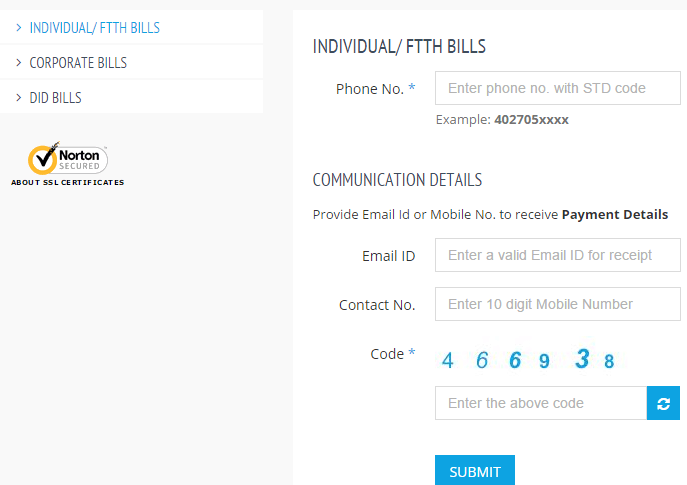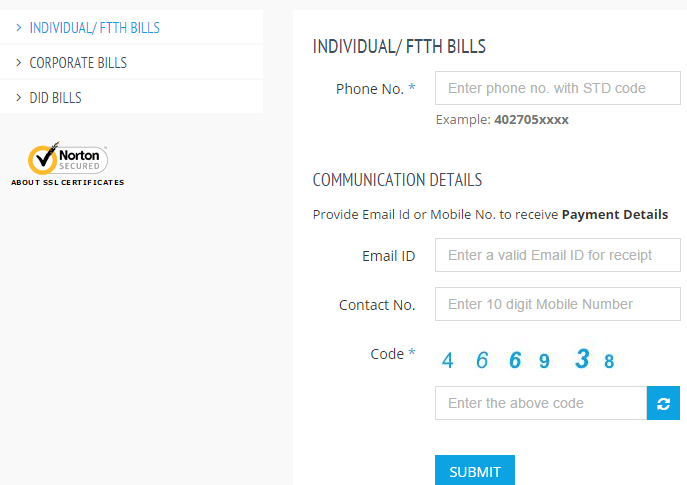 You require assorting payment procedure in pursuance of your facilitation. Netbanking or Debit moreover Credit Cards are the choices between which you have to decide. Opt for the Bank. Further, you will be navigated to a payment gateway.
At last pay through online banking or debit or credit card.
2. Second Method (with Registration)
For paying bill online, customers have to register first at Portal of BSNL at this link –
http://portal3.bsnl.in/myportal/authorize.do
After clicking the above link, a page will open on the screen like this –
For Registration Click on the 'Sign Up' link, Now a web page displays as below:
At above registration page, the customer should fill up all the relevant details. After that hit on submit button.
After successful submission of application, registration is complete. Click on 'continue' to go to login page, After inserting username and password, visit online payment page. This is as follows –
Here, you have to select your circle and type of bill payment, click on 'Do You want to add an account'.
For adding an account you have to select your relevant circle, fill SSA Name or STD Code, Phone number for which you are paying online and Account number present in BSNL telephone bill. After filling above details click on submit button and reach to next page and click on add. After this step click on continue.
Now you can see your bill details click on 'pay now' for payment, using internet banking, credit or debit card.
If you are getting any trouble, call on customer care on any one of following numbers: –
1800-345-1500, 1800-180-1503, 1800 180 1502, 1957, 1800-345-1504, 1800-425-1957,  1800-111-233