In our earlier posts, we have already discussed some of the Windows 10 personalization tips so that you can go ahead with your Start Menu. There are still many users who must be waiting for changing the look of Windows 10 start menu like Start Menu of Windows 7 Exactly in the same modus slim, elevated as well as devoiding the App tiles
All of you know start menu on Windows 7 did not keep app tiles. This implies if you remove app tiles from Windows 10 Start menu its looks will change to the look of earlier one. So here the main thing before us is to remove the app tiles. The method is very simple. Follow the below steps –
You may like to read:
How to remove Metro Screen App from Windows 8 to look like windows 7
How to Change Windows 10 Start Menu Look Like Windows 7
Through start menu itself
Open your Windows 10 Start Menu.
Go to the tiles that are present on your Start Menu.
Right click on one tile and select the Unpin from Start.
Do the same thing for all the tiles.
Once all the tiles are removed, your Start Menu will look like Windows 7 Start Menu. Only the matter is the width. So move your mouse pointer to the edge of the Start menu and drag towards
If needed, you can pin the items to the left side of the Start Menu.
We have another article describing you the process of pinning the items on  the left side of the Start Menu. Check it!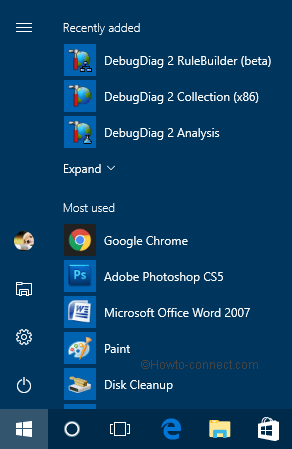 You could see the start menu of windows 10 straight.
Using 3rd party Application
Another process to Change Windows 10 Start Menu Look like Windows 7 with exactness lies in 3rd party applications. A considerable app in the crowd is Start10. Start10 is a very handy application which permits changing the appearance of the start menu in mere a single click. Its User interface is so simple and works very neatly. If you like download Start10 click the underneath given link.
The Most favorable thing about start10 is you can anytime switch back to the original Start menu staying here.
If you like download Start10 click the underneath given link