Supposing you read our earlier post How to Auto-Switch Light and Dark Theme in Windows 10 here is a twist. Auto Dark Mode is the new names of the program (version 2.1.1) that enables the automatic switching of theme and now it works also on Windows 10 1903 May 2019 update. Previously it was known as Auto Night Mode and available for Windows 10 1809 and its predecessors. The app comes with some bug fixes of version 2.1.
Auto Dark Mode 2.1.1 chops and changes the theme into light and dark on set time Windows 10 latest 1903 edition. Hats off to Armin Osaj, the 18 year old student who has developed this program. One carefulness is required to install the software and it is you need to uninstall the previous version before installing the current. Windows 10 1903 May 2019 update will offer Default app mode for the users who like to interchange the light and dark theme. This small app will do all automatically on set time.
Auto Dark Mode for Windows 10 1903
Here is how to download Auto Dark Mode for Windows 10 1903 –
Step-1: First of all, uninstall the app having older version if you occupy. Now head to this page and download AutoDarkMode_Setup.exe.
Step-2: Double click the exe file and install by following the on-screen guideline.
Step-3: Open Auto Dark Mode and customize the settings matching to your preferences. First of all, check the box for Enable automatic theme switching.
Step-4: You find 3 drop down menus for Apps, System, and Edge. Select one in each from – Always dark, Always white, and Adjust theme.
Step-5: Set appropriate hours under Choose custom start time for Light and Dark mode. Click on Apply.
Step-6: Check the box before Accent color for Taskbar.
Step-7: Click on the question mark from the bottom right corner of the interface.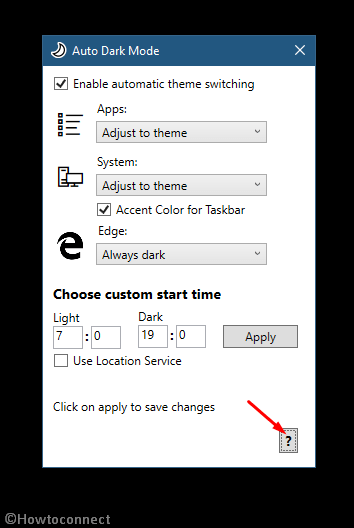 Step-8: A separate About window will open. Check the option Enable features for Windows 1903.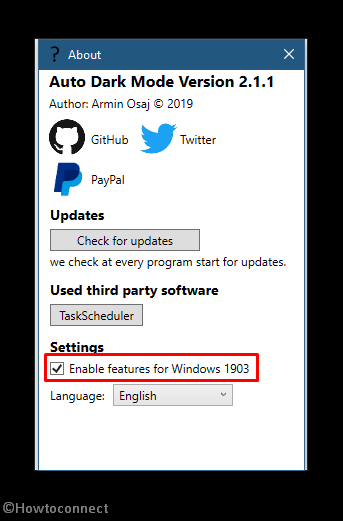 Step-9: Restart your PC to see the changes made by Auto Dark Mode.
Bonus tips –
Recently, new software to enable Windows 10 dark mode has been released. The name of this utility is Luna and it works as automatic dark mode switcher moreover with a super easy interface. All you need to check 2 boxes. Go to this link to download.
That's all!!!