Display Control Panel on Power User Menu Instead Settings Windows 10 – When you click the combination of Win and X keys you see a list of options. This list is nothing but Power user menu which users also call Win+X menu familiarly. The menu includes control panel, Computer management,  Run, Program and features, and many other applications.
Power user menu ensures easy navigation to the locations and privileges users to access the locations in only two clicks. But recently Control panel has disappeared from the menu and settings occupied the space. Needless to say, Settings is the newly added control panel on Windows 10 that lets users customize configurations of a System. But the Control panel is a vast hub of more important settings till now. Moreover, Settings provides the links of Control panel items at several locations.
Numerous users open contol panel from the Power user menu on a daily basis. So they still need to Show Control Panel on Power User Menu Instead Settings. But the addition of Control panel is not possible without a 3rd party tool or script since a simple registry hack is not enough to make the change. If you also need to replace settings then follow the tip.
Display Control Panel on Power User Menu
Step 1 – Click and download Win+X Menu Editor from its official webpage to manipulate the items here.
Step 2 – Once the download ends extract the Zip file.
Step 3 – Double click on Win+X Menu Editor and open either 32-bit or 64-bit folder which one is relevant to your PC.
Step 4 – Now click WinXEditor.exe to open the application.

Step 5 – Click Add a program and then Add a control panel item…. on the drop-down.
Step 6 – Choose the icon of Control panel from the list and then press Select.
Step 7 – Now Control panel will be added to Group 3 means on the topmost section of the Power user menu. Hence, right-click on the newly added item and select Group 2.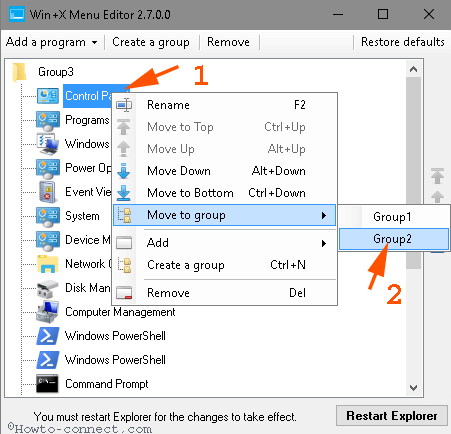 Step 8 – The Control panel will move to the top of Group 2. So right-click on it and click on the Downard arrow at the right edge.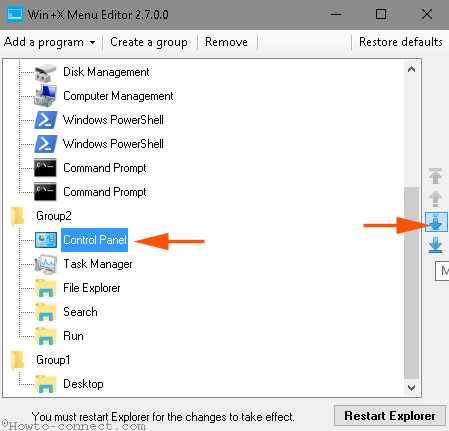 Step 9 – Finally, press Restart Explorer on the bottom part.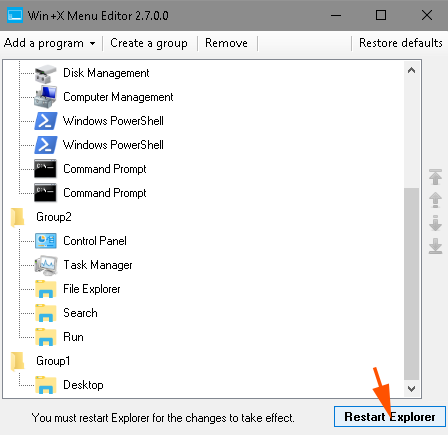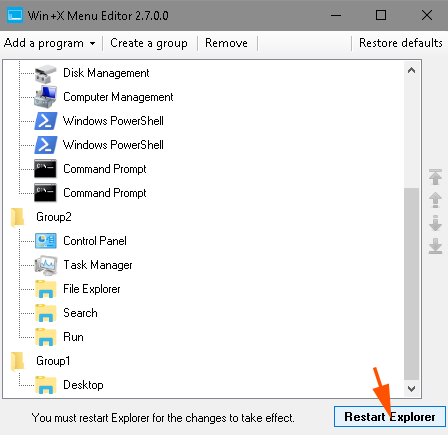 Step 10 – Launch and express bravado since you have displayed Control Panel on Power User Menu Instead Settings.

Furthermore, Using this you can also change the position of all the options on the list. You know the menu includes 3 sections – Group 1, Group 2, and Group 3. To change the position simply select the Control panel icon and click the up or down arrow mark.
Conclusion
So this is the simple tweak to Display Control Panel on Power User Menu Instead Settings on Windows 10. With the help of this tweaking tip, you can perform even more like Add and remove items. In addition, Creating new Group and eliminating is also possible. So, personalize your Power user menu as an expert techie and enjoy it.