How to Download Android App on Computer From Google Play Store – A new windows app named Real APK Leecher that lets a user downloading Android app on desktop or laptop through Google account. The app is free Java app and compatible with Windows version.
Remarks
At first user need to discover their Device ID on android device. So, just type this code *#*#8255#*#* on Android phone dialer, then a GTalk Service Monitor titled screen will prompt with showing device ID (like aid).
How to Download Android App on Computer From Google Play Store
Access Real APK Leecher app on windows system
It is a handy app that does not need to start installation method. Only extract it from the downloaded zip and run it with the basic setup before using the app. Next type the email ID of Google account that is connected with Android phone for downloading apps from Google Play Store.
During basic Setup, the Options window lets a user change the default language or country or other settings. Although it is not compulsory and the user may also leave it blank. At last, choose the target location in the  system where users want to download the APK file (it is the extension of Android app). After configuring these settings, click on Save button.
Then the main interface of Real APK Leecher app will appear. To start download any app, the user has to enter the name of the app in the search bar at the top right side and press enter on the keyboard.
In search result pages, Apps is displayed by seller name, package name as well as both the free and paid app. But, the paid app can only be downloaded if users have already bought it from Google Play with just entered email ID of Google account.
In order to download any app, right-click on desired app name in the search results and choose Download this app option.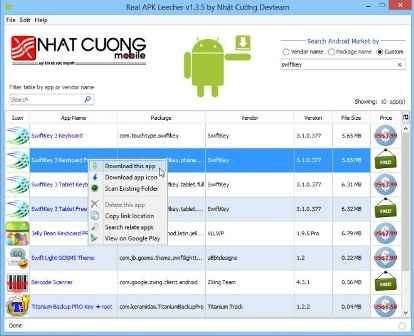 Once the app starts the process of downloading, the progress is shown in the another window.