Windows 8 has come with modern user interface which is called start screen. Microsoft thinks that Start Screen gives the perfect environment to work with Windows 8 on single platform. But most Windows fans are feeling uncomfortable to adapt new interface (start screen) immediately, because start screen does not contain previous features like start menu.
Some windows users often miss older start menu. They want to add traditional start menu interface in Windows 8. Therefore freeware third-party tool has come up to switch the Start Screen and Start menu at once without any trouble. These tools are categorized between Windows 8 Start Screen modifiers and Start menu apps.
In this post, I am going to explain best Windows 8 third party start menu apps and Start Screen modifier Download these metro screen modifiers and create start menu.

Download Best Windows 8 Start Screen Modifiers, Start Menu Apps
 1. Classic Shell
Classic Shell is one of the best Windows 8 Start Menu modifiers. It returns traditional Start Menu to access comfortably. Through Classic Shell tool, you can customize individual settings in wide range along with the Windows Explorer settings. This tool contains numerous skin packs and support to 36 languages.
To do it firstly press windows key to start classic shell after installed. Then click on Settings and choose Classic Start Menu from right context panel. 


See the full knowledge and download location here – Get Classic Shell 4.3.1 to Personalize Start menu, Toolbar, File Explorer on Windows 10.
 2. Revel BringBack
If you prefer Windows 8 modern start screen then Revel BringBack tool is best option. Really, its design is stylish and attractive, combination of white color and minimalistic theme. When you click on tools button from start menu after installed, it displays pop-up window in the right panel. This pop-up permits you to configure customize settings of start screen.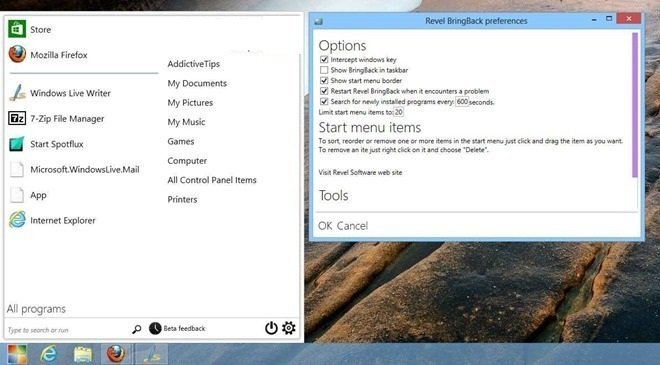 3. Spesoft Windows 8 Start Menu
Spesoft Windows 8 Start menu tool is very stylish for Windows 8. It appears pretty parallel to Windows 7 Start menu. But it does not offer to change settings in user account profile pictures, find app from start screen or Windows 8 store,  but only customize start menu.
4.  ViStart
ViStart is an additional choice in place of  Windows 8 Start Screen. It contains often user account picture at the upper panel.  But Vistart is unable to display search results from built-in Search box of Windows 8 apps.
5.  StartMenu8
If you want to restore look like Windows 7 Start menu in Windows 8 StartMenu8 is the most excellent choice. Once you installed StartMenu8 to windows 8, press the Windows key to highlight the Start button from taskbar panel. When you grasp windows key for about 2 seconds then windows 8 start screen automatically comes up.
6. Power8
A Power 8 tool helps to control windows 8 desktop and start screen simultaneously. You may adjust the Windows 8 Start screen area with individual image and give aspect ratio. From here you can simply perform power actions such as Reboot, Sleep, Hibernate, shutdown, log off on single click.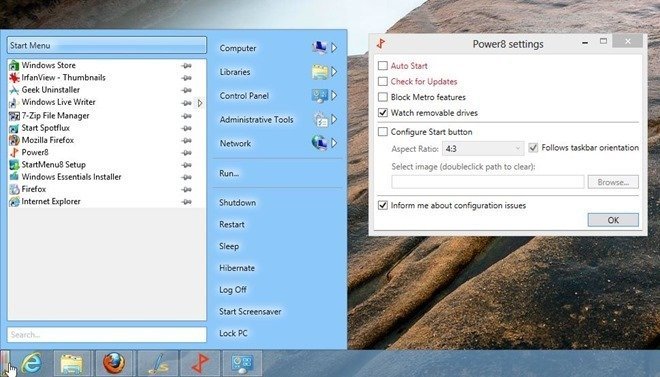 7. Pokki For Windows 8
Best web services provider company  "Pokki" has released Windows 8 Start Screen Modifiers. This app has come with glossy design and allows to speedily browse the most wanted apps, personal files, folders and software on the single click. You find an option to boot openly to desktop mode, switch to power actions (shutdown, restart, hibernate), stop hot corners, and numerous handy settings tools.