All love to watch high definition movies on their phones but sometimes you come across the situation when you find yourselves incapable of downloading these movies in your iDevices. Many people like to download HD videos from iTunes. Users who are new to Apple phone might come across a problem of getting high definition video on their phone.
Following few simple steps will hopefully help you good enough to automatically grab the multifarious HD movies and assorted TV shows from iTunes. A little customization of iTunes download preferences under default program settings will perform all the work you need. Here are the few simple steps –
How to Download HD Videos from iTunes
Access iTunes and sign in it with the assistance of Apple credentials.
Hit on the menu Edit thereupon Preferences.
Go to Downloads tab. Here, check the square shaped boxes before both the preferences Download high quality SD Videos and Download full-size HD videos. Ensure that Music and Movies are already Checked on this interface.
You require implementing the changes freshly made on the Downloads Preferences via tapping on OK. This 2 -3 steps action will set your preferences once for all.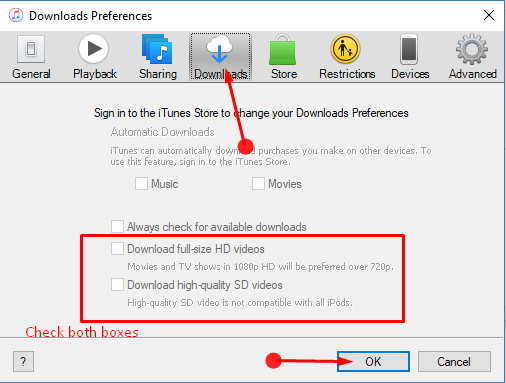 Few users encounter an error message prompted after they sync SD videos on either iPod classic or iPod nano. This event also indicates to change the preferences for HD Video on Store. Soon after you make a slight change like ticking the boxes and clicking OK you are able to download HD Videos from iTunes Store.
Apple endorses High quality videos having resolution 1080 Pixel pretty well. Hence, this is an opportunity for you to enjoy the crystal clear videos on your iDevices.
We hope that these steps will help you to download high quality videos trouble free. So, get ready to surf and watch high definition and SD movies in your smart and stylish Apple phones.