Microsoft provides you Take a Hike for Windows 10 to enhance your experience. If you are a traveler, you would definitely want to add a flavor of nature to your desktop. It is a collection of 16 stunning images in a combination of lake, forest, mountain, sandstone and so on. In case you are looking for some natural Windows 10 theme, installing this specific one will be a great idea.
Your computer should meet certain minimum requirements to enjoy this amazing theme. In addition, using your 'Microsoft account' you can install this traveling theme at least on ten Windows 10 computers. So, what are you waiting for, go through the below-sequence of steps and grab this amazing images.
Download Take a Hike Theme for Windows 10
Here is Download Take a Hike Theme for Windows 10 the amazing desktop background theme and give your desktop a new look. –
Step-1: Open Microsoft Store by clicking its icon that shows up on the taskbar (see snapshot).
Step-2: Go to the search box, type Take a hike and click the same when you see in the result. If the app does not appear on the screen, click here to grab it.
Step-3: Now, click on the Get button to download the app and it will take a few minutes to get loaded on your PC.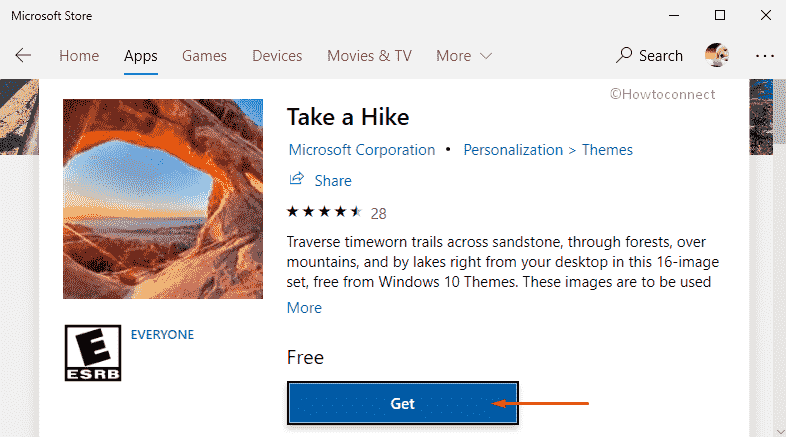 Note: If prompted, sign in to the Store using your credentials of either email, phone, Skype and hit 'Next' to move ahead.
Step-4: Perform a right-click at any blank area of the desktop and choose the last option Personalize in the context menu.
Step-5: Click Themes on the left sidebar of the following window. Switch to its right pane and select the theme Take Hike.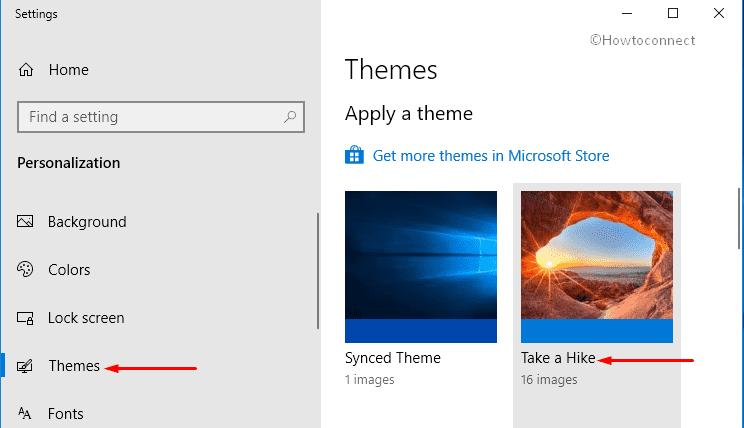 Now go to the desktop and enjoy with the HD quality wallpaper set in front of you.
System requirement for Take a Hike theme in Windows 10 PC
Take a Hike theme for Windows 10 is recently released by Microsoft on 4/23/2018.
It is approximately 15.98 MB in size and thus occupies very less storage and memory.
To use this app you should install Windows 10 version 14951.0 or higher version in the computer.
Take a Hike is also compatible with x86, x64, ARM architecture.
Microsoft upgrades their features from time to time so that your PC stays safe and secure. The same applies for desktop wallpaper or screen. One of its amazing development is Take a Hike Theme. So, travel across timeworn trails over sandstone, through forests, by mountains, and lakes right from your desktop.
Hope this article helps you to decorate your desktop with this beautiful theme. So don't wait, immediately download this awesome collection of pictures for your desktop.