Ways to Download TrustlookWannaCryToolkit on Windows to Protect WanaCry Ransomware. – WannaCry Ransomware which shook the roots of the cyber world now seems to affect the whole world. Though the effects of the ransomware are brought under control yet the cyber minds do not say no to the reverting back of the attack. They anticipate the next attack to be more thoughtful and destructive. See another tool to protect yourselves – How to Use CryptoMix to Protect Windows 10 PC From Ransomware.
It is very important to be vigilant and alert to save oneself from the ransomware attack. This is the reason why Microsoft let out scanning tools, TrustlookWannaCryToolkit, for all the versions of Windows. These tools not only look for WannaCry ransomware but also takes care of its vaccination. Follow this guide to strengthen your PC security – How to Avoid Locky Ransomware Attack on Windows 10 PC. Therefore, hang on to our article to Download TrustlookWannaCryToolkit to protect WanaCry Ransomware on Windows. See the whole process.
Ways to Download TrustlookWannaCryToolkit to Protect WanaCry Ransomware on Windows
Download TrustlookWannaCryToolkit
Step 1 – Go to this Github page and get TrustlookWannaCryToolkit.
You will find 2 Setup files – vaccine/tl_wannacry_console.exe and vaccine/tl_wannacry_no_console.exe on GitHub. Download both the files one after another.
Step 2 – Follow the guidelines on the screen to get through the downloading process. If you see any pop up stating that the software will harm your device then click on the More Info link and then press the Run Anyways tab. Otherwise, allow the setup files to work.
System Requirements
It is compatible with all kinds of Microsoft Windows, right from Windows 7 up to Windows 10.
How to Use TrustlookWannaCryToolkit
TrustlookWannaCryToolkit contains two ransomware protection tool – WannaCry Ransomware Scanner Tool and WannaCry Vaccine Tool.
WannaCry Ransomware Scanner Tool
This tool is very effective that scans the Windows system for any Ransomware attack by WannaCry Ransomware. This is pretty useful to the System Administrators who are responsible for the security of the system.
WannaCry Vaccine Tool
WannaCry Vaccine Tool is the second part of the TrustlookWannaCryToolkit. This is the vaccine tool which helps its users in blocking the Windows computers from the WannaCry Ransomware. If after the scanning is over the product detects some virus then WannaCry Vaccine Tool will immune the system. After you run WannaCry Vaccine Tool you will see the execution of the tool om the command prompt console.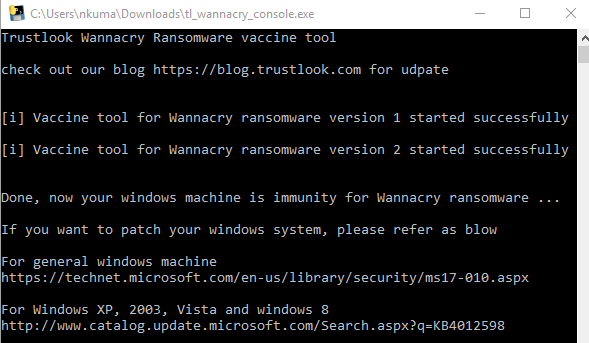 Final Words
This is the situation of cyber crisis that the whole world is facing now. Thus all the cyber brains are working day and night to sort out the situation. This TrustlookWannaCryToolkit is the result of all the efforts put in by such brains to face the crisis. Hence download TrustlookWannaCryToolkit on Windows to protect your device from WannaCry Ransomware.