Chrome is stunning and most popular internet browser on Windows, Android, Mac and Linux. Speed and features of chrome make it exclusive for you. But you frequently download apps and software for different utilities on your system. These apps and software come with hidden settings and programs which are enough to slow down the browser.
You might have known that Chrome uses only 128MB of the processor, but due to the programs you use to download and install on your system the Memory is set by default. As a result, the browser uses lots of memory and carries lots of unwanted hidden settings imposed by the apps downloaded from Google Play Store, Windows App Store, iTunes and Mac Store and other places. Finally, Chrome starts creeping and annoys you.
Recommended
Surf, Browse with Great Speed on PC on Slow Internet Connection
Guide to Make Windows 8 and 8.1 Computer Super Fast
Here we are discussing on an easy trick which leads to fasten Chrome. This trick is applicable for all the operating system whether it is Android or Windows or IOS or Mac or Linux. All you have to do is to follow a URL written below and change the Maximum Tiles for interest area value.
How to Fasten Chrome
 On Windows
1. Launch Chrome browser on your system.
2. Copy the below written URL and paste in the address bar of the browser.
chrome://flags/#max-tiles-for-interest-area


3. Press Enter Button.
4. You will find the image like underneath: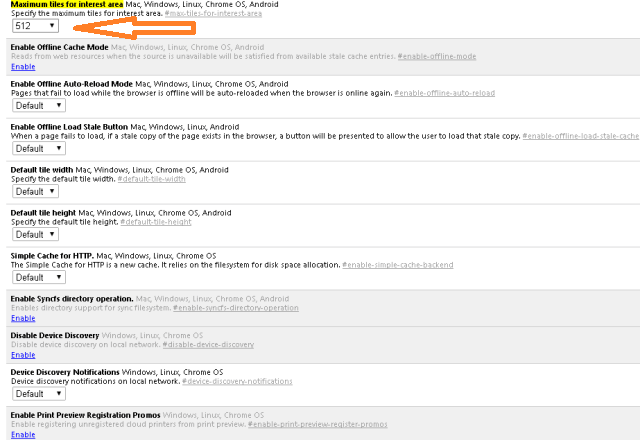 Search for – Maximum tiles for interest area Mac, Windows, Linux, Chrome OS, Android
Here you can see Default under specify the maximum tiles for interest area
Change it to 128MB or 256MB.
On Android
On Android you will find the image like below: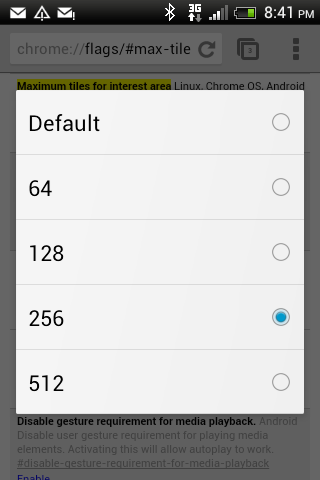 1. Tap on Default under Maximum tiles for interest area Mac, Windows, Linux, Chrome OS, Android.
2. change it to 256 or 128 and close the browser.
Chrome will be fast enough after following this trick.