Disk Write Caching is a characteristic that improves system performance by permitting to write caching on a device. It is found almost on all disk drives in recent times. The advantage of Disk Write Caching is that it facilitates applications to work quicker and access task continuously without stopping the process of burning data disk.
Disk Write Caching does not really write data to the hard drive automatically. As a result, the data can vanish or corrupt due to power outage or system failure at any moment. This is why this feature is helpful to improve speed and performance of Windows 10, 8 or provides an option to protect data failure during power or system breakdowns.
How to enable or disable Disk Write Caching in Windows 10, 8
In order to enable or disable disk write caching on a Windows 10, 8 system, follow these tips:
Press Shortcut (Windows key + Pause Break) to bring up computer properties window.
Then select Device Manager option from the left side.
If you want to use another method then follow Windows 10 – How to Find Device Manager and Use its Functions.
Under Device Manager Window, right-click on Disk drives option and select Properties of the installed hard disk drive.
Next, a properties dialog box of selected hard drive appears. Here, click on Policies tab.
For enabling disk write caching, check the tab before this option – Enable write caching on the device.
For disabling this feature, uncheck the tab which earlier checked during enabling this option.
At last click on OK button to save settings on the Windows computer.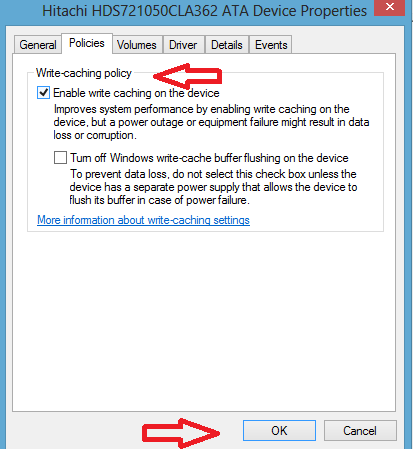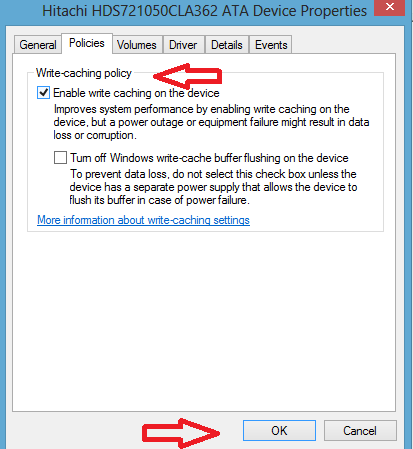 Conclusion
Do note down that after disabling Disk Write Caching in Windows 10, 8 computer, your hard disk can work sluggish or can influence the whole system performance. During this moment, it prompts the following error messages like Windows Write Delay Failed or Delayed Write Failed.
So, you have a better experience of Windows 8 forever by enabling disk writing Cache.