As you know that Windows 8 consumer preview has been presented in two versions. Windows 8 Trail version has been launched on 15 August 2012.
So Apps interface has been enhanced. Microsoft has also produced Windows 8 Apps store to download new helpful apps. You can download free apps through Windows 8 Apps Store. Some apps can be installed after making payment.  So a tutorial is being provided underneath about how you can purchase your opted paid apps from Windows 8 Apps Store easily.
How to buy paid apps from Windows 8 App Store?
Connect your Windows 8 computer to the Internet.
Firstly, you have to find any paid apps for purchasing from the Windows 8 Apps Store. For example, Invoice Fl App.
Press Windows logo Key + C shortcut to launch Charms bar in the right panel.
Now choose Search button.
Type Invoice FL in apps search box and click on the store link to find it in Windows 8 Apps Store.
Now you get detailed information on Windows 8 Apps Store screen about Invoice FL apps. Click on Buy link in the left panel.
Then new window requests you to click on confirm link to install. It also displays the price of these apps. If you do not want to install these apps at a time then click on cancel link.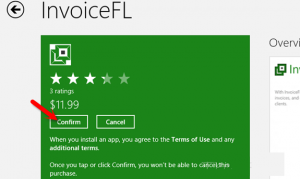 Once you choose confirm link, next window will be requested to type the current Microsoft account password. Write Click on OK button.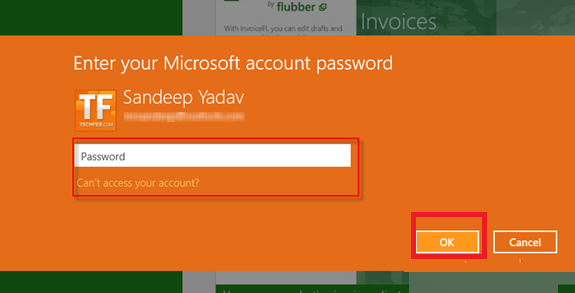 A new window (Payment and billing) appears. You can purchase this app through either credit card or PayPal account.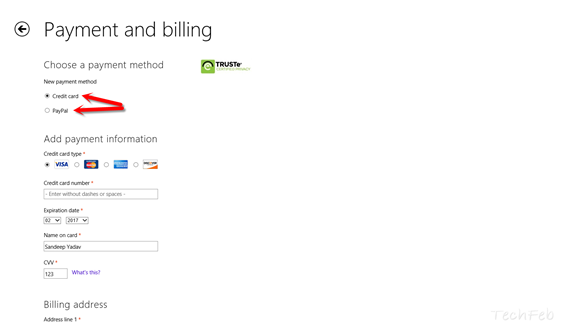 At last, Click on submit option to verify payment procedure. If you have selected PayPal option at this time, then you have to follow a few instructions to make payment. Once you complete the payment procedure, these apps will be installed automatically on the windows 8 computer.
A notification message will come as this app has been installed on your computer now.
You can purchase all windows 8 paid apps by the same procedure from Microsoft Wndows 8 app store.