Skype is a leading tool that provides an opportunity for users to make video calls or VOIP calls almost on every platform like windows Phone, Smartphone and iPhone. But, it had not offered a chance to Record Skype Video Calls or audio automatically. Now a solution has come up because Skype has introduced free of cost application named Free Video Call Recorder for Skype. This application works on Windows version and lets Skype users to record Skype calls either video or audio during talking with a single click.
How to Record Skype Video Calls
The application offers to record Skype calls in the following modes. Using this application, Skype users can choose any mode of recording simply as per his necessity.
To record  audio and video calls of both side during Skype chat
Only record video calls of another side
Only record audio calls of both side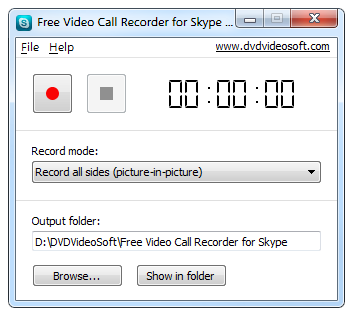 Note
Before installation of the application, Microsoft Dot Net Framework SP2 or its above version must be installed for its support.
How to access Free Video Call Recorder for Skype application?
After installing the application on windows, firstly, a user has to configure the desired recording mode and set the output location where recording items will be stored by default.
Then click on Start option in order to begin record Skype calls.
During the calling session, if a user does not like to record a little minute then click on Pause option quickly.
A Stop option is used to close record sessions.
The recorded video calls are stored in MP4 format and audio calls are saved in MP3 format. Thus, both recording items can be watched or listened time to time by the media player within windows system.