Within windows version, laptop battery performs a significant role to execute a valuable task in emergency conditions. As we know that laptop battery offers three settings for example – low, reserve and critical. When laptop battery backup prompts low battery, the user has to close or save everything running tasks or shut down quickly. In critical stages, a laptop goes into hibernation mode automatically.
During the critical stage, laptop battery contains about 10-15% battery backup left. If you want to extend critical percentage levels in order to enjoy some extra minutes backup on windows 8 laptop till the last stage then it is possible.
Note
At first, note down that laptop battery does not show accurate reading below 5% percentages backup level. Thus, sometimes your laptop may also turn off suddenly. So confirm to close every running task or save before creating this type of incidents.
How to extend laptop battery backup time by changing the critical battery percentages on windows 8 laptop?
First Step
Go to start screen and highlight search charms by moving the cursor to the right side. Next click on Search button from charms bar.
In search windows, type power options in the search bar and click on settings option just below.
From the search results on the left side, click on Power Options.

Second Step
In Power Options window, click on Change Plan settings link.

A new window will prompt. Here, click on Change advanced power settings.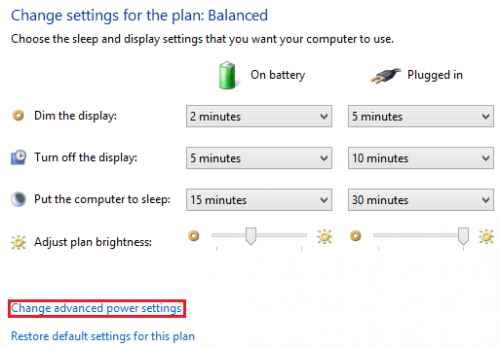 Third Step
Next Power Options window will appear in another style. Scroll down and enlarge Battery tab.
Then expand Critical battery level tab. From here, set the new desired critical battery percentages and click on Apply button.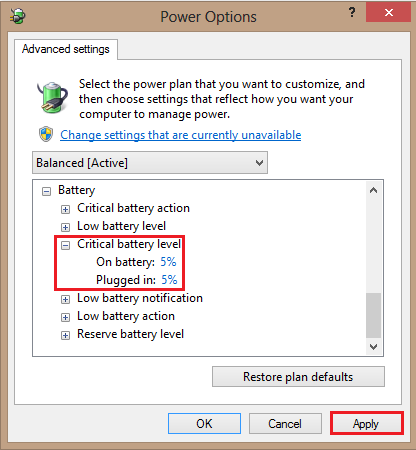 Thus, you have changed critical battery percentage level on the windows 8 laptop. This setting facilitates windows 8 laptop users to work some minutes using laptop battery backup until it prompts the last bit of power.