How to Find User Id and Passwords for Websites On Windows 10 PC – The people who register presence on multiple forums and social sites have to often face the phases of confusion while the password box appears. On account of the vulnerability, they practice muddle and jumble passwords which are not straightforward to keep in mind.
All around, one common thing that occurs is password gets dismissed from the mind. But have you ever tried to explore your Windows 10 which accumulates these passwords in a specific venue? If not, then find User Id and Passwords for Websites On Windows 10 PC pursuing the steps we are writing further.
How to Find User Id and Passwords for Websites On Windows 10 PC
Look for "Credential Manager" link on the expanded "Control Panel" and perform a click or tap on it.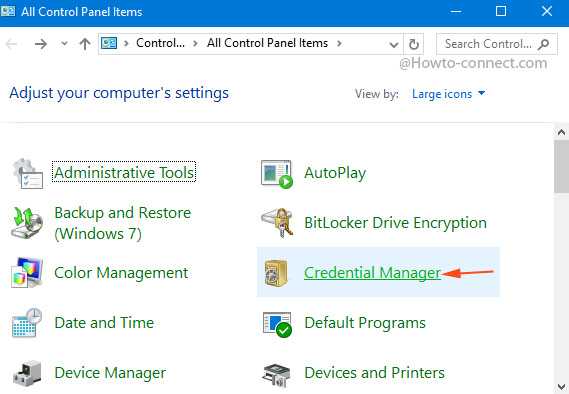 "Credential manager" quickly emerges before your eyes in the same window and by default displays "Web credentials".
In the left side under Web Passwords, you see a long list of different Websites and applications.
Click on the respective link of "Website or application" for which you are attempting to find password.
After the link expands, just ahead of Password you see "Show" link, click it.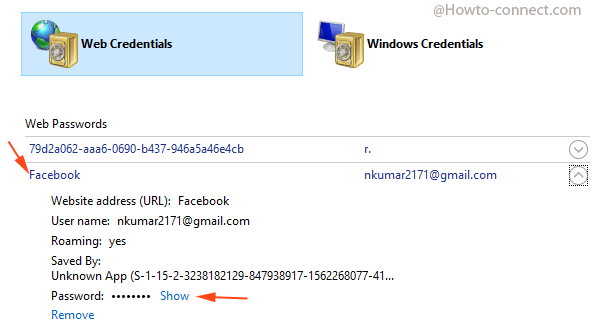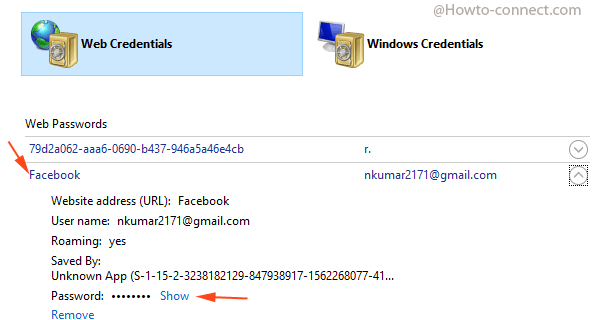 "Window security" box comes up on the screen, type  your Windows 10 password in the given box and click "OK"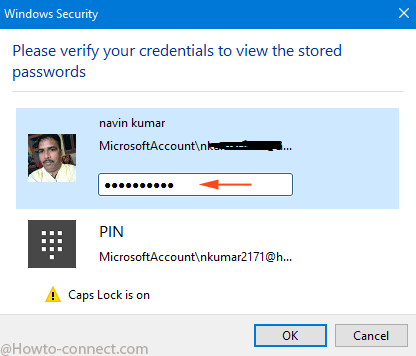 Alternatively, if you have a PIN then click Pin, the lower option, enter the digits and click "Ok".
You are able to observe the "Password" of the regarding site or forum user id on Windows 10.
Add Password of a Website in the Credential manager on your own Effort
You notice the existing list in Web credential window is not so long and does not comprise the Passwords of entire websites and forums you repeatedly take entrance. This is owing to you prefer variant browsers rather than Internet Explorer (IE) to log into the sites.
But you can add up these credentials on your own even without so much hassle if you like to from here later. Follow
Take rundll32.exe keymgr.dll, KRShowKeyMgr paste into Command prompt and strike "Enter".

A wizard named "Stored User Names and Passwords" comes on the screen, hit "Add" at the upper right side.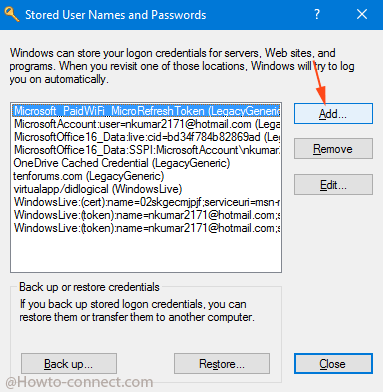 Again a new wizard emerges, write the website name in the box given before "Log on to". Select the User name from the drop down, type the respective password, check the round cell before "A Web site or program credential", and at last click "Ok".
The password will be included which you can pick up in subsequent days from "Web credentials" segment on the "Credential manager".
Hence, When you are trapped into credentials is forgotten mess up on the web this is proved to be a good choice for you to Find User Id and Passwords for Websites On Windows 10 PC.