The latest Windows 10 2004 version is out for everyone but users are encountering several update issues. One of the occurred problems is aksdf.sys Page Fault in Non Paged Area BSOD error. This error appears on boot after the update and happens when certain driver's misbehave. Microsoft is also aware of the problem and reports it as an incompatibility issue. It is evident in apps or drivers that use aksdf.sys and May 2020 Update. So when an affected version of aksdf.sys is present, this recent version might not start after updating.
aksdf.sys is a process that belongs to a USB dongle driver and if you have any software that uses this driver, the error is likely to occur. So as a possible workaround, experts suggest uninstalling the driver. To do so, you need to download a tool, and then execute a command in the Command Prompt. In addition, if any of your programs use hasp sentinel driver, then it would be worth checking with the provider to see if they have any latest patch that can help. To resolve this BSOD trouble, go through the below section.
aksdf.sys Page Fault in NonPaged Area
Here is How to Fix aksdf.sys Page Fault in NonPaged Area BSOD in Windows 10 –
1] Uninstall Driver
First of all, click on this link and download the haspdinst zip file.
Then unzip the file (haspdinst.exe) to your C: drive.
Now, fire up taskbar search, type cmd.exe. When Command Prompt appears in the results, right-click on it and select "Run as administrator".
Click Yes on the UAC prompt.
When you access elevated Command Prompt, insert the following and hit Enter –
haspdinst.exe -kp -r -fr -v -purge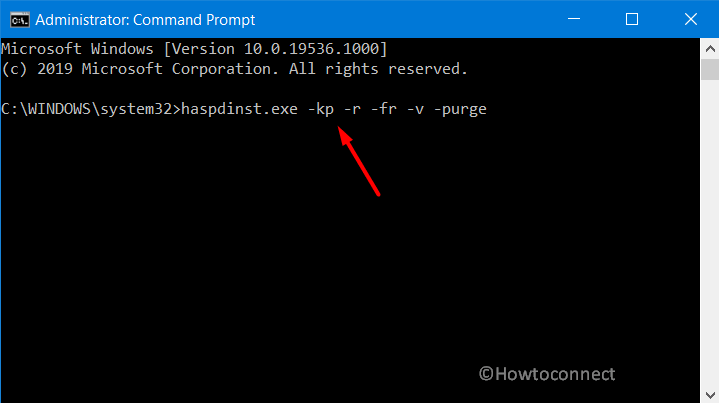 The Sentinel install window will become for a short time and should come back successful. Finally, make an attempt to update Windows again which should overcome the BSOD error after boot.
2] Remove Update
Since aksdf.sys Page Fault in NonPaged Area appears after update to Windows 10 2004 you may decide to uninstall this version.  If the same error occurs after an upgrade this is a good idea to remove the patch or build from the system. So follow the instructions in case the issue occurs after installing a cumulative update –
Press Win+R and allow Run dialog box to open.
Type appwiz.cpl and click OK.
Once Control Panel\All Control Panel Items\Programs and Features window appears, click on View Installed updates.
Scroll down and reach Microsoft Windows section.
Right click on specific update you have installed before the error is thrown out and select Uninstall.
Alternatively, follow this post How to Rollback Windows 10 2004 May 2020 Update.
3] Update Driver to fix aksdf.sys Page Fault in NonPaged Area
Because the problem is led by USB dongle so you can try to update its driver from Device Manager. Device manager, an administrative tool on Windows 10 including its predecessors, helps to update, roll back, uninstall and disable a driver from a single platform. So follow the steps below –
Make a right click on Start and choose Device Manager from the list.
Expand the devices' list to see Sentinel driver.
Right click and select Update driver.
Choose Search automatically for drivers from the next wizard.
Ensure that internet connection is active of your PC and wait until the driver is completely updated.
4] Remove USB Device from Port
Sometimes, dongle connected through ports to a computer is a primary cause for aksdf.sys Page Fault in Nonpaged Area error. So only disconnection of the accessory from the device may be sufficent to fix the issue. Therefore put the cable and devices out and place them in a safe place. Restart the system and then check if the issue is settled down.
Methods:
1] Uninstall Driver
2] Remove Update
3] Update Driver
4] Remove USB Device from Port
That's all!!
Utility tools to solve this BSOD:
Repair any Windows problems such as Blue/Black Screen, DLL, Exe, application, Regisrty error and quickly recover system from issues using
Reimage
.