Are you finding a blue screen on your computer all of a sudden and got astonished? When DRIVER PNP WATCHDOG occurs you might get yourself in a peculiar situation because even after using Windows 11 or 10 USB stick the system mightn't boot. This BSOD mostly shows up when you attempt to install new patches of Windows or upgrade the OS to a higher version. With bug check code 0x000001D5, this BSOD points out that a driver failed to carry out a PnP operation within the fixed time frame.
Though there might be thousands of reasons for which DRIVER PNP WATCHDOG error can occur, invalid SATA controller setting in BIOS, Touchpad, missing system elements due to virus attack, outdated device drivers, and broken registry are mainly responsible. Besides, corruption in Windows update, issues with volume shadow services, damaged hard disk drive, faulty system services, and bad RAM is equally accountable for.
DRIVER PNP WATCHDOG
Here is how to Fix DRIVER PNP WATCHDOG Error Windows 11 or 10 –
1] Unplug Touchpad
The process is a little complex but worth trying as most of the people fix DRIVER PNP WATCHDOG by unplugging the touchpad cable only. To do it on your own, take the service manual that comes with your device. Such manual includes guidelines for the benefit of in-house technicians or licensed service agents with step by step procedure of common repair as well as replacing or disassembling process.
Unfortunately, most of the device doesn't provide service manual nowadays but you still can manage one by navigating the manufactures website. The manufacture posts Standard PDF format online for free so that their user can take the help of these when needed. You can download it to mobile or other devices in order to get the guidance while disassembling the laptop for unplugging touchpad. However, it's better to take help from professionals if you are not confident enough.
2] Modify SATA controller settings in BIOS
BIOS is the first thing that starts when you power on your PC and anything wrong with its settings can lead to DRIVER PNP WATCHDOG error. Usually, inappropriate SATA controller mode in the BIOS is found to cause such blue screen error as it prevents the communication system between OS and the device. However, when you change the SATA controller mode from AHCI to IDE, this particular BSOD error oftentimes goes away. Here is the procedure to do so –
Shut down your Windows 11 or 10 PC.
When the device is fully turned off, press the power button to turn it on again.
While powering up, keep pressing the F2 key or the one that lets you enter into the BIOS settings.
Once there, use the arrow keys to choose an option Advanced or Main, then press Enter to access the same.
Look for options Storage Configuration, IDE Configuration, or Drive Configuration. After getting any, select the same by using arrow keys and then press the Enter.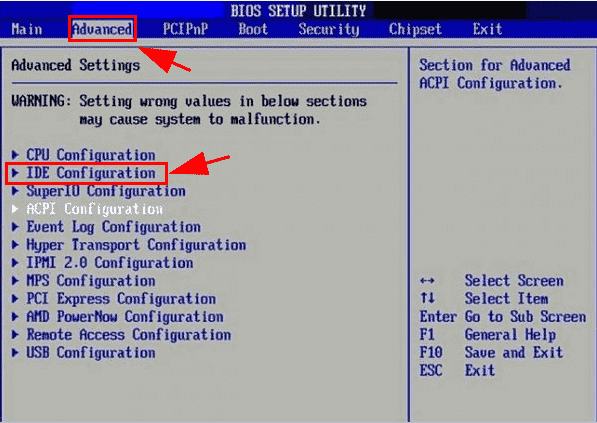 Subsequently, look for any of Configure SATA, SATA Mode, or SATA Configuration.
Change that option to [IDE].
Save the changes and exit from the BIOS settings page.
3] Replace SSD to fix DRIVER PNP WATCHDOG
Many users who were struggling with DRIVER PNP WATCHDOG said that changing the SSD worked for them to resolve the blue screen error. Simply, take the SSD drive out and reboot the device using Media creation tool iso. Though it's not sure why SSD drive throws such an issue, giving it a try is a must to resolve the error.
4] Run a full scan to eliminate existing threats
All malware attacks your system is not dangerous always, some enter as a weak one and then start replicating themselves to gather more strength. If you don't break the chain in between, they will replace all the genuine system files and give rise to unexpected error codes such as DRIVER PNP WATCHDOG. To eliminate the existing threats, Windows Security is pretty convenient as the utility provides real-time protection against Trojans, Spywares, and any kind of malware. Let's check out the step by step guide to use the built-in antimalware tool –
Press Win+I hotkey to bring forward Windows Settings app.
Click on Update & Security.
Select Windows Security from the left sidebar.
Move to alongside right and opt for the option Virus & threat protection.
When a separate window shows up, click Scan options link from the right pane.
From the next page, click the radio button located alongside Full scan.
Subsequently, hit the button Scan now.
After completion of the scanning process, click Clean threats option if the utility traces out any virus.
From the consequent page, click Remove first followed by Start actions.
When the removing process ends, reboot Windows 11 or 10.
5] Check the startup type of Volume Shadow Copy service
Volume Shadow Copy Service or VSS lets the Windows to continue the backup against a specific disk drive without causing any significant changes in it while the operation is going on. This also implements the volume shadow copies necessary for backing up and manages other associated processes. VSS while creating a backup usually locks the file or the drive as read-only for the proper execution of the task.
When the service stuck in an unexpected loop or launched in an improper way, you may lose access to that file or the drive precisely resulting in blue screen error DRIVER PNP WATCHDOG. The same can also be triggered when the service isn't running properly. To fix the problem, follow the below steps –
Click the search icon from the taskbar and type in services.msc.
When you see Services at top of search result, hit Enter.
From the dedicated console, look for Volume Shadow Copy that you will get under Name column.
Once found, double-click the same to bring forth its properties.
Reach to Startup type and click the drop-down list located aside.
Choose Automatic.
Finally, click on Apply followed by OK to make the changes effective.
6] Take help of Windows update troubleshooter
Update issues are pretty common in Windows 11 or 10 and resolving them is not hard at all every time. But often such an issue ends up causing blue screen error DRIVER PNP WATCHDOG from which it's hard to recover. This happens if the Windows update fails to operate a particular task. However, you can fix up the things by using built-in Windows update troubleshooter which not only scans the full system for related errors but also resolve them automatically. Here is how to proceed –
Right-click on Start button and choose Settings.
From the app interface, opt for Update & Security.
Select Troubleshoot from the left sidebar.
Shift to alongside right and click on Windows Update.
From the expanded tray, hit the button Run the troubleshooter.
When the utility ends up scanning for the trouble that is causing BSOD, comply with on-screen guidelines to eradicate the found issue fully.
7] Update system drivers to fix DRIVER PNP WATCHDOG
Drivers are the sole component of any operating system and corruption in them gives rise to unexpected error codes that are stubborn enough to fix. Whenever a device driver becomes outdated or faulty, they affect the compatibility at the same time performance. As a result, the system performs slower than ever and keeps freezing time and again. These are the early signs you will come across if corruption takes place in any driver. Generally, drivers get corrupted if any recent change made the registry entries whacked moreover removed essential system elements.
You may also confront driver corruption if the version you are using is incompatible itself in Windows 10 or 11. To get rid of such an issue, all you need is update and install a compatible system driver. In order to update all drivers at once, you may think of third-party software but to be honest, nothing comes handy than the built-in Device Manager. This utility presents outdated drivers with yellow exclamation marks, so it becomes easy to find the corrupt one.
Bring forth Run dialog by pressing Win+R hotkeys at the same time.
Type devmgmt.msc in the command box and hit Enter.
When the Device Manager floats up, look for any mark of exclamation beside a device.
After getting the same, double-click on it to expand the driver lists.
Right-click on the driver with yellow indication and then choose Update driver.
From the next pop-up, opt for Search automatically for updated driver software option.
Doing so will commence the searching process online.
If any newer version found, the downloading and installing process will take place automatically.
After completion, do the same procedure for all outdated drivers.
Once done, restart Windows 10 for bringing these changes into effect.
Note – If the system fails to get an updated version for the faulty driver, visit the manufactures website, and search for the driver manually. When you find a recent and of course compatible one, download as well as install the same.
8] Uninstall third-party antimalware program
In this internet-based era, keeping your system safe from potential malware is a real challenge. To make the process easier, thousands of third-party antivirus programs are available in the market that not only warn you about existing threats but also resolves them if detected after real-time scanning. Though they do a great job, all software found on the web is not trustworthy and instead of protecting the system, they give rise to blue screen error like DRIVER PNP WATCHDOG.
Furthermore, when you install an additional antimalware program often it ends up conflicting with the built-in one. During such conflicts, they lost their own components at the same time essential system elements that are very much needed to run the Windows 11 or 10 error-free. To avoid such collision, it's always better to keep one antimalware active and disable the other ones. We suggest keeping the Windows Security as it is as powerful as any other third-party programs moreover it will not create unnecessary trouble. Let's see the procedure to uninstall the third-party antimalware program –
Press Windows key to invoke Start menu.
Click the Settings cog from the bottom left corner.
When the dedicated window shows up, select Apps.
Go through the app lists from the right-pane and search for the installed antimalware program.
Once found, click on the same and choose Uninstall from the expanded pane.
If UAC prompts for permission, choose Yes to continue.
Keep following on-screen instructions to remove the app completely.
After completion, restart the device.
9] Repair broken registry
Whatever you do in your Windows PC from installing an app to surf the web, all these things are stored in the registry. If they are not maintained properly or you set their value incorrectly, unwanted issues may occur including blue screen error. Mainly, registry entries get broken when you forcefully end a task such as installation or uninstallation process in between just because the procedure is taking a long time. Also, missing system elements due to virus attack are equally responsible to cause broken registry.
There are various ways to get rid of registry corruption but running System file checker followed by the DISM command is the most reliable one. Once executed in elevated Command Prompt, this will recover the missing system components also repair the broken registry as well. Here is how to proceed –
Press Win and X simultaneously and choose Run from Power user menu.
In the command box, type in cmd.
Press Ctrl+Shift+Enter altogether to launch Command Prompt as admin.
If a UAC prompts for asking permission, click the Yes button.
On the appearing black panel, put sfc /scannow and hit the Enter key to execute the command.
Let the process hits 100% without any interruption.
When System File Checker finishes its work, insert DISM /Online /Cleanup-Image /ScanHealth in the same Command Prompt panel followed by hitting Enter.
Once the process ends successfully, reboot the device and check if DRIVER PNP WATCHDOG still throws.
10] Try for automatic repair to fix DRIVER PNP WATCHDOG
When the system generates unexpected error codes, a special feature called automatic repair becomes active by Windows in its third boot. But there might be an instance when this feature is turned off as often the self-repair mechanism gets stuck in a loop itself from where its difficult to get back in normal state. In such a case, you need to perform it manually.
This process takes a good amount of time as a lot of tests are carried out to diagnose the issue you are struggling with. Hence, be patient and follow the below steps –
Open Windows Settings and click on Update & Security.
From the appearing page, choose Recovery option from the left pane.
Shift to the adjacent right side.
Click Restart now button you will get under Advanced startup section.
When system powers up after the reboot, choose Troubleshoot =>Advanced options => Startup Repair respectively.
Once Automatic Repair page shows up, provide valid Microsoft account credentials.
Thereafter, click on Continue to initiate the repairing process.
11] Tweak Windows update service
As DRIVER PNP WATCHDOG mostly shows up while installing an update, there is a high chance that corrupted Windows update service is causing the issue. This mainly happens when Windows Update fails to connect to the Microsoft servers due to some inconvenience. Resetting the component may help to recover yourself from such a state. To do so –
Press the Windows key and type cmd.exe.
When the Command Prompt arrives at the top, click the option Run as Administrator from the right flyout.
Click Yes for the User Account Control.
In the Command Prompt, insert the following commands one after another and press enter after each one –
net stop wuauserv
net stop cryptSvc
net stop bits
net stop appIDSvc
After execution, open File Explorer by pressing Win+E and navigate the following directory –
C:\Windows
From the available folder lists, locate SoftwareDistribution and then rename it to SoftwareDistribution.old.
Now go to the following path –
C:\WIndows\System32\
Rename catroot2 folder to Catroot2.old.
Get back to Command Prompt and execute the below command-lines one by one –
net start wuauserv
net start cryptSvc
net start bits
net start msiserver
net start appIDsvc
Thereafter type in exit after winking cursor and hit the Enter key.
Later on, right-click on Start icon and choose Windows PowerShell (Admin).
When the console becomes ready to execute a command, insert the below line and press Enter –
wuauclt.exe /updatenow
Finally, restart the system to make the changes effective.
12] Check for hard disk error
A hard disk is often compared to the soul of a system as it holds all information and data of your computer. When you use it for a long time, bad areas may form in it which mostly ends up causing blue screen error. However, there are many tips and tricks to maintain the hard disk in healthy condition but if bad areas are already formed you need to check for the error and solve it as well.
To do so, Disk Checking Tool comes handy which activates in the elevated Command Prompt. Here is how to use the tool –
Manage access to the elevated Command Prompt.
When in the black window, enter the following command at the base of winking cursor –
chkdsk C: /f /r /x
Hit Enter key to let the system execute the command-line.
Let Disk Checking Tool finds out corruption existing in the hard drive.
Usually, the utility fix up found issue automatically but if it doesn't, check the diagnosis report and take further steps.
13] Unplug external hardware accessories
In the recent past, a new weird issue has come up to cause blue screen errors like DRIVER PNP WATCHDOG. Connecting hardware accessories like mouse, keyboard, speaker or printer is becoming serious trouble to cause the BSOD error. Though the drawback may evolve from the USB adapters, the primary reason is yet to be known precisely.
However, there is an easy fix that came up to resolve this issue as well and many users have eliminated blue screen error by disconnecting these hardware peripherals temporarily. You can deport them for instance and then restart Windows 11 or 10 in the usual method. If the error is resolved afterward, connect those again and use them like before. During the process, also check if any specific accessory is causing the BSOD. If yes, you might need to change the peripheral itself.
14] Fix RAM issues to fix DRIVER PNP WATCHDOG
Oftentimes memory problems are treated as one of the most prominent causes behind DRIVER PNP WATCHDOG BSOD error in Windows 11 or 10. Memory issues are associated with a defective RAM stick mostly. Usually, these cases come up when the device falls on the ground and become physically damaged. When a blue screen error is evolved from bad RAM, you may need to replace it fully which is not suitable always. Before going that far, you can use the Windows Memory Diagnostic tool. Here is how to use the utility –
Pressing Win+I key at once.
In the search bar of Windows Settings, type memory.
From the search result, pick the option Diagnose your computer's memory problems.
When the assigned pop-up becomes visible, click Restart now and check for problems (recommended).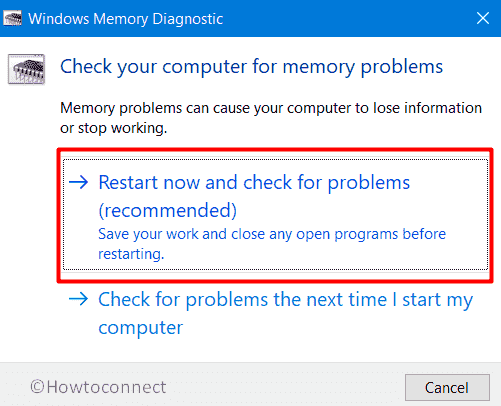 After completing the first cycle of the reboot, a blue screen will show up detecting memory issues.
Once the progress hits 100%, the device will go for the second restart.
After signing back in, check the diagnostic result you will get in the notification area.
15] Run online blue screen troubleshooter
Blue screen error is usually irrecoverable mostly and often comes with unknown causes of origin.  This makes the troubleshooting very much difficult so as to resolve the error from the system. Microsoft technicians took this fatality into account and introduced a new utility so that users can easily get rid of BSOD errors.
Since the internet is much reachable nowadays, Microsoft released a new online version and you can access it directly using a browser. Here are the steps to access this online tool –
Launch a browser and navigate the dedicated page of Microsoft's online troubleshooting by clicking this link.
Once there, scroll down to When did you get the error? section.
Opt for a radio button depending on your scenario.
Doing so will stretch out stepwise tasks to resolve the existing issue.
Follow them to fix DRIVER PNP WATCHDOG blue screen error.
16] Restore the PC to its default state to fix DRIVER PNP WATCHDOG
Making changes in system settings, services, and registry entries are pretty common to make the Windows 11 or 10 device more user-friendly. But when it is done in the wrong way, various issues may rise up including blue screen error.
To revert back any recent change you made, perform system restore. It will take you back to a point where there was no error. Here is how to proceed –
Press Win+R and type rstrui in the dialog box.
Click OK button open System Restore wizard.
Hit the Next button from the bottom.
Go for the most recent restore point and click on Next.
Comply with the on-screen instruction if any and lastly, click on Finish.
Methods:
1] Unplug Touchpad
2] Modify SATA controller settings in BIOS
3] Replace SSD
4] Run a full scan to eliminate existing threats
5] Check the startup type of Volume Shadow Copy service
6] Take help of Windows update troubleshooter
7] Update system drivers
8] Uninstall third-party antimalware program
9] Repair broken registry
10] Try for automatic repair
11] Tweak Windows update service
12] Check for hard disk error
13] Unplug external hardware accessories
14] Fix RAM issues
15] Run online blue screen troubleshooter
16] Restore the PC to its default state

That's all!!
Utility tools to solve this BSOD:
Repair any Windows problems such as Blue/Black Screen, DLL, Exe, application, Regisrty error and quickly recover system from issues using
Reimage
.