After getting Windows 10 on the machine, most of the users are facing mail app errors. A few are confronting Mail app not working and other are unable to receive or send emails. The Error numbers are different, but problems are something similar. The main error numbers users meet are 0x80040154 and 0x80c8043e.
However, problems are diverse but one common solution which could help out in all of these is delete or clean the app and its data from program files and install it again. So let's proceed to How to Fix Mail App Errors on Windows 10 0x80040154, 0x80c8043e whether you confront Mail app not working or unable to receive and send emails or any other.
How to Fix Mail App Errors on Windows 10 0x80040154, 0x80c8043e
Remove Mail and Calendar apps Through Powershell
At first, ensure to login with Microsoft Account on Windows 10 PC. If you have not yet logout and again login with the same.
Write powershell in the search box at the lowermost part of taskbar search. Right click on Windows PowerShell at the peak and go for Run as Administrator.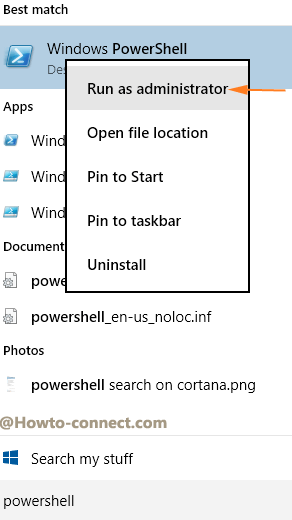 Powershell emerges on the screen. Copy the underneath provided codes and paste into it. Finally hit Enter.
get-appxpackage -allusers *communi* | remove-appxpackage
In this way, you have removed mail as well as calendar.
Manually Remove Few app files and folders
Again make certain to login with Microsoft account.
Access the folders one by one and delete all files and folders having the term "communi" from the following locations (Note: we have assumed you have put your Windows files in C drive) –
C:\program data\ microsoft\windows\apprepository
C:\program data\ microsoft\windows\apprepository\packages\
C:\program files\windowsapps\
After you removed all data having the term communi you require to Sign out of Microsoft Account on your system comprising Windows 10, furthermore login afresh but pay attention, this time with the help of a local account.
Install Mail and Calendar app from Windows Store and launch. Login with Microsoft account furthermore you can integrate Gmail or iCloud.
Log out of the local account and return back to the administrator.
Run Mail app on Windows 10 smoothly and enjoy it!
If you are not able to Fix Mail App Errors on Windows 10 0x80040154, 0x80c8043e please tell via comment.
Repair any Windows problems such as Blue/Black Screen, DLL, Exe, application, Regisrty error and quickly recover system from issues using
Reimage
.