While installing Windows 10 on your device, you may confront OOBEREGION or OOBEKEYBOARD errors which generally appear with VirtualBox. Both of the issues show messages – Something went wrong, You can try again or skip for now.  OOBE is a short phase of Windows setup installation that grants you the ability to customize your Windows 10 experience.
With this, you are able to assign personalized settings, make a user account, connect to a wireless network and define privacy settings. This basically eases your work when you attempt to set up a new device. In a few cases, you may struggle with rare errors during the startup process like OOBEKEYBOARD and OOBEREGION.
OOBEKEYBOARD or OOBEREGION Error in Windows 10
Here is how to Fix OOBEREGION and OOBEKEYBOARD Error in Windows 10 –
In any manner, OOBE error does not affect or include any hardware. These issues result from the Out-of-box experience process causing a deadlock situation. Although, if you experience the errors there are a couple of things you could do to fix them. You can settle down the OOBEREGION and OOBEKEYBOARD error by following the method –
Way-1: If the error is Something went wrong
When you start a new Windows-based computer for the first time, you may face the below message –
"Something went wrong – But you can try again."
Here, the given procedure guides you through various setup operations –
Go to the bottom of the error message pop-up and simply click on the Try again button.
To restore the OOBE process normally will take a while, therefore, wait patiently.
Way-2: When the error is Just a moment…
Windows Out-Of-Box experience does not take forward to the next page or section. Instead, you may see a "Just a moment…" prompt for a prolonged period.
In this case, press and hold the power button until the system shuts down completely.
Thereafter, start the system again.
The OOBE procedure should resume and perform completely without any obstruction.
Way-3: Use a Registry modification
When any of OOBEKEYBOARD and OOBEREGION Error in Windows 10 occurs, this solution may work a wonder.  Change made by the regedit in this method will allow Window to bypass the user account created by the selection of Region on the OOBE screen.
Press Shift and f10 at a time.
On the command prompt, type – cmd.exe.
Next, press – Enter.
If UAC dialog appears, select – Yes.
On the command prompt, type – regedit.exe.
Hit – Enter.
Click on Yes if User Account Control prompts.
Reach the below entries on the Registry Editor –
HKEY_LOCAL_MACHINE\SOFTWARE\Microsoft\Windows\CurrentVersion\Setup\OOBE
Right-click on the right side of the Editor.
Select – New => DWORD (32-bit) Value.
Give a name to this value –UnattendCreatedUser.
Right-click on this Value and select – Modify….
Put in Value data 1.
Click – OK.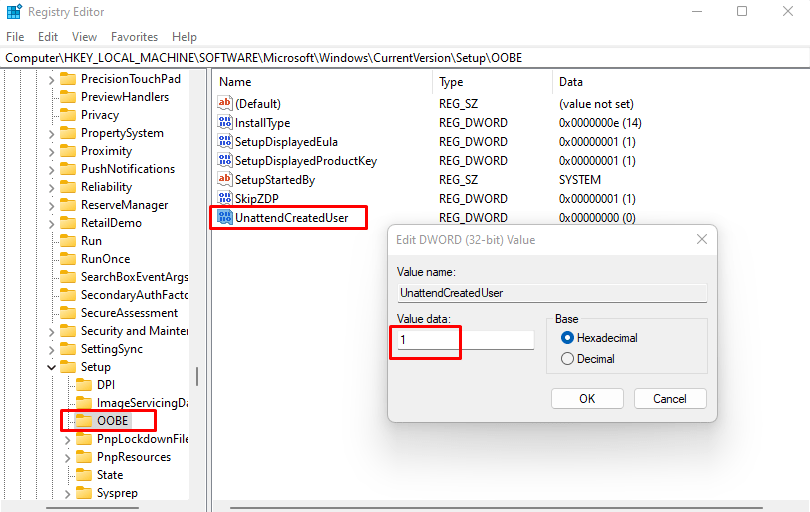 Now see if the OOBEREGION or OOBEKEYBOARD still persits.
A user running domain account can follow – Fix – OOBE Error in Windows 10.
Way-4: Refresh OOBE  to fix OOBEREGION and OOBEKEYBOARD
Press the – 'f10 +Shift' keys.
When the command prompt opens up, type
%windir%\System32\Sysprep\sysprep.exe /oobe /reboot
Press – Enter
The system will restart the Out-of-box-experience screen will again appear.
Follow the suggestions and choose the options out there.
Way-5: Create a temporary account
OOBEKEYBOARD or OOBEREGION Something went wrong but you can try again error is triggered because of the lack of existence of an account at that time. Hence, create an account temporarily and delete it after booting to the desktop.
Press Shift and F10.
Change newusername and newuserpassword according to your suitability in the below command after copying it.
net user administrator /active:yes
net user /add newusername newuserpassword
net localgroup administrators newusername /add
cd %windir%\system32\oobe
msoobe.exe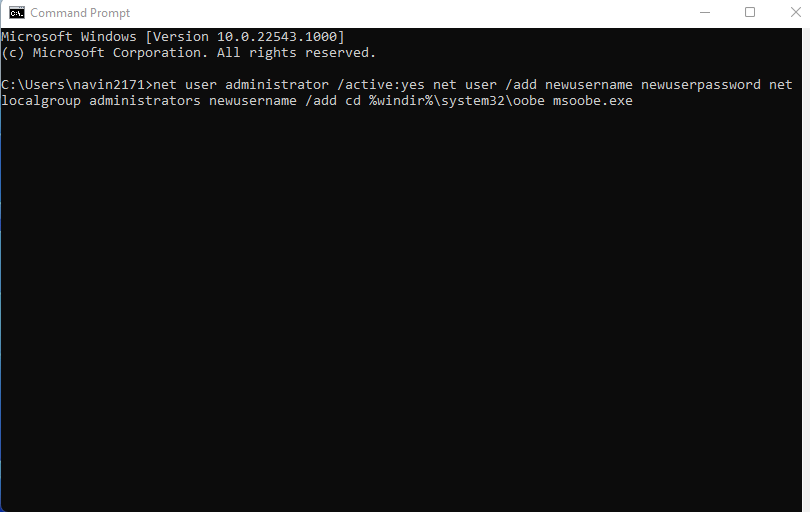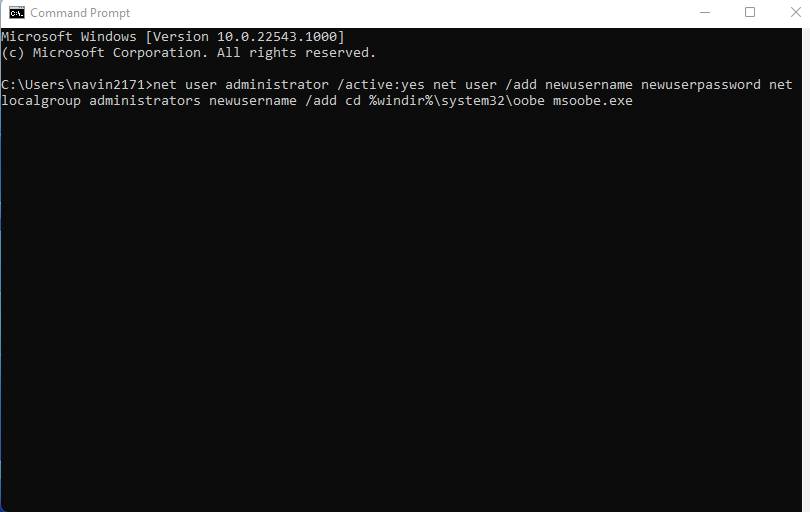 Paste it into the command prompt.
Press – Enter.
This command may take 15-20 minutes to complete this work.
If it stops working automatically then force shut down the PC.
Power on the PC.
You will be taken to the sign-in screen.
log in using the changed newusername and newuserpassword.
Once booted to desktop, press Windows+R.
Type – lusrmgr.msc.
Hit – Enter.
Select on – Users folder.
From the middle pane, right-click on – Administrators.
Next, select – Properties.
A window will prompt up; check the box for – Account is Disabled.
Click Apply and OK.
Next, right-click on – Defaultuser0.
Select – Delete.
Next, press – Winkey+I.
choose – Accounts.
From accounts settings, go to  – Your info.
select – Sign in with Microsoft account instead.
Follow the guidelines ad finish the creation of the account.
However, with ongoing updates, the company, and the developers' team are continually improving the resilience of the Windows Out-Of-Box-Experience. Therefore, we expect that the possibilities of the aforementioned problem should decrease over time as Microsoft identifies and resolves specific timing issues.
Methods:
Way-1: If the error is Something went wrong
Way-2: When the error is Just a moment…
Way-3: Use a Registry modification
Way-4: Refresh OOBE
Way-5: Take the help of a temporary account
That's all!!
Repair any Windows problems such as Blue/Black Screen, DLL, Exe, application, Regisrty error and quickly recover system from issues using
Reimage
.