While installing Windows 10 on your device, you may confront OOBEREGION or OOBEKEYBOARD Error which generally happens with VirtualBox. Both of the issues show messages – Something went wrong, You can try again or skip for now.  OOBE is a short phase of Windows setup installation that grants you the ability to customize your Windows 10 experience. With this new feature, you are able to perform include assigning personalized settings, make user accounts, connect a wireless network and define privacy settings. This feature basically eases to use when you make an attempt to set up a new device. In a few cases, you may struggle with a rare error during the startup process like OOBEKEYBOARD and OOBEREGION.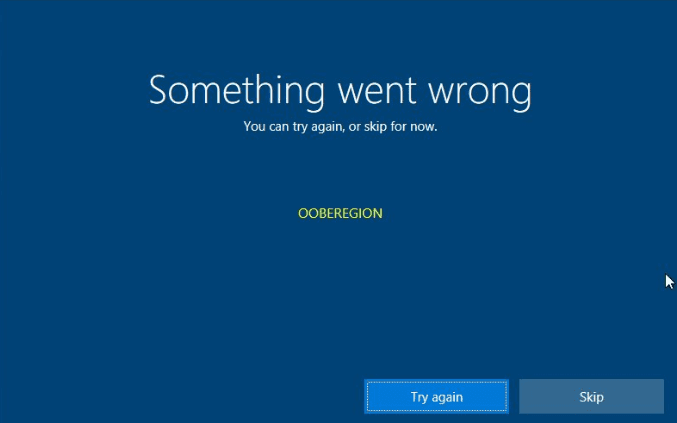 Ways to Fix OOBEREGION and OOBEKEYBOARD Error in Windows 10
Here is how to Fix OOBEREGION and OOBEKEYBOARD Error in Windows 10 –
In any manner, OOBE error does not affect or include any hardware. These issues result from the Out-of-box experience process causing a deadlock situation. Although, if you experience the errors there are a couple of things you could do to fix them. You can settle down the OOBEREGION and OOBEKEYBOARD error by following the method –
Issue 1
When you start a new Windows-based computer for the first time, you may face the below message –
"Something went wrong – But you can try again."
Here, the given procedure guides you through various setup operations –
Go to the bottom of the error message pop-up and simply click on the Try again button.
To make the OOBE process normally, it will take a while, therefore, wait patiently.
Issue 2
Windows Out-Of-Box experience does not take forward to the next page or section. Instead, you may see a "Just a moment…" prompt for a prolonged period.
In this case, press and hold the power button until the system shuts down completely.
Thereafter, start up the system again.
The OOBE procedure should resume and perform completely without any obstruction.
However, ongoing updates, the company, and the developer' team are continually improving the resilience of the Windows Out-Of-Box-Experience. Therefore, we expect that the possibilities of the aforementioned problem should decrease over time as Microsoft identifies and resolves specific timing issues.
That's all!!!