Windows 10 encounters 0xc00ce556 all of a sudden. Parser Returned error appears when a user tries to install or open a program or in some cases, it even occurs on the desktop just after a boot. Moreover, the problem also stops the functioning of the system and doesn't allow users to carry out normal computer tasks.
Several factors such as corrupted system files, third party programs, unwanted startup items, .NET Framework are some of the reasons. However, as per experts, a related file machine.config becomes corrupt which eventually leads to the issue. So a few simple yet effective solutions are there that can resolve this nagging error in Windows 10. Let us explore them –
Parser Returned Error 0xc00ce556
Here is How to Fix Parser Returned Error 0xc00ce556 Windows 10 –
1] Replace the faulty machine.config file
As aforementioned, one of the main reasons for Parser Returned Error 0xc00ce556 could be the machine.config file. Most of the time the message throws up when Windows makes an attempt to parse machine.config file in C:\Windows\Microsoft.Net\Framework\v2.0.50727\Config\ directory but unfortunately, it fails as the file gets corrupt. So as a possible workaround, try to replace that buggy machine.config file with a new default one to get rid of the issue. Go through the below steps to execute the task –
Press "Win logo + R" combination of keys to directly open Run dialog box.
Insert either of the following paths and click OK to proceed –
C:\Windows\Microsoft.Net\Framework\v2.0.50727\Config\
OR
%windir%\Microsoft.NET\Framework\v2.0.50727\CONFIG\
In the resultant window, locate the file named machine.config.default. Copy the file and paste it to another location, such as Desktop.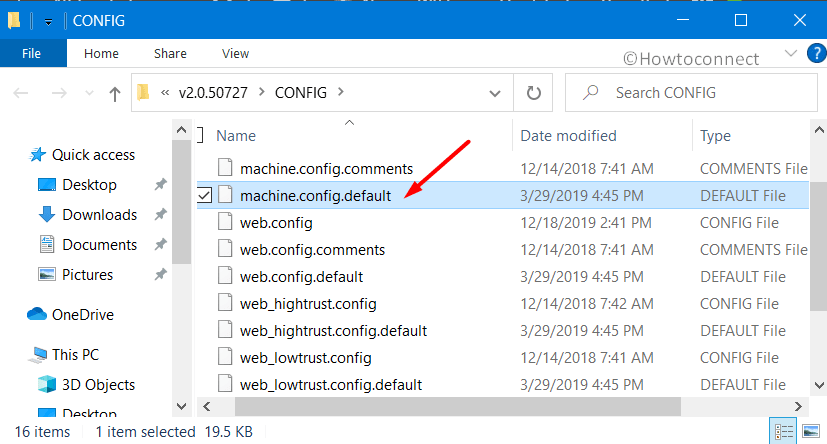 Head back to the CONFIG folder and delete the faulty file entitled machine.config.
Now go to desktop, right-click on the machine.config.default file and select Rename. Give machine.config as its new name. If a pop-up asks for confirmation, grant permission.
Copy this newly named file machine.config and paste it into the above CONFIG folder.
Close all the active windows including File Explorer and Restart Windows 10 PC.
Once the device boots up, there should be no Parser Returned Error 0xc00ce556 on the PC screen.
2] Carry out a Clean Boot
Microsoft experts suggest conducting a clean boot to find out if any 3rd party programs or startup items lead to Error 0xc00ce556. Third-party programs when installed, change Windows settings including the registry. They often create conflict which further ends up in various issues. Moreover, some apps that start functioning immediately after every boot may also be a culprit. Therefore, to disable unwanted startup programs including outside apps may be of great help to determine the real cause. Follow the given instructions –
Fire up taskbar search using Win+Q keys, type msconfig and hit Enter.
Go to the Services tab and select the box labeled Hide all Microsoft services. Click Disable all.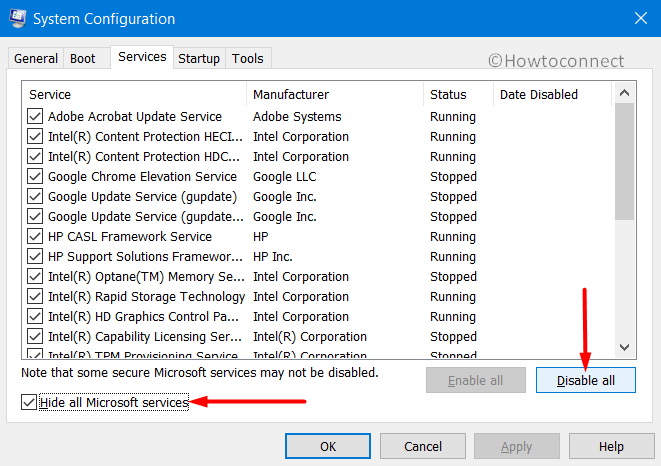 Move to the Startup tab and click the only visible link Open Task Manager.
Once the console shows up with highlighted Startup tab, select each item and click Disable.
Again come back to the System Configuration window, select OK and reboot the device.
The device will startup will minimal set of programs and if Parser Returned Error 0xc00ce556 does not appear, it is one of the programs that was creating a mess.
3] Run System File Checker to Fix Parser Returned Error 0xc00ce556
Corrupt system files can be rectified by using System File Checker OR SFC, a built-in Windows utility. The tool will scan, detect, and replace the corrupted files from Windows cache folder. And problems like Parser Returned Error 0xc00ce556 may also be an outcome of such buggy files. Hence run this built-in tool and see if this fixes the issue –
Right-click on Start icon and choose Run. Insert cmd.exe and press "Ctrl + Shift + Enter" keys altogether to quickly Open Command Prompt as Admin From Run Dialog.
Upon a UAC prompt, choose Yes to proceed further.
Once the black window appears, insert the below command-line and hit Enter to execute the scan.
sfc /scannow
The scan will take some time to finish. So have patience and let the tool fix up the corrupted system files.
4] Enable Microsoft .NET Framework
In multiple forums, users have mentioned that installing .NET Framework resolved the Parser Returned Error 0xc00ce556 issue. Certain applications require .NET Framework to be installed in the device to run. So give a shot to this workaround using the following steps –
Get access to the taskbar search box and type Windows features. When the result shows up Turn Windows Features on or off, select it.
Once Windows Features box is revealed, ensure to select .NET Framework 3.5 (includes .NET 2.0 and 3.0) including its sub-folders.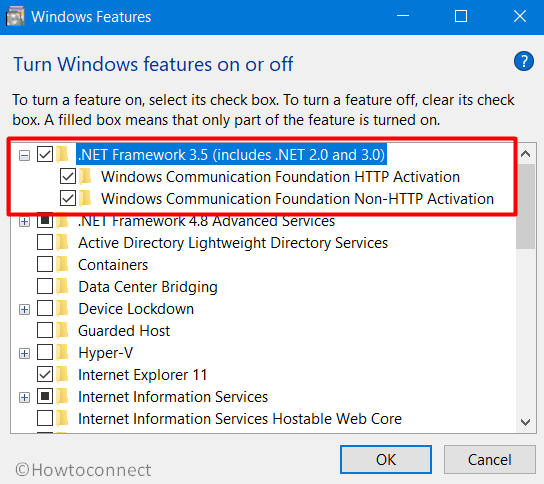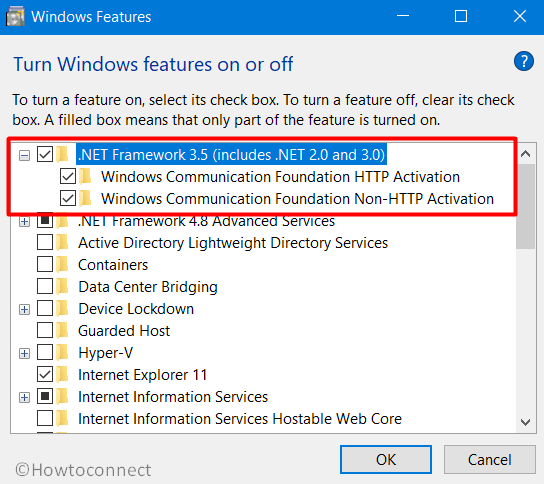 Click OK and while applying changes, if Windows requires certain files to complete the installation, it will inform the same.
Select Download files from Windows Update.
Windows Features will scan, download, and install a new .NET Framework.
Hopefully, Parser Returned Error 0xc00ce556 will be resolved with the above set of solutions. If you have some more tips to resolve the issue, drop them in the comments box.
Methods:
1] Replace the faulty machine.config file
2] Carry out a Clean Boot
3] Run System File Checker
4] Enable Microsoft .NET Framework
That's all!!
Repair any Windows problems such as Blue/Black Screen, DLL, Exe, application, Regisrty error and quickly recover system from issues using
Reimage
.