Startup Error 0xc0000020 mainly shows up on Windows 10 PC due to missing aepic.dll file. There might be several reasons behind creating such an issue but mostly malfunctioning hardware, incorrectly overwritten version, virus attack, and corrupted registry found to guilty. Once affected, background of your system stops working moreover none of the icons turn up even though Taskbar is visible.
Besides, file explorer along with other programs such as Start menu doesn't function properly and whenever you try to open any, a white box rolls out stating you can't do anything. Ultimate solution to Fix: Startup Error 0xc0000020 aepic.dll in Windows 10 is reinstalling Operating System which we prefer to do if nothing works. Therefore, try out the probable solutions listed below in first instance as any of them can work to settle upon the error if you are fortunate enough.
Startup Error 0xc0000020 aepic.dll
Here is how to fix Startup Error 0xc0000020 aepic.dll in Windows 10 –
1] Run System file checker
aepic.dll often goes missing due to corruption which causes to run Windows inadequate with error 0xc0000020. To restore that missing component with original copy, run sfc /scannow in elevated command prompt so that the utility can read all protected system files to recover the disappeared one. But before running this straight away, we suggest using DISM command as it prepares information of files that are required to fix corruption. Let's check out the process –
Click on search icon from taskbar and type cmd.exe.
Choose Run as administrator.
Click Yes for the User Account Control.
Insert following command and hit Enter –
DISM.exe /Online /Cleanup-Image /RestoreHealth /Source:C:\RepairSource\Windows /LimitAccess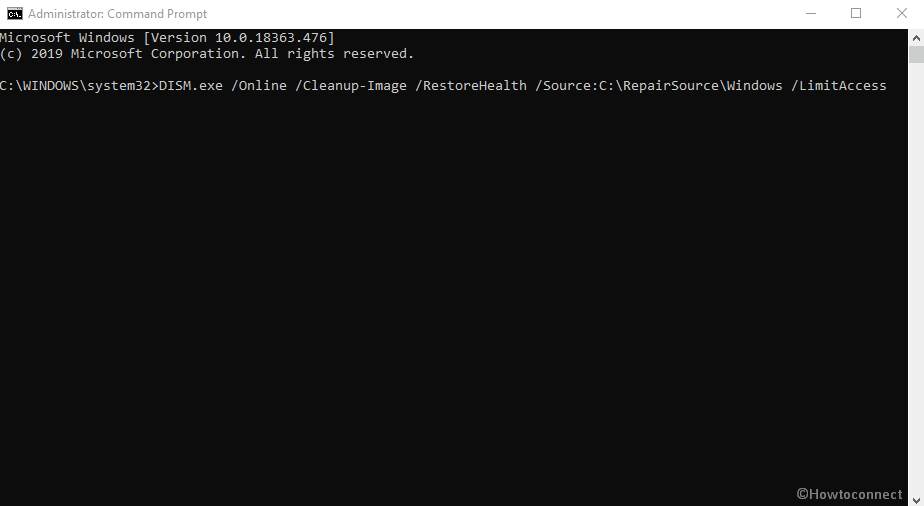 Note – Here, C:\RepairSource\Windows is the location where the repair source of your PC exists, therefore, replace it accordingly.
After completion of Deployment Image Servicing and Management process, put below command in same black window followed by pressing Enter –
Sfc /scannow
Don't interrupt in between and let the procedure hits 100% completion.
Lastly, Restart Windows 10 and check if 0xc0000020 still exists.
2] Register aepic.dll manually
Generally, DLL files utilize other items of same category to accomplish important tasks and the dependency continues to make your PC work smoothly. There is no exception with aepic.dll in Windows 10. But, when this dependency ends or broken accidentally, you have no other way rather than re-register the DLL file manually. Here are the steps to follow –
Hit Win+R together and write cmd in the Run dialog box.
Press Ctrl+Shift+Enter to run Command Propmt as admin.
Click Yes when a UAC asks for consent.
Type regsvr32 /u aepic.dll and hit Enter to un-register that specific DLL file.
Thereafter, insert regsvr32 /i aepic.dll in same Command Prompt eventually hit Enter to re-register the same.
Restart your operating system to know whether Startup Error 0xc0000020 aepic.dll in Windows 10 has gone.
3] Do virus scan with Windows security
Virus are prone to invade DLL files once and again moreover convert them into exe items so that they can be easily occulted. To do so, hackers simply modify some attributes within aepic.dll file's PE header and input malicious content into your PC. There are many ways to enter into the system and corrupt files by changing internal settings. Most convenient technique is web, thus you need to be very careful about the usage of internet especially while downloading content from suspicious websites. Apart from that, if you frequently visit a hacked webpage or click on spam mail that keeps coming on with fake news and offers are often found to be guilty to bring virus in your system. These are basic precautions you can take care of, but if malware already made its way out, follow the below steps to remove malware –
Type full scan in Taskbar search and hit Enter.
Click Scan options link from the right pane.
Opt for Full scan radio button followed by hitting Scan now button.
Once the scanning process finishes, follow on-screen guidelines to clear threats eventually reboot PC.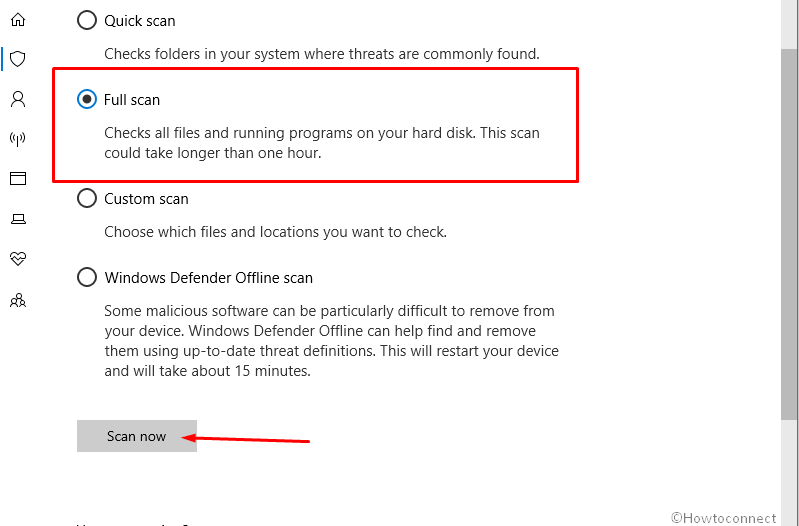 4] Repair corrupted registry
Registry entries are pretty delicate in nature and anything wrong in it can affect PC very badly by bringing forward thousands of error codes. As per reports, related registry key is often responsible to generate Startup Error 0xc0000020. Therefore, repairing the bad part of registry is a must-do workaround to fix aepic.dll in Windows 10. However, doing so is pretty difficult and we suggest to take help of experts in case you are not confident enough. You can also make use of Black Bird Registry Cleaner for the same purpose. In addition, there are two basic ways out to settle upon registry problems instinctively which includes Automatic Repair and Reset. Let's see the procedure one by one –
Automatic Repair
This startup Repair tool lets the system fix problems automatically and most of the time corrupt registry gets fixed along with. Here's how to use –
Press Win+I and choose Update & Security.
Select Recovery from left pane and then shift to right.
Click Get started button located beneath Advanced startup section.
Once the system starts, choose Troubleshoot => Advanced options => Startup repair.
After viewing Automatic repair page, provide your Microsoft account credentials.
Click Continue to start the repair.
Refresh
Before you start using Refresh option, make sure to backup important items even though the process doesn't delete any file of yours. Windows will just reinstall the application that was already there and create a copy of them on desktop screen. Here is the process to follow –
Open Windows Settings and choose Update & Security.
Click Recovery from left and pass to the right column.
Click Get Started button found under Reset This PC.
Opt for Keep My Files option and thereafter follow on-screen instructions.
5] Bring System restore into play
There might an instance when aepic.dll in Windows 10 gets misplaced during the time of installing a program or uninstalling any. As a consequence, Startup Error 0xc0000020 shows up and you become unable to run PC without a hitch. Hence, go back to previous state when the system was working absolutely fine and to do so make use of System Restore. Here's how –
Click on Start icon and type rstrui.
Select System Restore once the result shows up.
Hit Next to proceed.
Choose the last restore point and again click Next button.
In the end, click Finish button.
6] Reinstall Windows
Unfortunately, if the above methods didn't work to fix Startup Error 0xc0000020 aepic.dll in Windows 10, this is the last option that will work if the problem is related to software. Reinstalling Windows is not hard at all but consumes lot of time for sure that's because the procedure erases everything including installed programs and settings you set before.
To get detailed description, follow How to Install Windows 10
Methods:
1] Run System file checker
2] Register aepic.dll manually
3] Do virus scan with Windows security
4] Repair corrupted registry
5] Bring System restore into play
6] Reinstall Windows

That's all!!
Repair any Windows problems such as Blue/Black Screen, DLL, Exe, application, Regisrty error and quickly recover system from issues using
Reimage
.