Google Maps new version has prepared plans for distributing public transport information in about 500 cities in the world. Such cities are New york, Sydney, London and more in India. At this time Google Maps additional outstandingly plans has come for DMRC (Delhi Metro Rail Corporation), MTRS Chennai, Bangalore MTC and Kolkata metro. All these plans are being implemented through Android devices included with Google Maps app.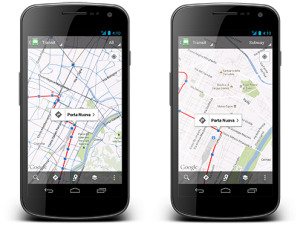 A new update version of Google Maps app is presented for android devices. Google has completed few changes in transit lines layer under Google maps app. Users can choose a particular method of public transportation to know railway route, Bus roadways and subways. Google has also modernized the design of the station pages so that users can browse it immediately by selecting on the station name.
New Google maps app also displays features of the region importance. when user finds a city or postal code, just borders of the concerned region are shown up. Under My places tab in Google Maps app, A new tab is included. It supports users right to use all information from a single place.  If a user allows location history then they will capable to browse such places according to per day updated information. Entire  updated information is found in location history dashboard.