In previous posts, We have discussed the benefits of taking back up of our contacts of email services as Outlook.com, Google Account, Yahoo Mail.  There are lots of interesting experiences may be gained by you with these email services yet now. Therefore, now in these posts, you will get tips on how to backup your Skype contacts and repair it at any time, if needed. Actually, this method may be applied in the condition you choose to share your contacts or transfer to a different Skype ID.
Backup and Restore Skype Contacts
Step -1
Signed your Skype account with ID and Password.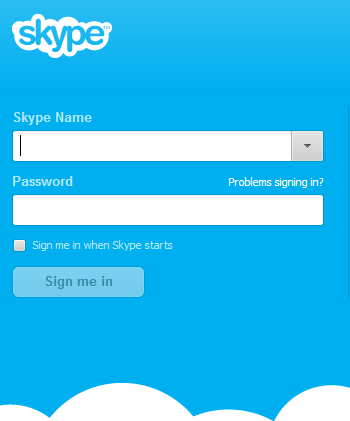 Step – 2
At the top side located toolbars, click on Contacts menu and choose this option Advanced -> Backup Contacts to File from the drop down panel.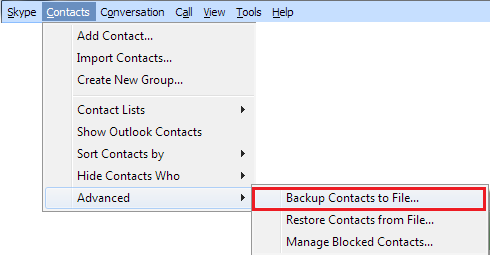 Step -3
Then it will be displayed a new dialog box like Save As. Select a directory path, type correct file names without any extension. Finally, click on the Save button. 
Thus you have completed method of backup of your Skype contacts successfully. It will support you to save your Skype contacts permanently in your computer hard disk or in another storage device.
How to Restore Skype Contacts
Sometimes you have to face a critical problem like sudden missing your contacts. Then alternate option like create new Skype ID quickly comes. If you share your Skype contacts with someone then it will assist you to restore Skype contacts instantly and save your valuable time.
Step – 1
Start Skype software on your computer and signed with id and password.
Step – 2
You will get toolbar under the home screen of Skype account. Then choose the Contacts menu and click on the Advanced -> Restore Contacts from File.
Step – 3
Now it a new window will be prompted named Open and choose the backup file which you had earlier save in your computer dives. At last click on Open button.
It will take few minutes as per current backup file size and the total number of contacts is ready to be imported from the previous backup file. So this is all about How to Backup and Restore Skype Contacts. Isn't easy?
Important Remarks –
If you have created Skype contacts in vcf format (for example- Business card) then you can access it from corner to corner with another service also.