Both versions of Windows 8 (Developer or Consumer) display a new feature Metro Start Screen at startup. The act of accessing Apps such as Maps, Weather, Calendar, Camera and much more could be easy with this feature. Enabling and Disabling of Metro Start Screen shows the difference between the latest and earlier operating.
Due to the metro start screen, users feel inconvenience in working with Windows 8 in the beginning. So many of you may want to remove it. If you are trying to restore the previous appearance of Window which means disabling Metro Start Screen follow these tips. See: How to Pin a Website, folder, App to Windows 8 Metro Start Screen.
Disable Metro Start Screen in Windows 8 by Registry editor
First method
Press Windows Key + R together on the keyboard then display RUN box and type regedit and hit the Enter button.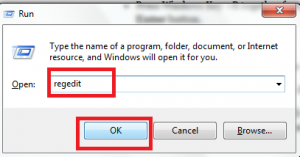 Browse the following menu on the left side.
Click on HKEY_CURRENT_USER, Select Software. 
Click on Software and find Microsoft.
Browse Microsoft and find Windows options.
Click Windows, and choose Current Version.
In Current Version tab, Select Explorer.
or navigate it one by one –
HKEY_CURRENT_USER—SOFTWARE—–MICROSOFT——-WINDOWS——CURRENT VERSION— EXPLORER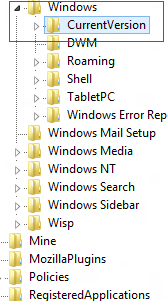 Now Windows registry strings will appear on the right side.
Right-click on the RPEnabled strings and choose Modify.

 Change the value 0 in place of 1 in this tab. Click OK button and close registry editor.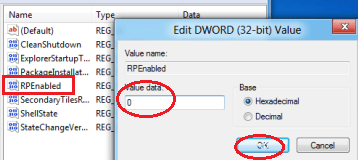 And now Metro screen window will be disabled from the Windows 8 screen permanently.
Remarks:-
If you want to restore Metro start screen window again then change the value 1 in place of 0 in the RPEnabled menu at registry editor.
Second method 
Through  External Software
Download W8DevPre SMT software in your computer as a zip format. Extract it and double-click on the setup icon to install it on the computer.
The First screen of this software looks like the below images.

Download link to W8DevPre SMT software
 Double click on icon Use Classic Start menu.
In a few moments, Metro screen window will vanish and the desktop screen will be displayed with the start menu at the bottom.

If you want to return towards the Metro start screen again then click on Use Metro Start Screen option in this software.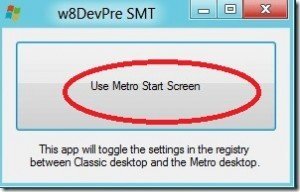 Third method – 
With Local Group Policy Editor –
Open RUN box and type gpedit.msc.  Click OK button.
In Group Policy Editor window, browse the following menu in the left panel.
At first, click on the Computer Configuration then look for Administrative Templates.
In this tab, select Control Panel and expand it.
Now you find Personalization option in the right panel.
Double click on Do not display the lock screen option.
In the properties tab, check Enabled tab and then close the window.
Now restart your Windows 8 and you do not find metro screen window in startup session.