While using an Android device (smartphone or tablet), you lock as well as unlock it quite frequently. Sometimes, you need to keep the gadget in unlock condition as a part of facilitation to any work or handing it to any person you put trust on. Keeping this fact in the first place, this mobile OS versions 5.0 and 5.1.1 lollipop comes with a new option that can let you bypass the lock screen security. You can now directly Enable Smart Lock On Body Detection on Android to unlock the device all by itself when it is in contact with the body. The default accelerometer actually detects the movement and understands either this is held in hand or in your pocket. So, let us head towards the series of steps and learn about using this feature.
How to Enable Smart Lock On Body Detection on Android
Note – To avail Smart Lock features, you need to first enable certain lock screen security. Head to the device's Settings and then to the 'Lock screen and Security' category. Here, you can choose lock option as per preference. Make sure you don't select Swipe and None as these options will not let you manage Smart Lock feature.
Step-1: Swipe your screen down and tap on the Settings icon located on the top right side.
Step-2: From the list of Settings items, reach out to the Lock screen and security category. Tap on it and it will take you to some more options. Touching this one will open a new page where you will find an option with title Smart Lock.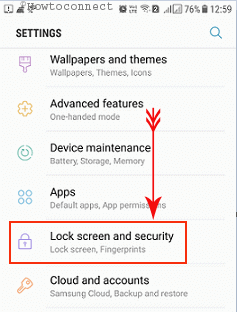 Step-3: Next, locate and tap on Smart Lock as shown in the below-given image.
Step-4: Moving ahead, the device will ask for your pattern, password or pin which you entered for the sake of locking. As you can see in the screenshot below that Android asked me to confirm my lock pattern to proceed.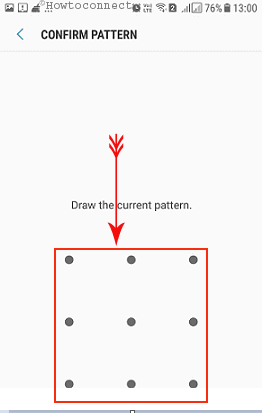 Step-5: Smart Lock screen will appear with On-body detection option at the top. Touch this option and you will be directed to a new greenish screen.
Step-6: Toggle the On-body detection to On from Off.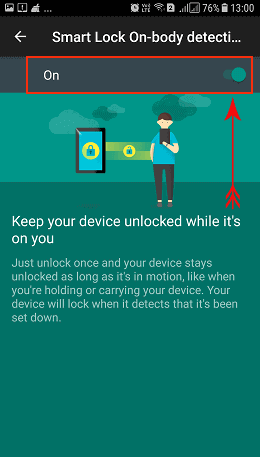 Step-7: A pop-up will appear with warning message showing it can't detect between you and someone else. Tap Continue in order to complete the process.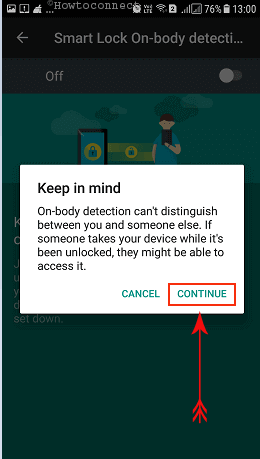 Once you confirm, the system will activate the feature. Device security will not ask your password, pin or pattern for unlocking the mobile next time. Remember that, the phone security will lock the gadget automatically if you stop moving for 1 minute. Same will happen when you are in a vehicle like a bus, train or bike for 5-10 minutes.
About Smart Lock On Body Detection on Android
Android devices are being blessed with new accessibilities every now and then. Google Play Services keeps on updating this OS always in order to surprise the user with new inventions. They come up with innovative ideas with a view to help the users in several ways. As a part of this, the thought to Enable Smart Lock On Body Detection on Android bypasses the phone locking once you enable this option. We have shown you how to turn this on your phone or tablet in a sequence of steps and screenshots.
Closure note
On-body Detection is probably the easiest configurable Smart Lock option. It uses the accelerometer and other sensors with a view to keeping your phone in unlock condition. Detectors identify whether you are carrying it in your hand, pocket or in a bag. For various good reasons, you need to unlock the mobile every now and then.We have discussed the steps in details to Enable Smart Lock On Body Detection on Android. At the same time, you should be little careful while handing over it to other people as part of security.