In Windows 10, 8, the appearance of windows explorer seems absolutely different from earlier windows version ( win 7 or XP) explorer. Windows 10, 8 explorer includes an inbuilt new tool (Ribbon interface) in the top panel.
The ribbon interface of Windows 10, 8 explorer has multiple system tool shortcuts which are used to access and perform useful system services directly. Here you will find 3 methods to Minimize Windows Explorer Ribbon in Windows 8, 10 via easy modes.
Minimize Windows Explorer Ribbon in Windows 10, 8
First Method
You can Minimize Windows Explorer Ribbon in Windows 10, 8 as follow –
Go to Windows 8 explorer and find arrow sign at the top right corner in ribbon interface tab.
When we click on up arrow sign, ribbon interface will be minimized.


Second method
Move mouse cursor on the top side of ribbon interface and click on Quick access toolbar from here.
A drop down menu lists is appearing. Click on Minimize the Ribbon option.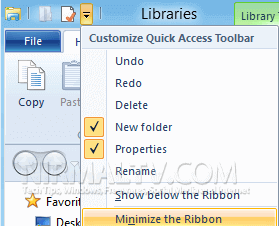 Now Ribbon Interface minimizes in a short while.
Third method – Through Group Policy Setting
Launch RUN command by pressing Windows Key + R Shortcut at a time.
Type gpedit.msc in RUN dialog box and Click OK button.
We find Group policy editor window. Browse these options one by one in the left panel.
At first, Click on Computer configuration and find Administrative Templates.
Now click on Windows Component and we find Windows Explorer option.
In the right side, try to find Start Windows Explorer……. Minimized option from lists panel and double click on it.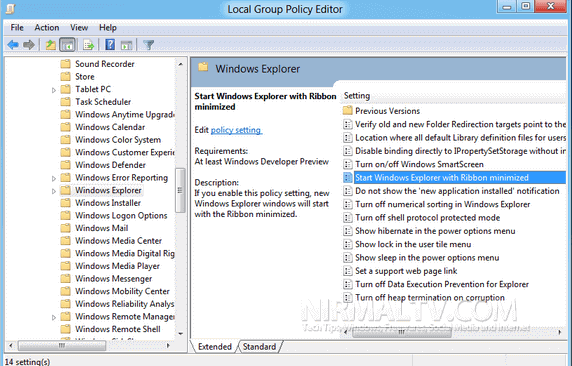 Now a Properties window of this option is displaying. Here check the box – Enabled and click on Apply button.
Restart the Windows 10, 8 system.
You find Ribbon interface vanishes from the explorer and new windows without ribbon interface is displaying as below image –